From July 2015 going back through the school year to September 2014
The Lion, the Witch and the Wardrobe
Mrs Kydd yet again worked her magic with Year 6 and produced a fantastic show at the end of the summer term. Every child was involved with the production, from a starring role to lighting board to stage management. There was an amazing amount of work from everyone, including members of staff, who created great staging and brilliant costumes. The whole school watched a dress rehearsal on the last Monday afternoon and then it was performed on Tuesday and Wednesday evening to sold out audiences!
Read all about Year 6's residential trip to London at the beginning of June!
Greetings from London!
Wednesday's report
After an early start, we had a good journey up the M4, reaching the Natural History Museum about 11.30am. After an early lunch on the front lawn of the museum, the groups split up and went their various ways around the different zones ... Up the big escalator to visit volcanos and earthquakes, past the eerie looking stuffed animals (which Mrs Loffler would not like at all!), a walk through the dinosaurs, visiting the special "Coral Reef" exhibition and also time for some groups to go up to the 7th floor at the Darwin Centre and wind their way down through the Cocoon.
We then just needed to cross over the road to Baden Powell House, sign in, sort out rooms (which did take some time!) and then down for tea at 5pm.
After a photo opportunity on the steps outside, it was back on the coach, through the very busy traffic to Drury Lane to find our seats in the New London Theatre for the performance of War Horse which started on time at 7.30pm. We had great seats in the stalls with all the children looking enthralled through both the first and second half with a great standing ovation at the end.
Spirits were still high on the journey back to BP House even though it was getting late! It's nice and quiet here now with everyone getting a good night's sleep before waking up nice and early for another very busy day tomorrow. Hopefully another report will be here tomorrow evening after our London Eye flight.
Thursday's report
We've had a great day - long, busy and hot but thoroughly enjoyable. The morning was spent at Shakespeare's Globe with an entertaining tour learning lots of new facts, including that the Globe is built with 12,000 wooden pegs rather than nails! Mrs Kydd and Mrs Pritchard were really interested to find a plaque on the outside of the house next door to the Globe which stated that Sir Christopher Wren had lived there during the building of St Paul's Cathedral and also Catherine of Aragon took shelter in 1502 at the house!
After a picnic lunch outside the Tate Modern, it was a quick coach trip back to Westminster. It was then off on our walk past Big Ben, the Cenotaph, Downing Street, saying hello to the horses at the Household Cavalry, a quick stop at the gift shop and then finally stopping in Trafalgar Square to say hello to the lions!
We then took a trip past the burly policemen in Downing Street and had lots of photos taken on the steps of No.10. Unfortunately Mr Cameron didn't come out to say hello.
Back at BP House, it was burger and chips for tea which seemed to go down well!
All too soon we were back on the coach heading for County Hall and making our way onto the London Eye. With the weather being so brilliant, our views were amazing - we could see right over to the Wembley arch and beyond. After a 20 minute flight - which seemed to last about 20 hours to Mrs Pritchard who really doesn't like heights and suffers from vertigo! - we were back on solid ground and then having great fun watching the 4D experience - the children will tell you all about it!
Having had a late bed time last night after the show, lights out was a lot earlier tonight so everyone will be up bright and early in the morning, ready to pack and set off for our River Thames cruise. Unfortunately the weather forecast for tomorrow is looking like thunderstorms so our plans may be changing after the cruise but whatever we do, we will be having great fun!
Friday's report
Early wake up call to pack our bags, have breakfast and empty our rooms - lots of last minute checks to make sure nothing was left behind. The weather just about stayed kind for us as we boarded the boat for our cruise from Westminster Bridge. We took in all the sights as we sailed up to Tower Bridge and back again. Unfortunately it wasn't dry enough for us to have our lunch in St James's Park as we normally do. However, this meant that we had the extra, unexpected highlight of eating our packed lunch in the Cloisters of Westminster Abbey and then, in our groups, walking around the Abbey for an hour before a quick march back through Trafalgar Square to meet the coach and make our way home along the very busy M4. We all made it back safely to Horfield by early evening so we could get home and have a well earned rest!
Brilliant Bristol!
Year 5 are taking part in the 'Brilliant Bristol' project. The aim of the project is to empower the children of Bristol to deliver positivity, happiness and brilliance across their schools and communities. For more information go to www.brilliantbristol.org
As part of the 'Brilliant Bristol' project, Year 5 have started their random acts of kindness! They began with a 'phantom car wash', managing to wash cars in the car park during their lunch break. They hope to spread the brilliance by putting a smile on staff's faces when they realise their car is much more sparkling than when they left it!
SMSA wellbeing lunch gate-crashed by Brilliant Bristol!
Year 5 gate-crashed and enhanced today's lunch. The SMSA's were serenaded and enjoyed Year 5's 'Brilliant' song. They were then given cards of appreciation from Year 5. We hope that they enjoyed their lunch as much as Year 5 enjoyed gate-crashing it!
Tennis with Kings LTC
We were pleased to welcome two members from Kings Tennis Club in Bishopston who came in to coach our children in Years 3, 4 and 5.
Fiver Challenge
On Tuesday 30th June, Year 4 and 6 took part in the Fiver challenge where each group was given £5 in small groups and had the opportunity to create products and set up their own mini businesses. It was a great success and all groups made a profit.
Class 9 raised £50.20
Class 10 raised £86.70
Class 13 raised £34.52
Class 14 raised £69.77
All of the children really enjoyed this experience and have decided to spend their profit on resources for their new classes and donate their profits to charity.
A big thank you to everyone who came to support and help with this event as well.
Sports Day & Swimming Gala
The sun was shining for our annual Sports Day held on Thursday 11th June. We were delighted that so many parents came to watch all the children, from Reception up to Year 6 join in the carousel of various sporting activities at the beginning of the afternoon. We had some great competitive running races for all year groups and then moved on to pre-schoolers and even Mums and Dads! For the first time in many, many years, the Green Team won the highly coveted Sports Day trophy!
The Green Team rose to the challenge again at our Swimming Gala held on Friday 3rd July at Horfield Leisure Centre. Swimmers from Year 2 upwards all walked to the swimming pool and joined in swimming widths, lengths and Year 6 enjoyed their usual raft race to bring the afternoon to a very hot and sweaty conclusion. Well done to the Green Team for lifting the Swimming Gala trophy again!
Wear it Wild!
On Friday 5th June, the whole school dressed up as an animal in support of the WWF "Wear it Wild" Day. Our Green Club had held a special assembly to highlight the plight of several species which are endangered including the panda and mountain gorilla. They asked everyone to come in dressed as a wild animal or wearing green. There was also a cake sale after school with an animal theme. As you can see below, there were some fantastic outfits and onesies! The amount raised so far is £320 and will hopefully rise since Year 6 are having the day on Tuesday due to them missing out last Friday when they were in London.
BRILLIANT BRISTOL
Do you give someone a seven second hug every day?
Do you leap out of bed with a smile every morning?
Do you create the ripple effect? Smile at someone and they pass it on?
Our special Year 5 team even spread the idea to the staff at Fairthorne Manor one morning!
Hurrah for the 2%ers!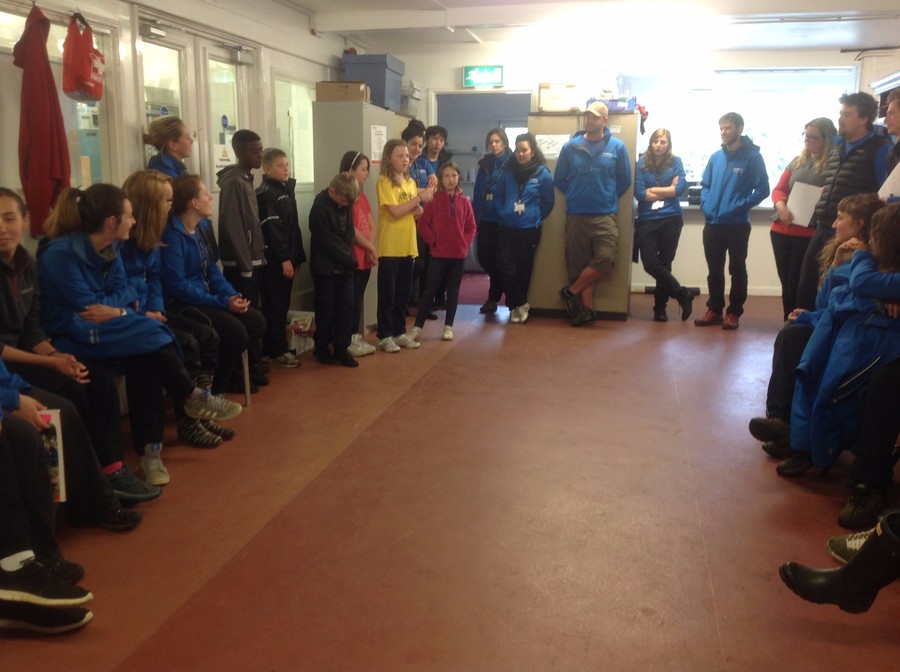 TERM 5
Year 6 survived SATs week - well done to them all for their hard work and we await the results in July!
Year 5 had a great time at Fairthorne Manor at the end of April.
FAIRTHORNE MANOR
Wow - what a great week we all had at our Year 5 camp. Apart from one day which sent a lot of rain and hailstones, our weather was mainly dry, sometimes warm and sunny!
We had two lovely leaders/instructors who helped us through the week, April and Jenya. All the five groups tried out lots of different activities including team challenge, obstacle course, archery, fire lighting, abseiling, climbing, blind trail, pioneering, kayaking and raft building and high zip wire.
Mrs Taylor and Ms Britton visited for the day with five children and Mr Simmonds very kindly drove the minibus down and also managed to fall in at the end of the day!
It was a great experience for the children and the staff who accompanied them really enjoyed seeing the children challenge themselves, conquer their fears and encourage their peers all week long!
For those of you in Year 4 who like the look of all the exciting activities, please come along to a meeting after school on Friday 19th June in Class 12 to find out more!
TERM 4
Grounds Day
Saturday March 7th 2015
This was a very productive and enjoyable morning.
With fantastic weather on our side, many parents, governors, staff and children set to work with enthusiasm on pruning and tidying overgrown bushes and shrubs and weeding and digging the vegetable plot, ready for planting up.
The garden area outside Class 1 and 2 was expertly pruned and tidied and the beds topped up with compost so more bulbs and plants can be added.
During the morning, litter was thoroughly cleared, giving the whole grounds a real lift!
The pond area has been cleared of excess vegetation and ideas about extra benches and paths were discussed. A group of very helpful children fished out litter and quite a collection of different sized balls! Newts were spotted in the log pile as well as many woodlice and snails under upturned logs and stones. We hope that frogs will soon be laying their spawn.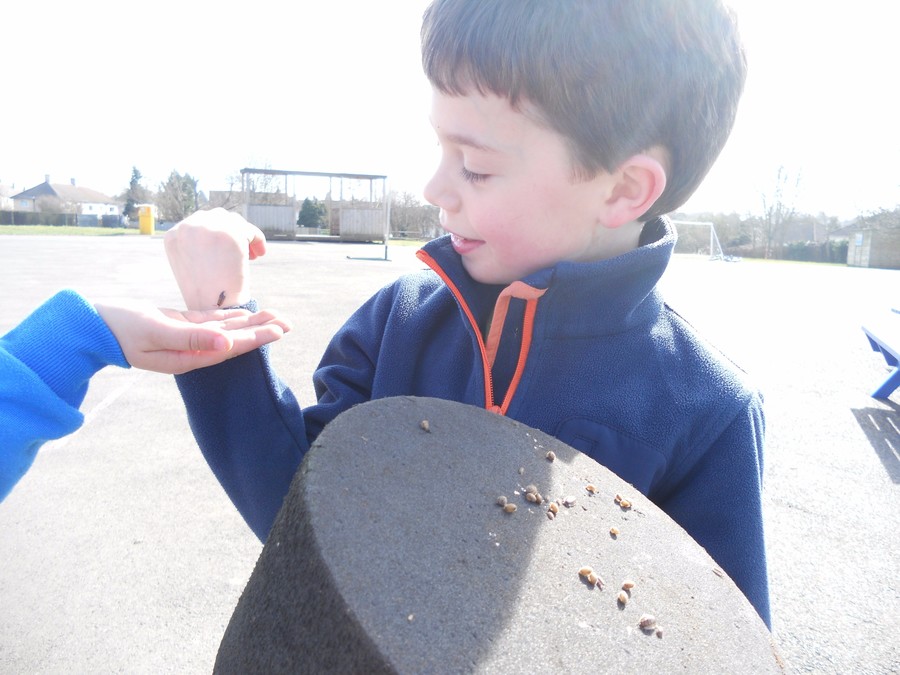 Several parents set to work on putting up smart new sign boards where information can be more effectively displayed.
Mrs Taylor planted a new willow tree in a pot by the front door which Fin and Jacob volunteered to water each week.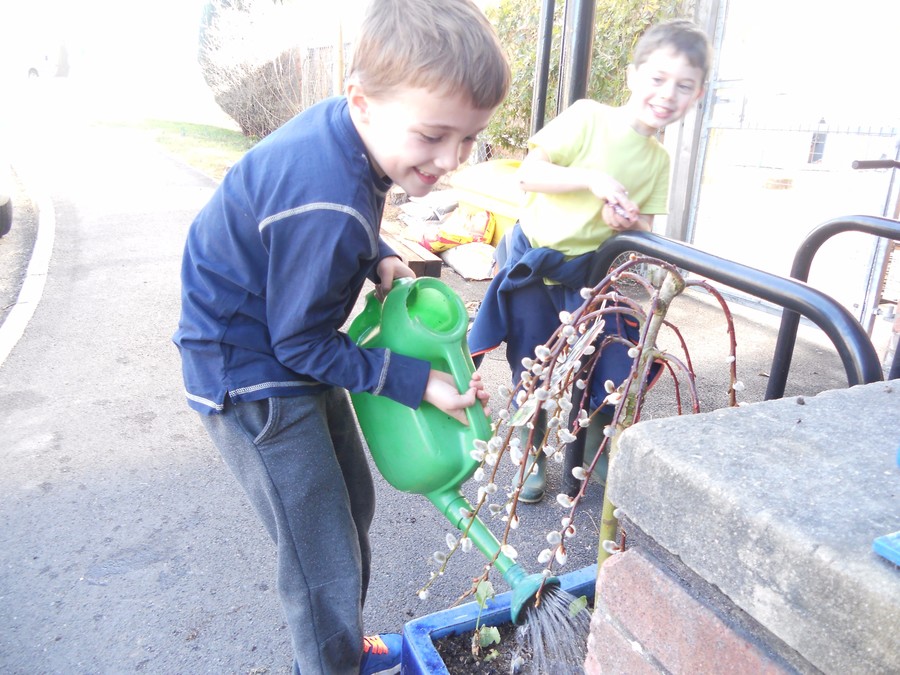 Bacon rolls, cooked for us on the barbeque, were enjoyed by everyone, and the children had great fun on scooters and the bouncy castle.
A huge thank you to everyone who came along and to those who helped to organise this very successful event. It has made such a difference and has set up the grounds for us to really enjoy outside learning, play and relaxation.
Lent Trail
Last week the children had the opportunity to follow a Lent trail organised by Mr Robertson, our RE subject leader and Lisa, curate at Horfield Parish Church. Our school hall was transformed into an oasis of calm and tranquility and with the help and guidance of several key adults, the children were encouraged to reflect on how they are unique and special. They could have a time of stillness gazing at rising bubbles, share bread to remember the Last Supper and write their hopes on a paper flower that opened in water. It was a special space to take time away from the busyness of home and school, and reflect on the meaning of Lent.
Comments the children have made included:
'I felt like all my worries had been covered up by a huge furry blanket with hope written all over it.'
'That life is so precious, so you should make the most of every second.'
'I know that, in God's eyes, everyone's beautiful just the way they are.'
'To be thankful for what we've got and are given.'
TERM 3
History Week
What a brilliant week we have all had at Horfield learning about the history around our school. Buffalo Bill visited on Monday and entertained the whole school is assembly. We have had lots of different visitors coming into school to help us with various activities, including the man who created the website called "Know your Place". Year 2 sailed on the Matthew and explored the M-Shed and Year 4 experienced how it felt to be an orphan when Muller Road Orphanage was open in the 1900's.
A more detailed and fuller report on all the classes and what they did will be here soon!
Year 1
Year 1 had an interesting session in the Learning Zone exploring the "Know your Place" website where they were able to use their addresses and actually see their own house on a map! They went back in time and were able to locate the field where their house is now built. They then had great fun designing their own postcards illustrating this.
The children looked at old photos of Horfield Common and were very interested to find out that opposite Horfield Leisure Centre it used to be a field with sheep and also that the Manor Farm Boys' Club building used to be our school!
Year 2
On Wednesday 4th February Year 2, as part of their topic on Explorers, visited the M Shed and sailed on the Matthew. They learnt that Bristol has had many famous sea explorers, including John Cabot, who was the skipper of the Matthew.
"We sailed on the Matthew. It was exciting." (George J).
"It was interesting to learn the names for the different parts of the ship. There is a hull, deck, mast, bow, stern, starboard and port." (George P).
"There was a rat on board – but not a real one!" (Nathan).
"We also went to the M shed. I liked looking and sitting on the old bus." (Eddie).
A great time was had by all. The staff at the M-Shed complimented the children - they were pleased to see our pupils reading the display information and being respectful of other visitors. Well done Year 2!
Year 3
Year 3 have investigated the secrets hidden within Badock's Wood! With the help of experts, they discovered that the small hill that they had passed by so many times before is a Bronze Age burial mound that is over 3,500 years old! Artefacts such as arrowheads and pieces of stone helped them to imagine life so many years ago. This inspired them to produce creative pieces of writing about Bronze Age burials. They used oil pastel, torn paper, leaf rubbings, wax resist and pencil sketches to transform their writing into a mixed media timeline. This week they are going to create Bronze Age stone circles too!
Year 4
The children in Year 4 have had a fantastic week of endless opportunities, learning all about George Muller and the Muller Road orphanage. They were very lucky to have a visitor from the Muller House in Cotham come in to speak to them about the lives of orphans and they also had the opportunity to become an orphan for the day and dressed up in Victorian clothes and created their own digital stories about their lives in the orphanage. Molly in Class 9 said "I had heard the name George Muller before though I never knew anything about him. It was fascinating learning all about the Orphanage and having the opportunity to visit it dressed up as an Orphan! It has inspired me to learn more about the history of Bristol!"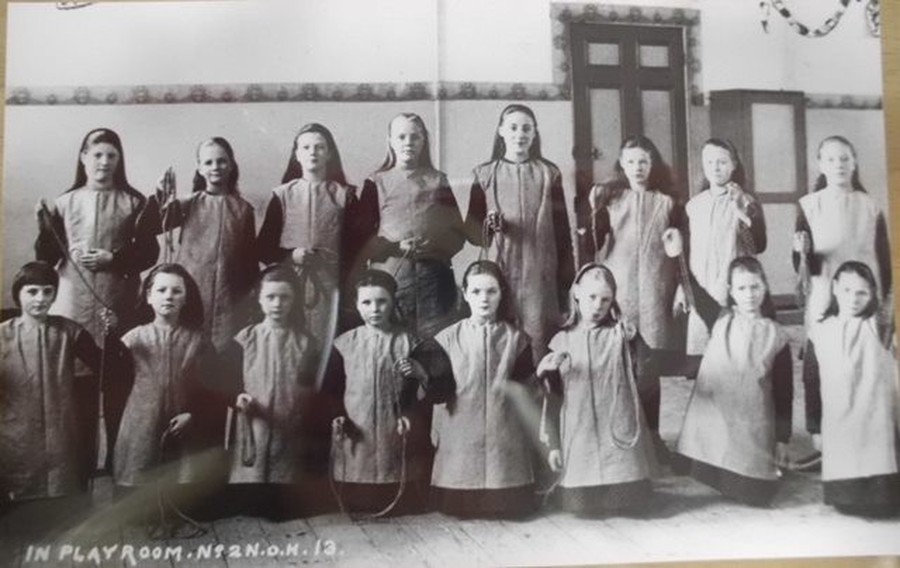 Year 5
The knowledge that Year 5 gained as a result of Buffalo Bill's visit have led them to write some fantastic biographies. They also designed and created amazing persuasive posters encouraging people to go to the show. Persuasive phrases included 'Fighters from war come to your door', 'Mind- blowing sights of amazement' and 'Feast your eyes upon an almighty performance'. The fun did not stop there! A visit from Circomedia saw Year 5 learning how to lasso from a trained cowboy who had taught Cameron Diaz the very same thing! They will be using their acquired knowledge and experiences to write a newspaper report of the show. A child summed up the whole experience; 'It was really fun and interesting learning about the history of Horfield; it has been an adventure!'
Year 6
Following the Heritage Walk to Horfield Parish Church, Year 6 have begun to investigate the lives of some of the soldiers whose names we found in the graveyard and on the War Memorial in the church. Using a variety of websites (including the Commonwealth War Graves Commission and the Ancestry website) they have discovered some fascinating stories. They have even managed to find a photograph of a local Private whose parents lived on Wellington Hill West. Interestingly, several local men were working in Canada when war broke out and they served in the Canadian Army. The research has really raised children's awareness about the impact of the First World War on our local community.
Year 4 & Year 5 Maths Challenges
A team from Year 4 attended the Bristol Maths Challenge at Red Maids' School and performed exceedingly well, with Alex and Alex coming in joint first with two other local Bristol schools. This is the first time that our school has won the competition! Well done to Alex, Yusuf, Ben and Alex!
.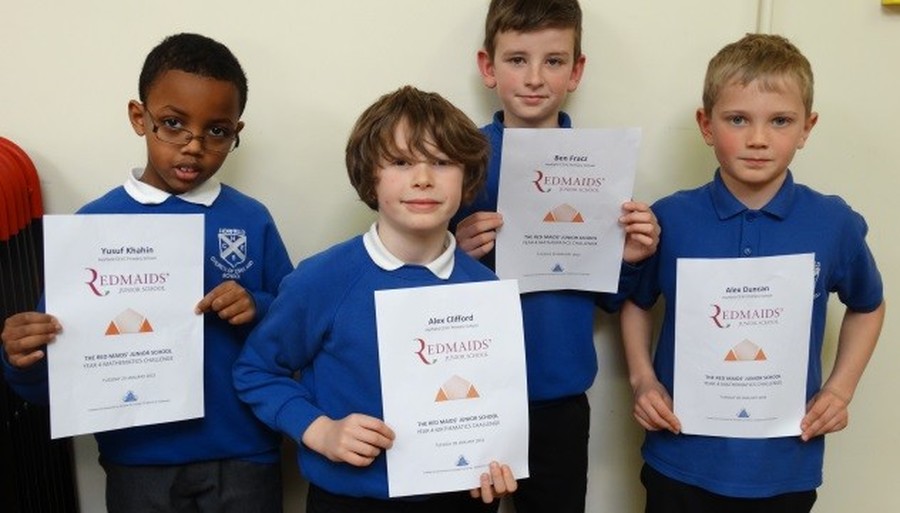 A huge round of applause to Henry, Eve, Tom and Luke who competed in the Year 5 Bristol Maths Challenge competition at Bristol Grammar School against 29 other local Bristol school teams. Luke and Henry were 6th out of the 29 teams and Eve and Tom came 1st ..... with a winning margin of 10 points! Congratulations to all of you and Mr Beard is looking forward to next year when you arrive in Year 6!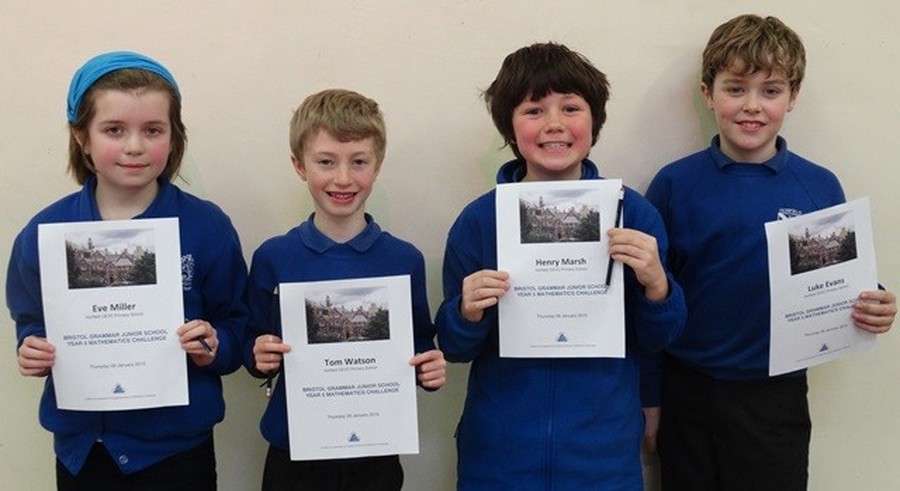 Bikeability
Every year we offer 30 places to Year 6 children who learn to become better bike riders. Many thanks to Linda and Sarah for their expertise and guiding the children around the Manor Farm roads and helping the children to gain and improve their confidence and bike awareness skills.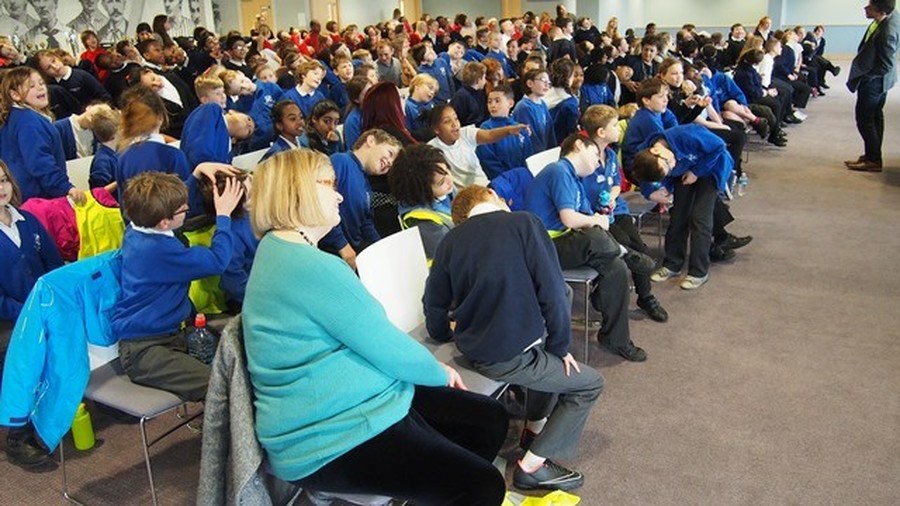 Winter Homework Challenge
The children were set a homework challenge at the end of the Christmas term to create a winter scene from whatever they could get their hands on. As you can see from the photos below, we have some very creative children and families. There were so many that the teachers thought it would be a good idea to display them in the playground for everyone to see. Thank you and well done to all of you who took on the challenge.
TERM 2
KS2 Choir
As well as performing at St Georges's, singing to St Monica and visiting Horfield Lodge, the choir were recorded by Lucy Tegg from BBC Radio Bristol. She recorded Stille Nacht and Son of Maria which sounded lovely. Emily, Tom and Tilly from Year 3 read some extracts from the Nativity which were recorded and you can also hear Miss Newnham talking about our choir in general. The extract will be played again on BBC Radio Bristol on Christmas Day! However, if you don't manage to listen in, try clicking on the links below to hear the extracts.
A huge well done to the choir who had to learn a lot of words and have been extremely busy
in the last two weeks and will also be performing at the Christmas Carol Service at Horfield
Parish Church on Wednesday singing "In Dulci Jubilo", so not only learning carols in German
but also Latin!
http://www.bbc.co.uk/programmes/p02dhfjs
KS1 Nativity
We have some budding actors in our Reception classes! This year's nativity was "Whoops-a-Daisy Angel" and there was great enthusiasm, humour and entertainment on show. The stage was full of snowflakes, angels, shepherds, sheep, kings, a camel, a very scary King Herod, a lovely Mary and Joseph and, of course, Whoops-a-Daisy herself with her helpful friends.
Reception were accompanied by enthusiastic singing from Years 1 & 2, especially to Mrs Peet's rewritten version of "Let it Snow". Our narrators read very clearly - many thanks to Mrs Andrews for helping them.
We must also thank Mrs Sims who comes back every year to sort out every costume and ensure each one is ironed! A big round of applause must go to Mrs Peet for directing and producing another wonderful nativity.
Finally, a massive well done to all the children who performed so brilliantly.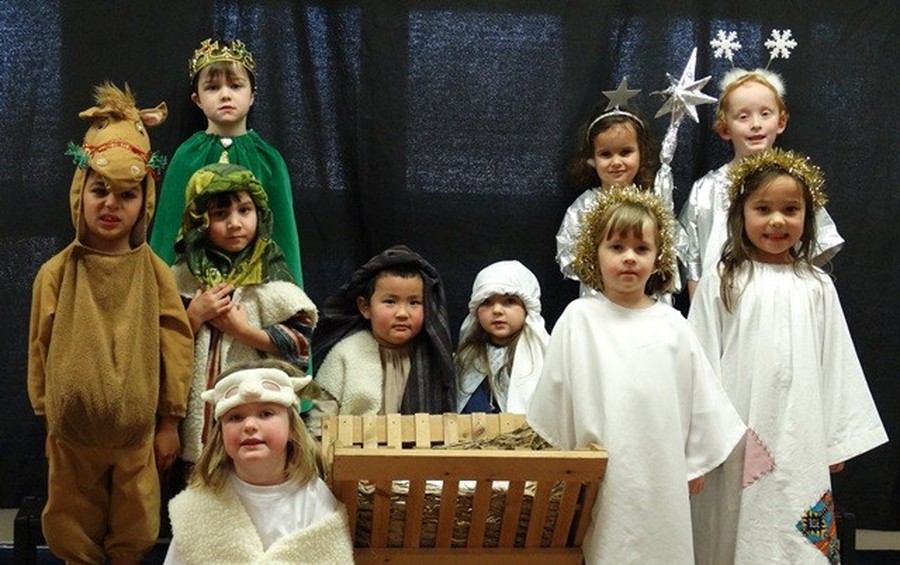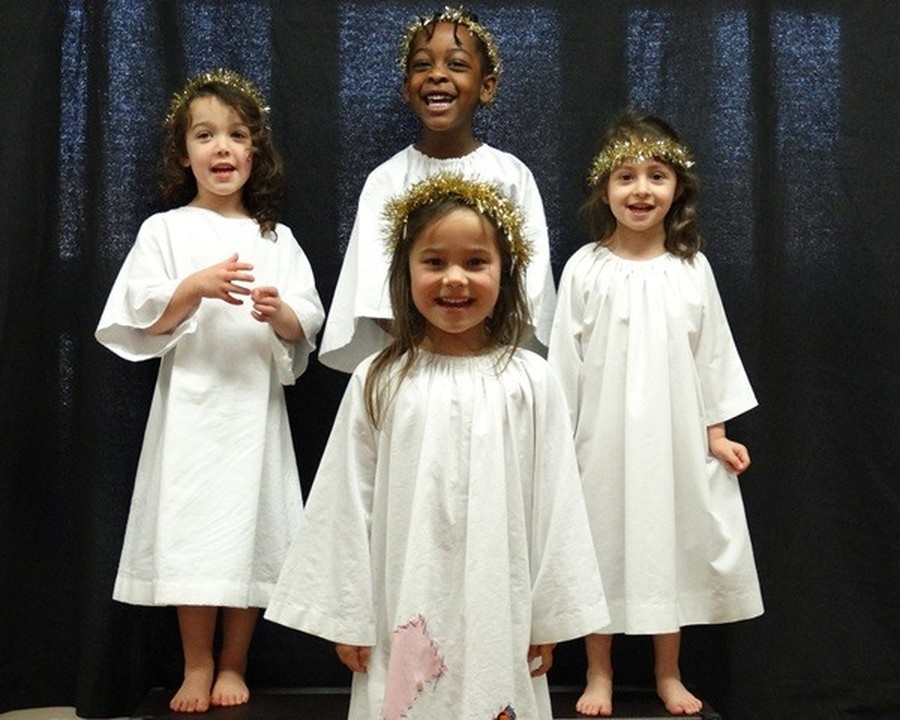 Bristol Old Vic Nativity
One of our annual Christmas traditions at Horfield is to invite the students of Bristol Old Vic Theatre School to perform their Nativity. As usual, they sang beautifully and gave a brilliant performance of their new adaptation of the oldest story in the world. The whole school filled up the hall to watch the story and were enthralled by the very talented thespians!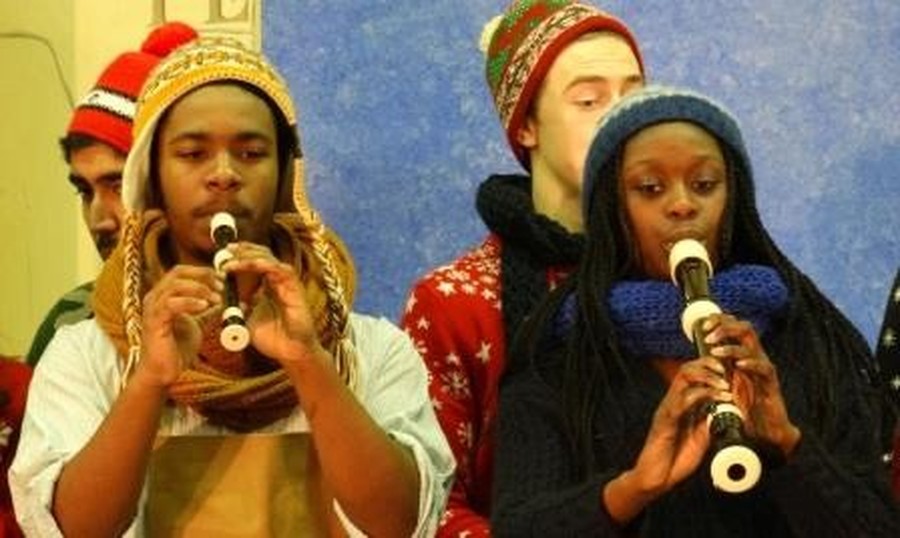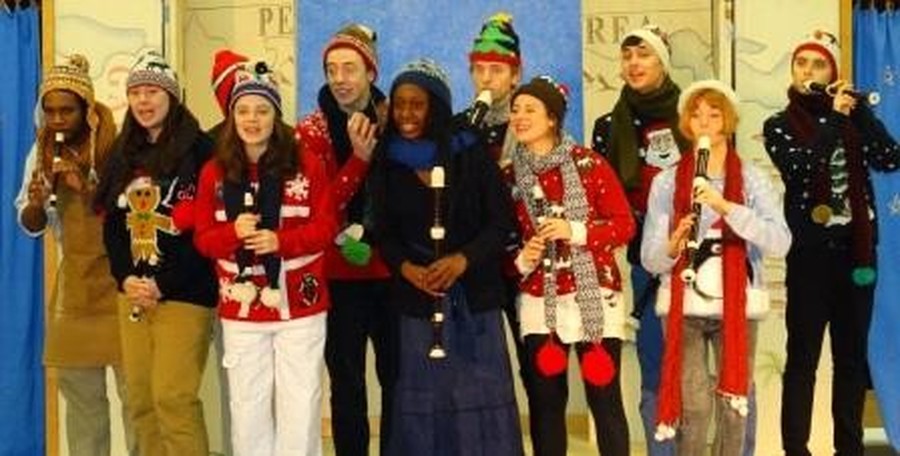 Hamlet - October 2014
For the third year in a row, members of Year 6 took part in the Shakespeare Schools' Festival, this year performing Hamlet.
The SSF is the UK's biggest youth drama festival. Every year thousands of primary, secondary and special schools from across the country take part in the Festival. Its main aims are to provide school children with the opportunity to perform in a professional theatre and to expose children to the genius of the Bard's plays through performance.
I find that studying the text in English lessons alongside rehearsing the play after school leads to an extremely deep, perceptive knowledge and understanding of the play's plot, language and characters which can only stand the children in good stead for their continued study of Shakespeare's plays at secondary school.
The time scale for rehearsals is always short but this year it was exceptionally short: it was four weeks from first rehearsal to performance at the Arnolfini. As ever, Year 6 rose magnificently to the challenge, learning their lines in record time and working incredibly hard in rehearsals which took place after school three nights a week as well as during some afternoons in school time. Rehearsals were very much a collaborative process between me and the children who came up with lots of excellent ideas. They were hugely supportive of each other during the rehearsal process and we enjoyed lots of laughs along the way! The cast performed brilliantly at the Arnolfini, and subsequently in the school hall when ticket requests demanded a second performance, securing lots of well-deserved praise from their audiences and the SSF adjudicators. The children's knowledge and understanding of the text simply shone out of their performance and I hope they agree that all of the hard work was worth it. They made everyone who saw their performance extremely proud of them, especially me. Well done, Year 6.
Next year's SSF play has been chosen. Now I must get on with choosing the musical for the summer…
Yvette Kydd
Remembrance Assembly
Mr Robertson organised a poignant assembly to remind the children of why we have Remembrance Day and how we remember all the fallen soldiers from the Great War.
Remembrance Service 11th November 2014
We held a special Remembrance service, to mark the 100th anniversary of Armistice Day. We remembered all of those who have given their lives for the peace and freedom we enjoy today.
Steel Pans
Year 3 have been very lucky to have the opportunity to learn the steel pans. Every Thursday morning, Alphonse has come into school early to set up the pans ready for both Class 7 and 8 to practice new melodies. Mrs Brown and Miss Newnham have been very impressed by the new skills being learnt by the children.