September 2015 to July 2016
So many brilliant things happened at Horfield last year and below are some reports and photos of the events, workshops and dress up days, which raised lots of money, that we organised.
Sports Day & Swimming Gala
Just for once, we chose a good day to hold our Sports Day when the weather was perfect, no rain, dry but not too hot! The children enjoyed the usual round robin activities where everyone could join in and have fun. Then the serious bit of the afternoon came along with our running races, including parents! The Green team were successful again in winning the trophy - well done the Greens!
&nbsp
Helping children in Uganda
Over the past couple of years families, children and staff from Horfield Primary School have supported the charity, Children of Masindi. This small Bristol based registered charity was established in 2008 and supports children and young people in Uganda focusing on those with disabilities and special educational needs.
Last year money was raised to buy books for teachers and children at two primary schools in Masindi. Funds were also donated to build 20 bookcases as well.
This year, another donation was made to purchase 5 metal bunkbeds for disabled children that board at one of these schools.
Earlier this year Horfield school held a cycling event that the whole school participated in. The money raised from this event has enabed vocational maintenance to be established at the Kamurasi School by employing a skilled mechanic to work with the children on a regular basis. The charity also purchased bikes and tools.
Over the past 2 years families, children and staff have also donated many items for a "Suitcase full of Smiles" to be taken out with Mrs Edwards who is one of the trustees of the charity.
Clothes, shoes, toothbrushes, glasses, pens, pencils, soap, skipping ropes and other items have been so generously donated. The school also paid for excess luggage too!
The trustees of Children of Masindi and in particular Mrs Edwards would like to thank the whole school community for their amazing support.
You can find out more about Children of Masindi by visiting their website www.ChildrenofMasindi.org
Shakespeare composers for Bristol!
Some talented children in year 4 and 5 have been working hard on an exciting project: composing some Shakespeare inspired songs! Their ideas were finalised today in a composing master class at St Mary Redcliffe Secondary school.
Together with Mrs Alsop, Mr Dixon and Mrs Steel, the children used a combination of their own lyrics and Shakespeare's verse to compose 5 fantastic, creative pieces of music. They even used the recording studio to record their work! Their creations will be shared on the Bristol Plays Music website so that children from across Bristol can listen to and sing them!
Congratulations to Fin, Matty, Ava, Bella, Zeke, Ethan, Keziah, Molly, Ella and Emily.
&nbsp
Robin Hood and the Sherwood Hoodies.
Horfield pupils were transported into the depths of Sherwood Forest and discovered the hilarious truth behind the legend of Robin Hood and the Sherwood Hoodies.
When the evil Sheriff of Nottingham and his daft guards threatened the villagers of Sherwood, feisty Maid Marion hired a band of freedom fighters for protection. But when Robin and his Merry Men arrived, she soon discovered they were not exactly what she'd ordered! With no time to lose, she persuaded these hapless heroes to take centre stage for the performance of their lives - if only they could stick to the script!
&nbsp
&nbsp
Wear it Wild
After the success of last year's event, we decided to hold a "Wear it Wild" dress up day again to support the WWF. There were some great creations and the staff were very impressed with the ingenuity of some of the costumes. Lots of onesies were put to use and even a couple of staff members were spotted around the school not in their usual attire!
Well done to everyone who joined in the day's fundraising and we managed to raise just over £300.
Orchestra Workshop plays Magnificent Seven!
Yet again, Horfield hosted another successful orchestra workshop with over 90 children from different schools all over Bristol joining in to play a medley of film music from the Magnificent Seven, Lord of the Rings and Back to the Future.
We were very lucky to have Phil Dixon from St Mary Redcliffe Secondary School as our conductor again - thank you Phil!
KS2 Choir sing Ahoy!
After a lot of hard rehearsal work after school on Tuesdays, our KS2 choir joined forces with other primary school choirs, Orchard Secondary school and Bristol Choral Society to sing a specially written piece of music about the Mary Rose called "Ahoy!" by Alexander Lestrange. Stripy t-shirts and lots of energy were needed for the hour long performance on Wednesday 23rd March at the Colston Hall. As usual, our children sang with gusto and behaved brilliantly. The audience were very appreciative of the whole performance - next up, the Schools Summer Concert towards the end of June so choir will start again in earnest on our return after the Easter holidays!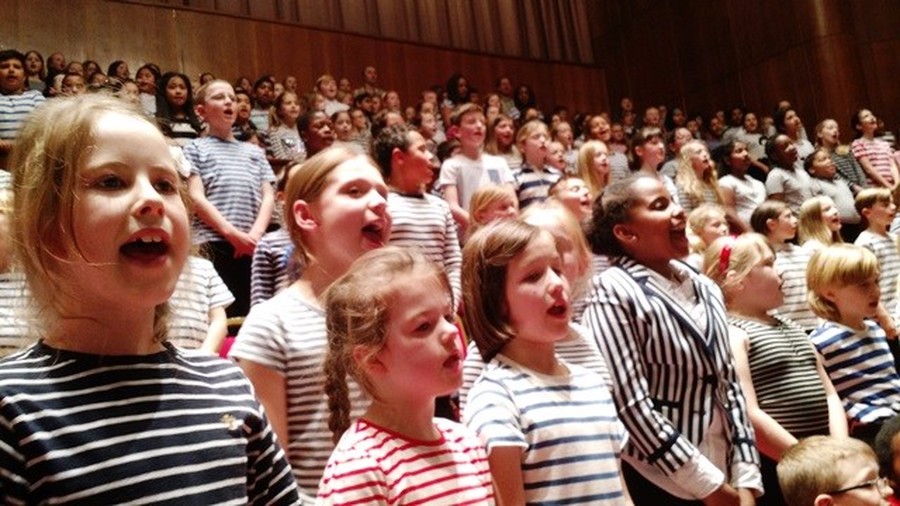 Tree planting in the School Grounds
Green Club
On Tuesday March 8th 2016 we planted 19 new trees in our school grounds with Tree officers from Bristol City Council, as part of the One Tree Per Child project.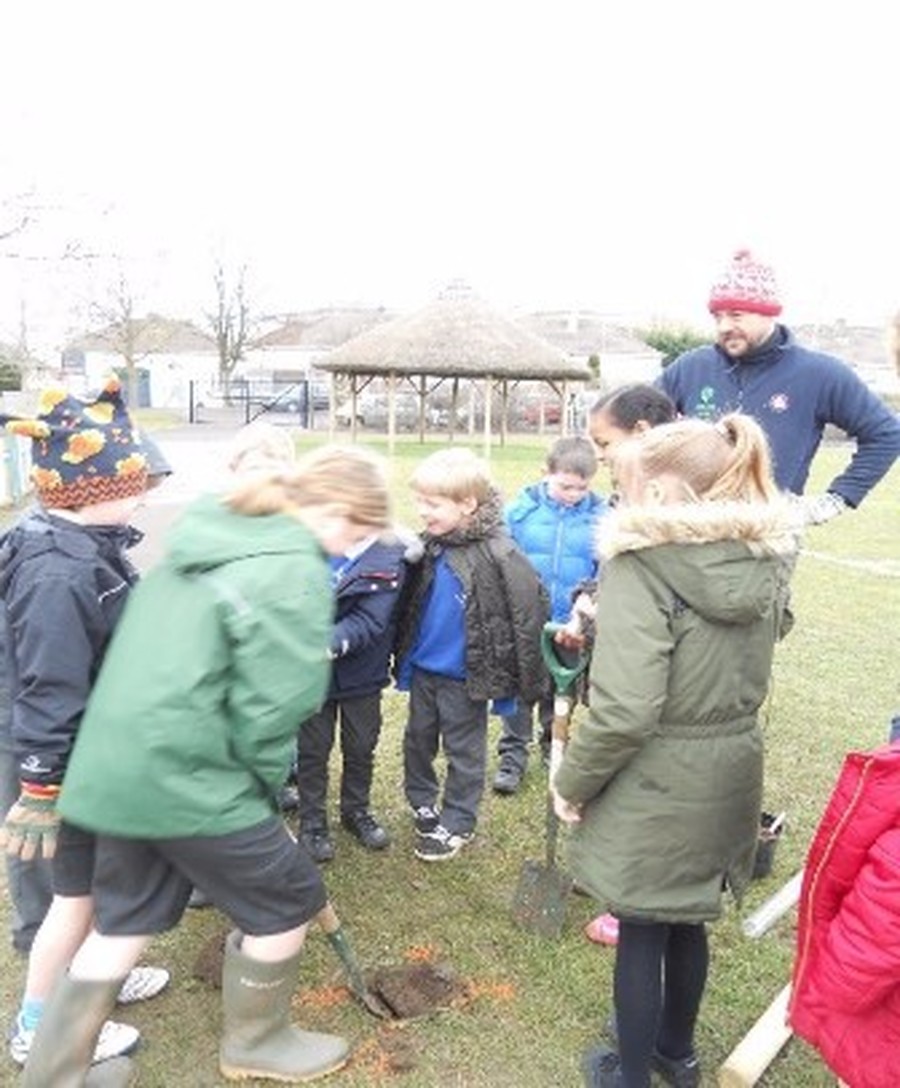 John reminded about how important trees are, and showed us how to plant them properly. We had great fun and learned a lot.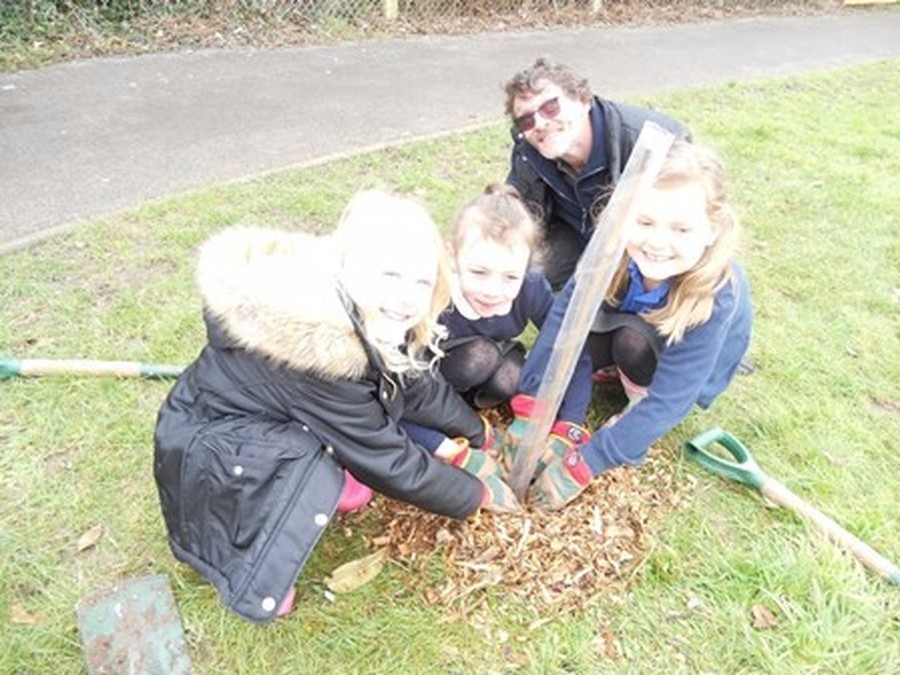 Miles told us about mulching round the tree to stop the weeds and grass taking the nutrients from the tree.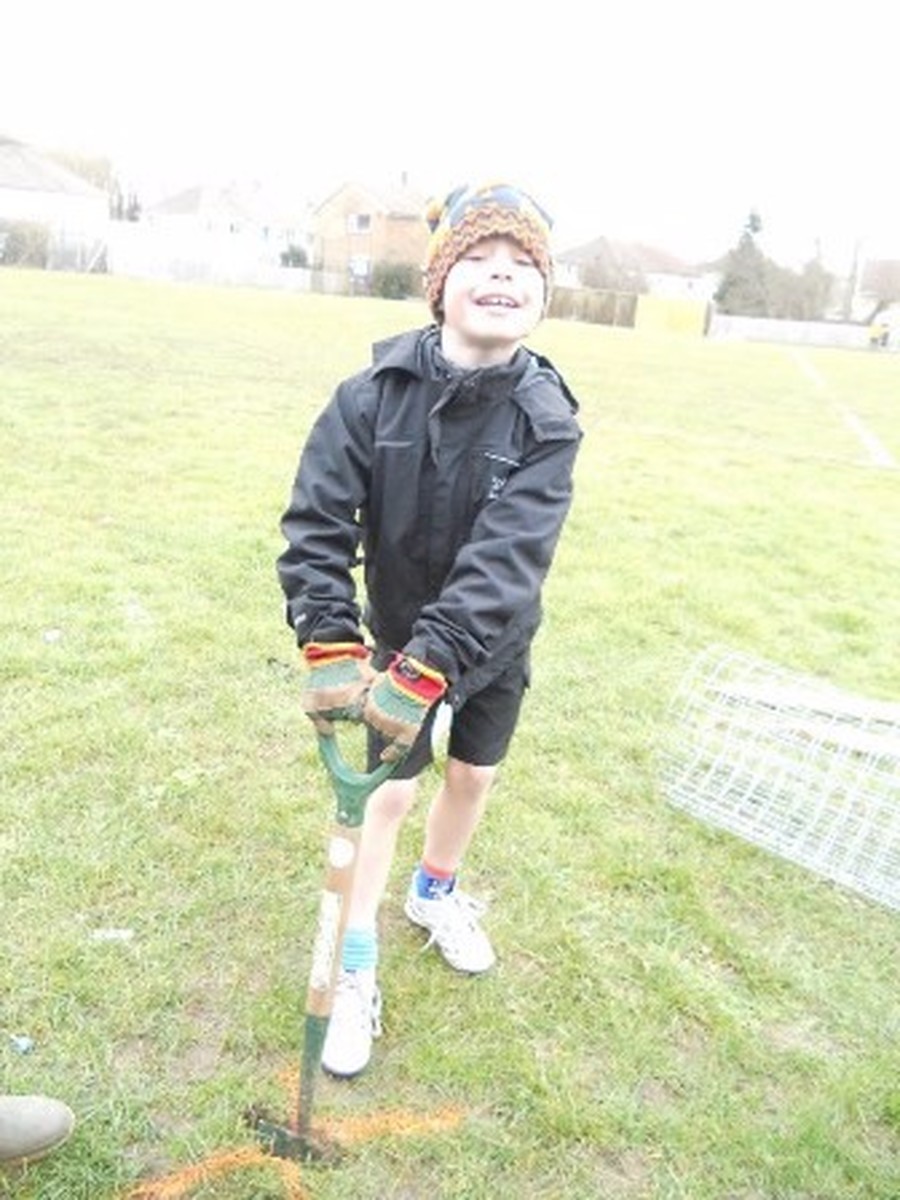 Facts we learned:
One large sycamore tree (like the ones in our school grounds) can provide enough oxygen for 10 adults or 15 children. A tree can be a great habitat for all sorts of insects, birds and small creatures. The flowers help to attract pollinators like bees and butterflies.
We put tree guards around the stem of the trees so that mice, rats and rabbit cant's nibble it.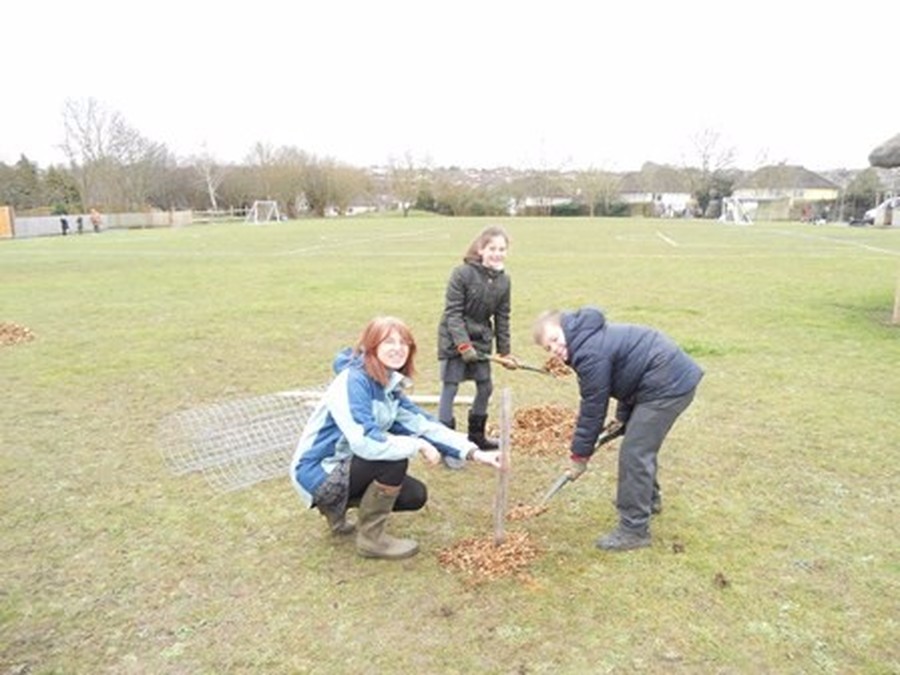 One day the trees will be large enough to give us shade.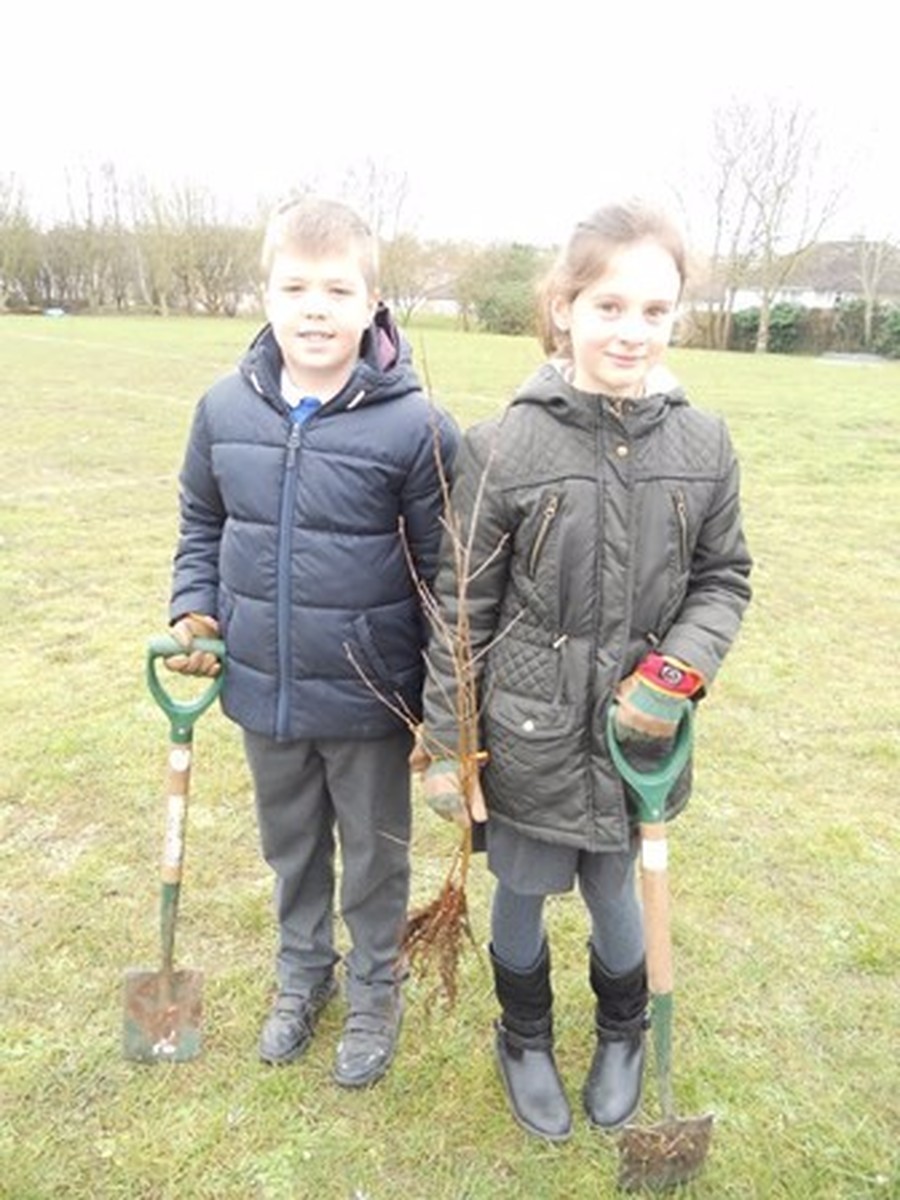 Some trees, like horse chestnut, have sticky buds and hairy leaves which can trap pollution. When it rains this is washed away.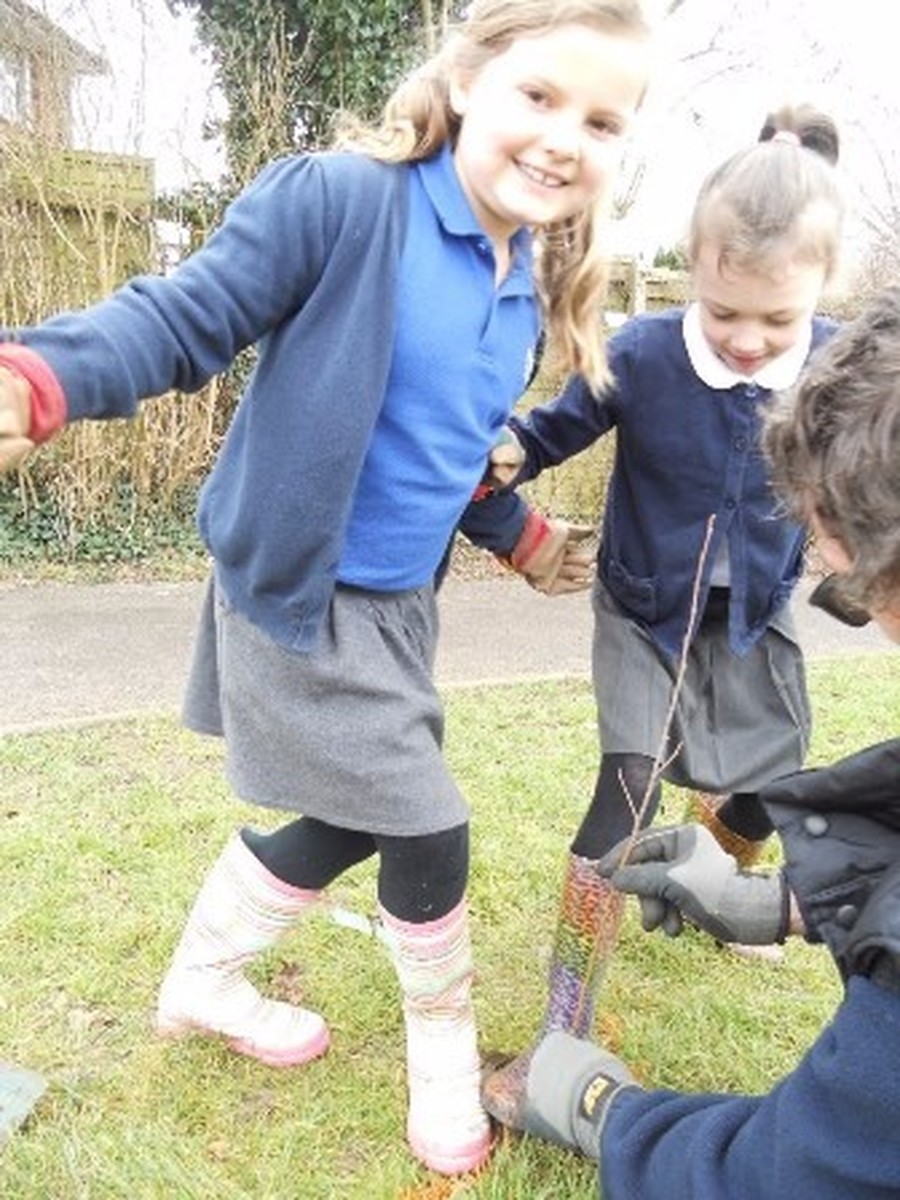 We firmed the soil back down with our boots.
We planted Field Maple, Wild Cherry, Magnolia, Service Berry and Birch trees around our field.
We are very excited to have also planted a special Bristol Whitebeam, which is endemic to Bristol.
Mrs Taylor came to help plant it.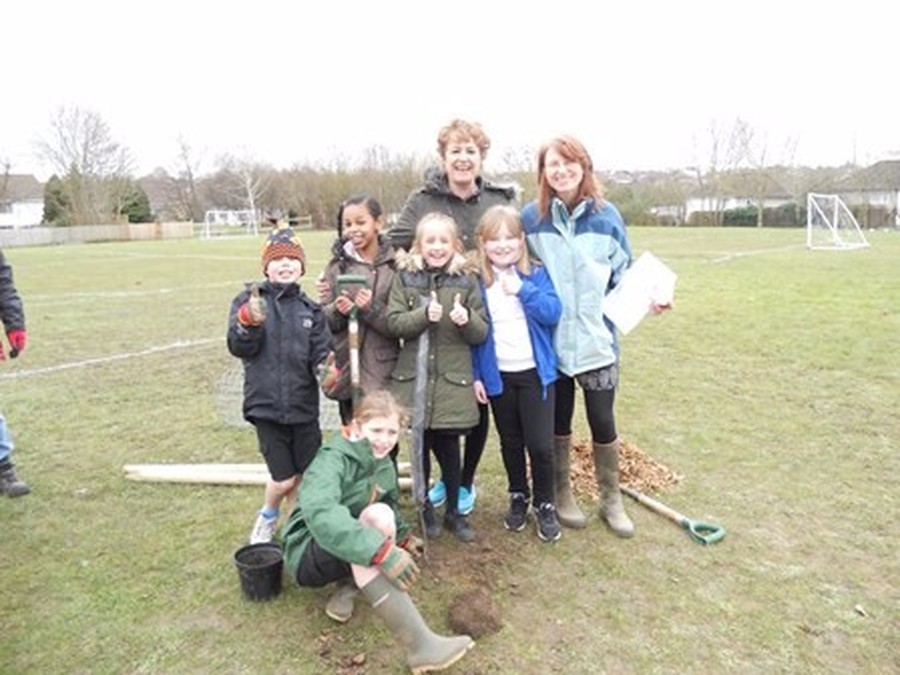 The Green Club worked really well and all the Tree Officers commented on their enthusiasm and great knowledge about trees and the environment.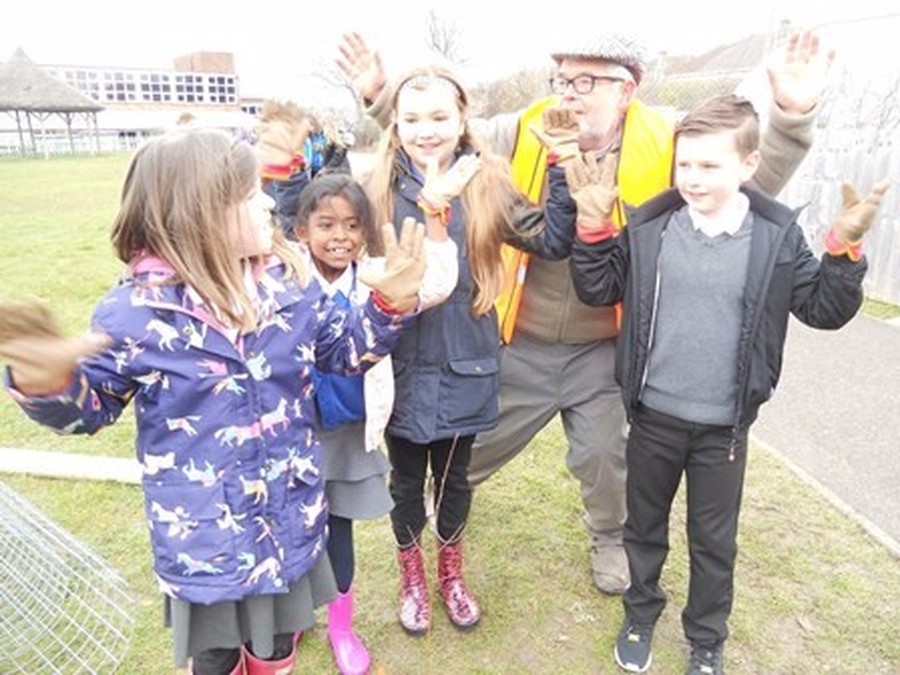 Molly and Aimee were particularly praised as they planted four trees and worked as a great team. Molly was especially good at putting on tree guards. Brian said they were the best group he had worked with since starting the project in October.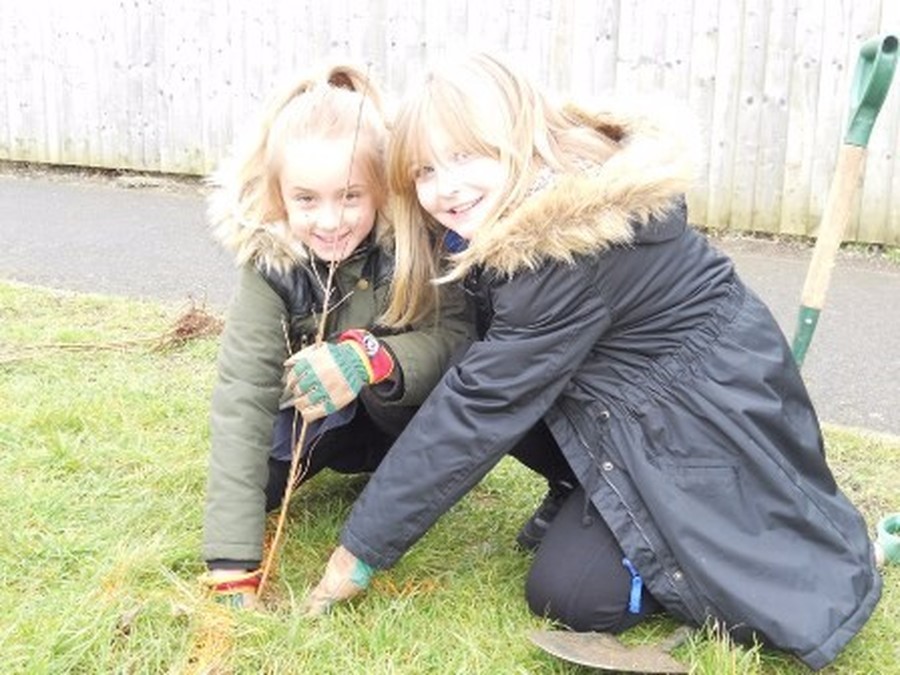 Mrs Friesner was particularly impressed by the Green Club's teamwork and excellent behaviour. We thoroughly enjoyed the morning.
The Green Club would like everyone to help look after the trees. In years to come they will provide us with shade and give us great pleasure. Meanwhile they will provide habitats for many small creatures, attract bees with their flowers and help to keep our air clean.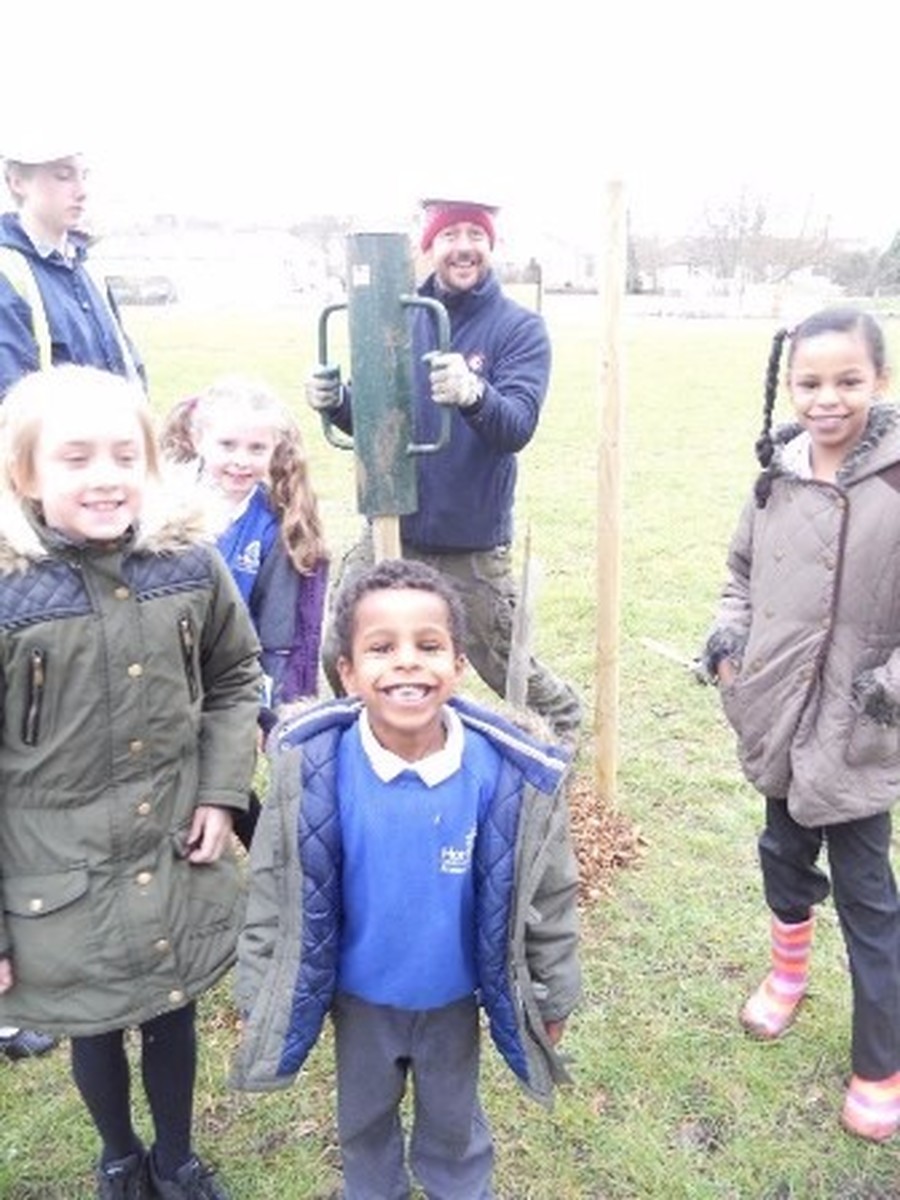 Mum cycles for Sport Relief
Congratulations to Louise Slade and her team (James, Class 8 and Henry, Class 4) for cycling from John O'Groats to Land's End in aid of Sport Relief. They managed to find the time and energy to pop into Horfield for a few laps of the cycle track before continuing on their way down South! The children were delighted and over the moon to see the cyclists and even spotted a cycling superhero.
Well done Louise!
It's official!
Our new library has now been opened officially! We held a special assembly on Friday morning in the hall to celebrate the delivery of even more brand new books to put on the shelves which had been bought from the proceeds of our latest book sale. Miss Walsh, Mrs Jones, Mrs Kydd and Mr Beard all read excerpts from their favourite childhood books and, as a special treat for the children, we had our own resident magician, Peter Clifford, to read to us and perform an amazing illusion which made his head grow bigger and smaller all at the same time - needless to say, lots of laughter filled the hall!
The day was even better as the majority of children (and staff) dressed up as their favourite book character and many people went to a lot of effort with their costumes - well done everyone for the lovely outfits.
Maths Challenges - January 2016
We would like to congratulate two groups of children from Year 4 and Year 5 who have recently competed in Maths Challenges.
Well done to Tom & Fletcher, Matty & Zoe who represented the school in a Year 4 Maths challenge. They came 14th and 15th out of 24 groups. Our Year 5's were a brilliant 8th place out of 27 teams at the challenge held at Bristol Grammar School.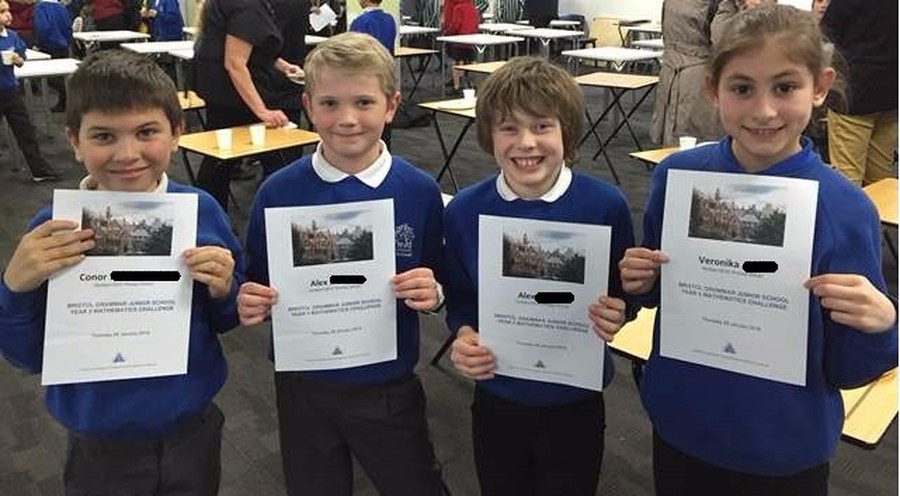 It's Christmas time at Horfield !!
"Mary's Journey"
Once again, the Reception Nativity has been the highlight of our Christmas celebrations here at Horfield. With a break in tradition, this year the play was written by Mrs Peet, the lovely music was composed by Year 5 children with help from Mrs Alsop (copyright is being sought at this very moment!). The Reception children were, of course, complete stars and their performances on Tuesday afternoon and Thursday morning were very much appreciated by the packed audience of family and friends. There was help from KS1 singers and percussionists and narrators from Year 2. Many thanks to Mrs Peet, her hard-working Reception team, and many other staff and parents who helped in this year's production.
Singing for the Brain
As well as performing at St George's on the evening of Tuesday 1st December in a lovely Christmas carol concert, the KS2 Choir also visited St Monica's Home to join in with the regular attendees in the weekly session that Singing for the Brain organise Young and old voices joined together in perfect harmony to sing well-known Christmas carols including O Little Town of Bethlehem and Away in a Manger as well as modern favourites such as Jingle-Bell Rock. 50 children entertained the elderly singers and their carers. Mary Morris, group leader of Singing for the Brain, said "We always look forward to the children's visits; they bring such joy to us all. We are always impressed by their friendliness and professionalism".
As well as our annual visit from the Come Alive Puppet production of "A Camel's Tale", we also welcomed back the students from Bristol Old Vic who performed their nativity "The Donkey's Tale" which was retelling the story through the eyes of the animals, ie the donkey, the sheep, the dog and the camel. The children really enjoyed both productions which got them in the mood for two weeks of Christmas learning and festivities at Horfield.
New library books
We were delighted to be able to order £800 of books as a result of all your purchases at our recent Book Fair. Children were very excited to discover Tom Gates' books, Roald Dahl, David Walliams, Ted Hughes and many more wonderful children's authors. We hope that children will curl up with a good book over the holidays and share their excitement of reading the new books with you.
World Book Day Competition
This year we decided to complete a school entry for the World Book Day Competition by creating our very own 'travelling library'.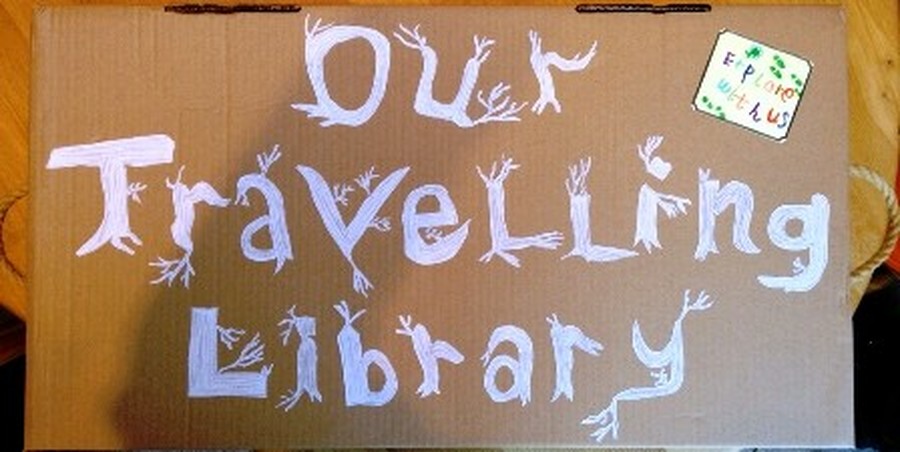 Each year group designed and made their own miniature scene from a book they've studied.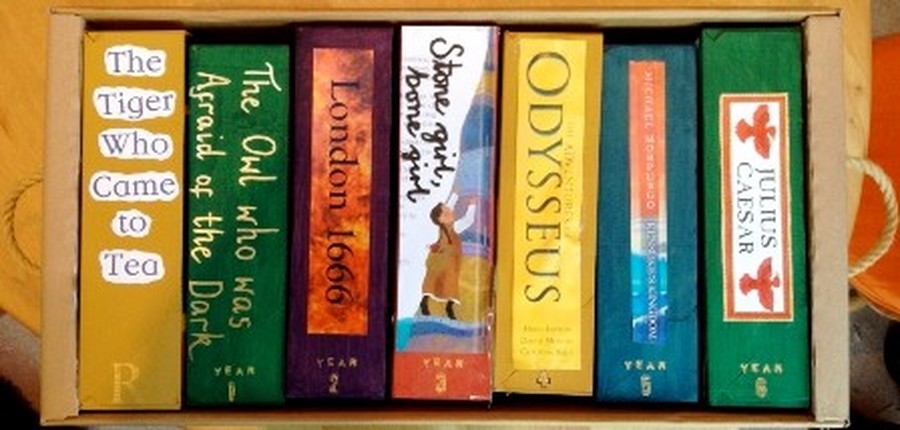 They also wrote a blurb for the book, enticing readers to explore some of their favourite books. In addition, Upper Key Stage Two designed and made the covering title for the entry and each class made a book label for the case. Everyone really enjoyed getting to present their much-loved texts in such a creative way and we are looking forward to hearing back from the judges!
First prize is £10,000 of books, 2nd prize is £5,000 of books and third prize is £3,000 of books. We'll wait and see!
A very big thank you to Allison and Richard Cook who helped us with the design and finished product.
Stargazing Event
What a great turn out for our first ever Stargazing event which we held on Wednesday 25th November which was part of our "Space" fortnight.
There were lots of activities to do including painting your own planet, using the i-pads to see the constellations and looking through the telescope to view the moon.
A big thank you to Mrs Hopwood-Stephens and many other members of staff who organised the evening and also to those parents who "mucked in" and helped on many of the activities where it was so busy!
Graveney School Choir
We were delighted to welcome back students and staff from Graveney School choir. The choir was on tour from Wandsworth, London and the whole school listened to them perform a wide and challenging repertoire in four parts which lifted our spirits and sent us away with a song in our heads!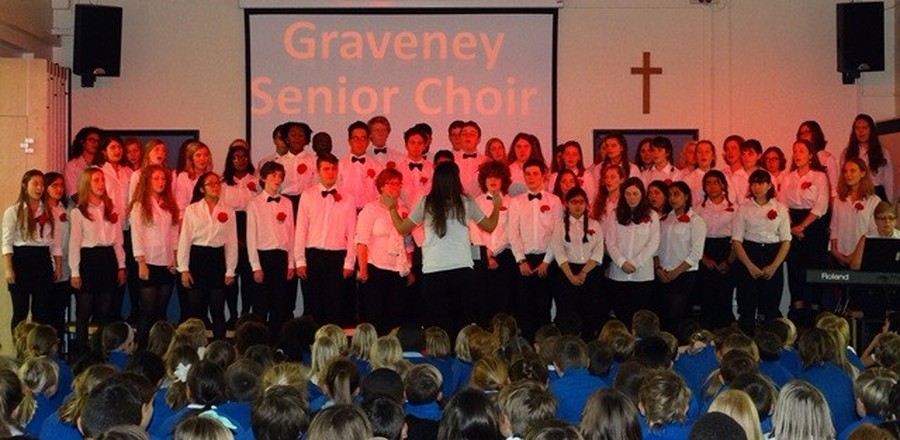 Harvest Assembly
For some of us, Harvest is our favourite time of the year! "We plough the fields and scatter" and "All things bright and beautiful" were sung in the traditional and modern style.
Poppy and Samuel from Class 12 led the assembly and introduced Class 4 who told the story of the Poppy Seed along with some lovely artwork. Class 9 had been working with Mrs Steel and recited a poem about bees and Class 12's triple act from Michael, Alex and Kayley was entertaining and informative about the importance of bees and why they are threatened. As usual, we had beautiful singing from both KS1 and KS2 choir.
One of our traditions is to bring in items, both fresh and long lasting. The long lasting items were donated to North Bristol Foodbank and we heard from John how useful and helpful these donations will be to local families in need. Proceeds from the sale of the fresh produce will go to the Little Sisters of the Poor.
We also had our Harvest loaf on display and Kerry, our cook, had baked some delicious smelling fresh loaves and muffins made from the apples grown in our orchard.
Football news
The school Football team has made an excellent start to the season by winning the Orchard Football League. In the five games played, they won three and drew two, without conceding a single goal. Their next target is the St Bede's league which begins in November.
On 6th October a team from Year 4 took part in a tournament at St Bede's and narrowly missed a semi-final place on goal difference. Well done to them also.
Helping Southmead Hospital Charity!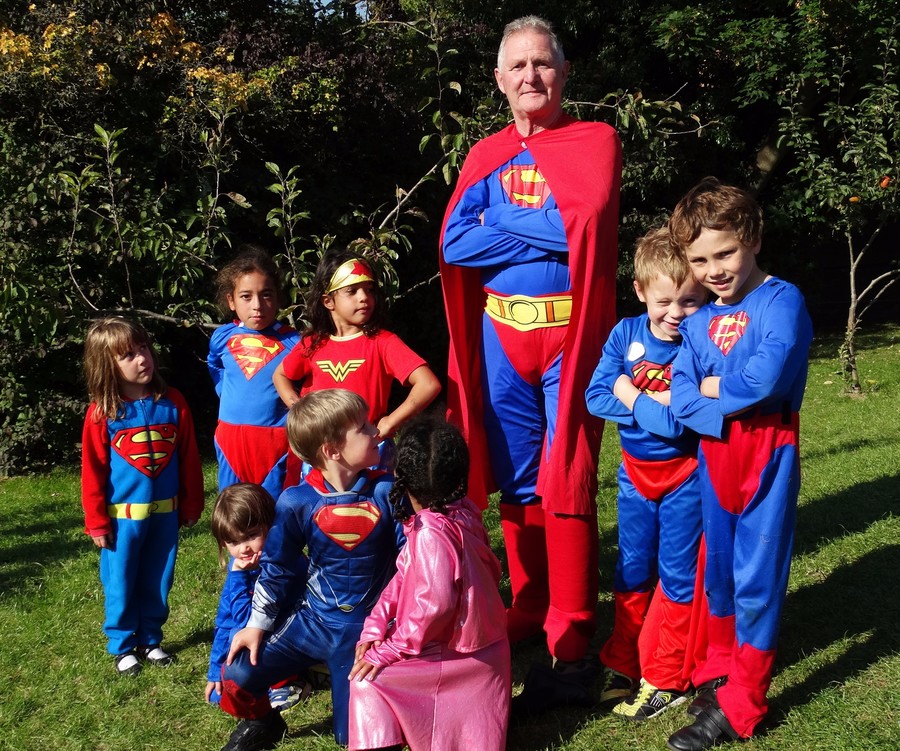 Lots of our children joined in the fun on our fundraising day on Friday 2nd October to raise money for Southmead Hospital by dressing up as their favourite Superhero. Everyone who dressed up donated £1 to the charity which raises funds to:
Fund vital medical research

Provide specialist equipment at the cutting edge of technology

Improve treatment facilities

Support staff development

Create a healing environment to promote well-being within clinical spaces.
Since the hospital is just around the corner from us and many of us as a school community use its facilities, it is great to be able to support this worthy cause.
Total raised so far is £280.73 - well done everybody! Take a look at our pictures on the Southmead Hospital website: www.southmeadhospitalcharity.org.uk/make-difference/your-pictures/hero-day
KS2 Choir's first performance of the new school year!
Children from Year 4 & 5 visited Southmead Hospital to once again take part in their Fresh Arts Festival. They performed for 30 minutes in the atrium near the Sanctuary which always is a lovely part of the hospital to sing because the sound travels up through to the top floors and many of the patients can look down from their inside rooms.
As usual, they sang beautifully; one of the organisers, Pip, was quite overcome with one of our favourites "Refuge" and commented "Good to see you last Friday and thanks so much to you and your team for bringing the Horfield Primary School Choir to sing for us at the Southmead Festival. I hope you enjoyed yourselves. The children's voices sounded terrific and filled the atrium with song! That moving song "Refuge" really struck a chord with me and I wasn't the only one with a serious lump in my throat!'