Recent Events
Bristol Children's Literature Festival
Well, what a fantastic day it turned out to be! After lots of planning, the big day arrived on Saturday 14th July. The school was sparkling both inside and out, classes were ready for our numerous guest authors, the ticket booth ready for "on the day" visitors and the sun was shining!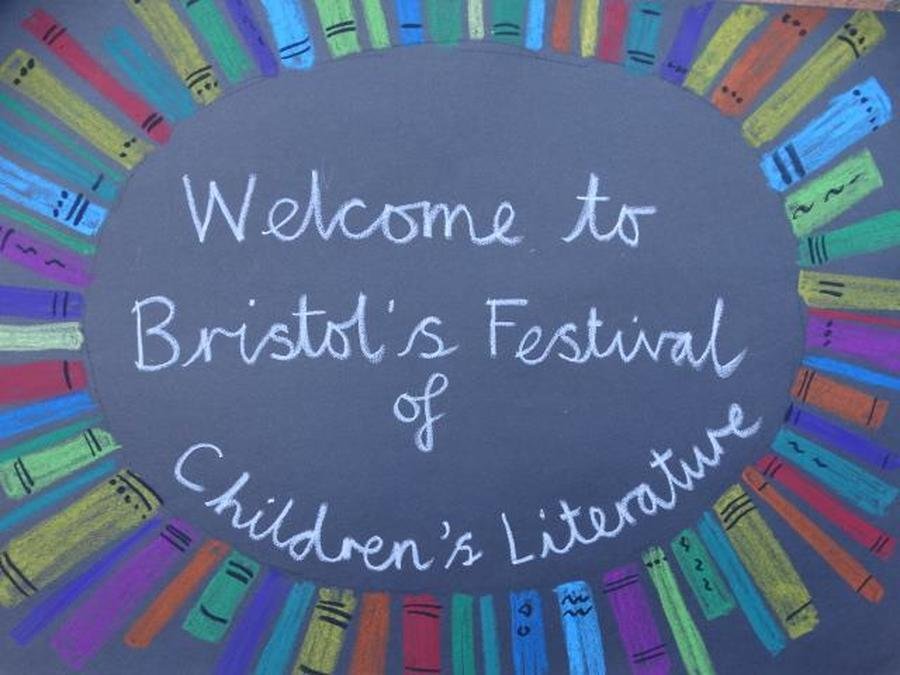 Among the many authors running workshops were Amy Wilson, Andy Seed, John Hegley, Kjartan Poskitt and Chris d'Lacey. As well as the author workshops, we had inspirational art and craft workshops running throughout the day and two singing workshops for KS1 and KS2.
Feathers McGraw competition
Thank you to everybody who entered the design competition for Feathers McGraw. Mrs Taylor and Miss Carter have looked through all of them and have been amazed by your creativity and naming of your designs! Miss Carter has chosen quite a few designs and will be using certain elements of each design to paint onto Feathers. Here are some of the best designs below, chosen by Mrs Taylor and Miss Carter.
Goodbye to Mr MacDonald
We said farewell to Mr MacDonald who has taught at Horfield for over 17 years! He has been PE leader and a Year 4 teacher for many years and has run various year group football clubs for a long, long time .... in all weather conditions! He is moving on to new adventures which will include carrying on his training schedule for long distance running and triathalons. Class 10 presented him with a signed football, along with various goodbye cards. The staff and parent collection will be going towards a garden bench which Mr MacDonald will be buying to relax on!
Wonderful Young Citizens!
We would like to say well done to Saraya and Aimee in Year 6 for being very responsible and courageous earlier this week. They were on their way home from school and came across an elderly gentleman who had fallen in the street. Aimee called an ambulance and stayed on the line with the ambulance service for 25 minutes until help arrived. Both Aimee and Saraya stayed with him even when some adults arrived and offered assistance. We were very proud of their actions and Mrs Taylor presented them with special certificates in Achievement Assembly.
Year 4 at Orchard Sports Day
On Monday, Year 4 went to Orchard school for a sports event with two to other local schools. We were led by the students in years 7, 8 and 9. We even recognised a few faces from when they were at Horfield! They taught us how to play Handball, Hockey, Lacrosse and Boccia (a game similar to bowls). We finished our day with a Tug-of-War, where Class 9 and 10 had to compete against each other!
Earth Hour
Awaiting report on Earth Hour! but you can still see the lovely posters that were made by each class and captured on photo by Mr Harvey on the last day of term!
Penguins!
We are participating in this year's Gromit Unleashed schools programme, which is part of the Grand Appeal fundraising for Bristol Children's Hospital. So we are now the proud owners of a blank "Feathers McGraw" sculpture which needs to be decorated. All the children have been given a poster with the front and back of Feathers McGraw and we already lots of exciting and inspiring designs have been flooding into the office! The winners will help decorate the sculpture. It will then be on public display at the Mall during the summer holidays.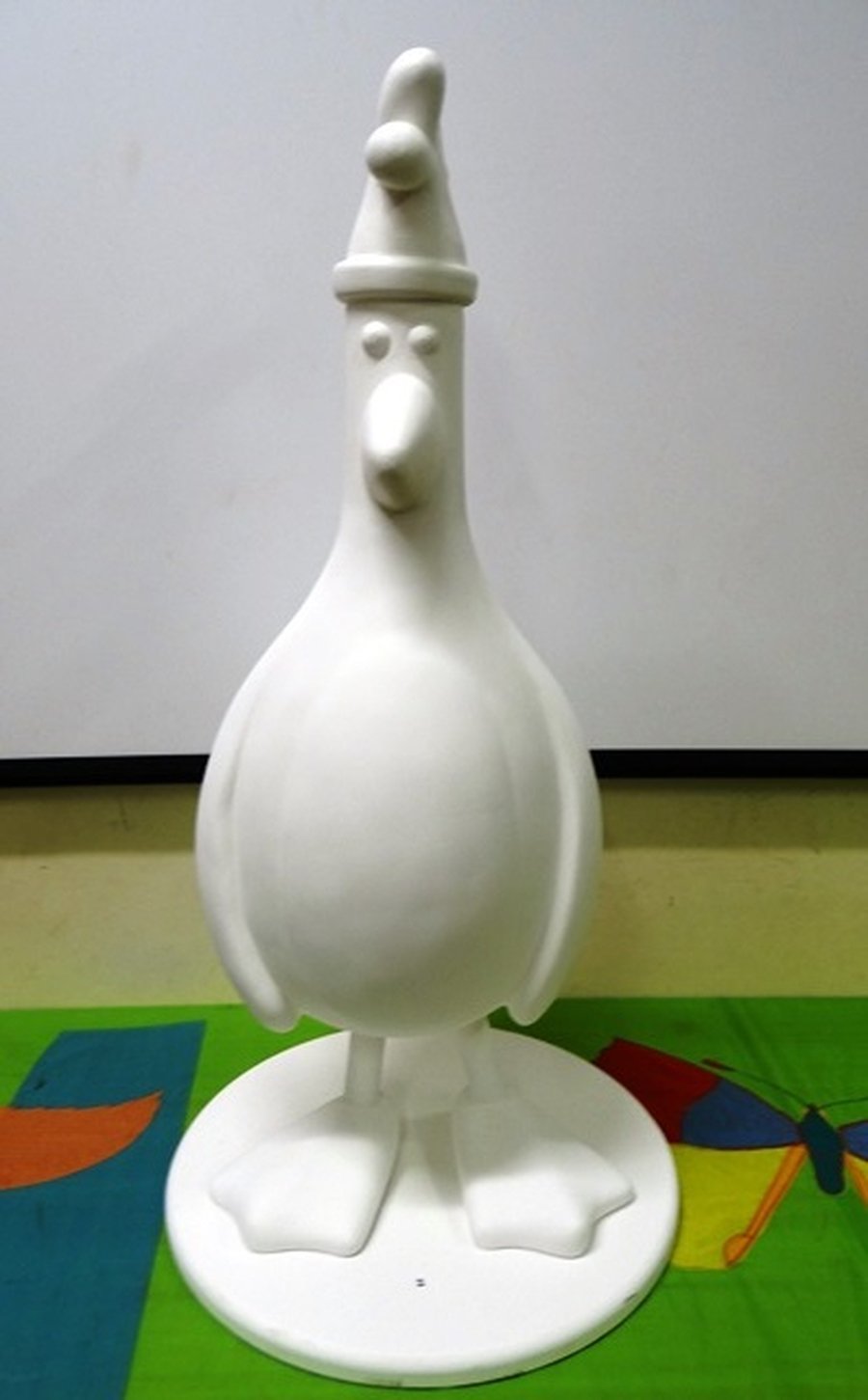 Awaiting report on Earth Hour!! but you can still see the lovely photos captured by Mr Harvey.
Snow Day!!
The mini Beast from the East returned in the last week of the Easter term. The school had closed two weeks before for one day when we had lots of snow but this time there was not so much snow so the majority of children managed to attend school.
It was decided to keep them inside for wet play activities during the morning break but by lunchtime, the sun had melted away the ice and slippery conditions so the children were allowed outside to have fun. As exciting as it was, hopefully that will be the last we see of snow in 2018!
World Book Day - Thursday 1st March
As well as being excited due to the snow falling, we had great excitement with everyone dressing up as their favourite book character. From Class 1 to 14, lots of children made a wonderful effort to create lovely costumes as you can see from the photos below. We'll let you know how much was raised from the £1 donations which will go towards purchasing new books for our library.
Green Club
Inspired by Green Club's assembly last term about the problem of plastic in our oceans, children have been taking photos and making posters showing us how we can all make a small, positive contribution towards change. As a school we are trying very hard to reduce our use of plastic and where possible, recycle as much as we can. Members of the Green Club are also helping Mr Coombs on a weekly basis to empty our paper recycling around the school.
Lucas from Class 4 spent some of his half term holiday on the beach gathering plastic and other rubbish he had found - what a fantastic way to help the environment - well done Lucas!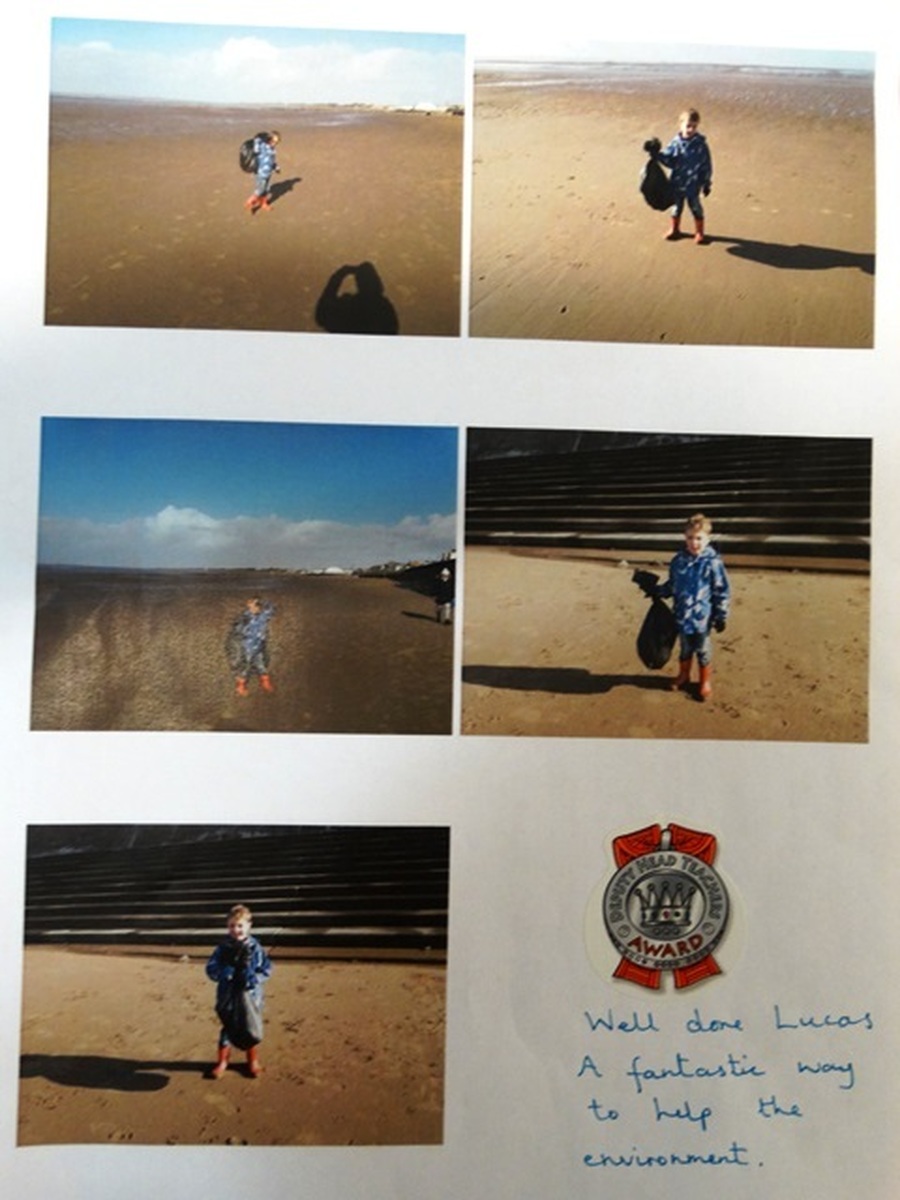 Mohamed in Class 12 spent a lot of his half term holiday designing and completing the lovely poster below, showing lots of detail on what happens with the plastic in our oceans. Super work Mohamed!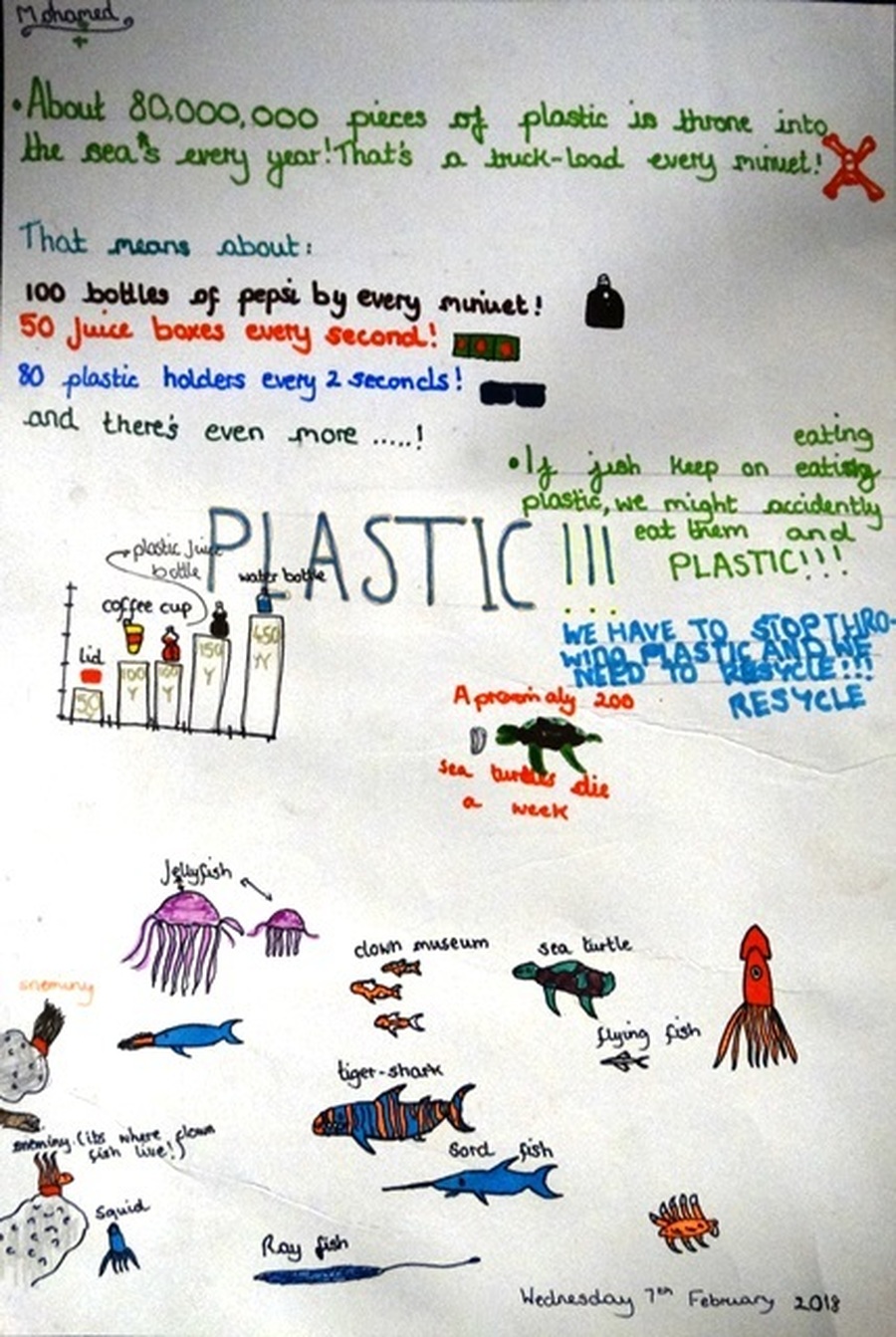 A massive highlight of this term was the visit of Tim Gregory, a hugely inspiring and engaging scientist from Bristol University. He came and talked to all of the children about his enthusiasm and passion for science. Tim appeared on the BBC TV show "Astronaut" last year and shared with us some of his amazing experiences while training to be an astronaut. He gave a totally inspiring presentation about his love for learning and fascination with space, the planets, stars and meteorites.
Tim was an instant hit with the children and we were quick to book him up again for further visits and collaborations with our teachers. We were really pleased to present Tim with one of our special framed prints from Year 6. He later tweeted "it was a pleasure to talk to the next generation of scientists".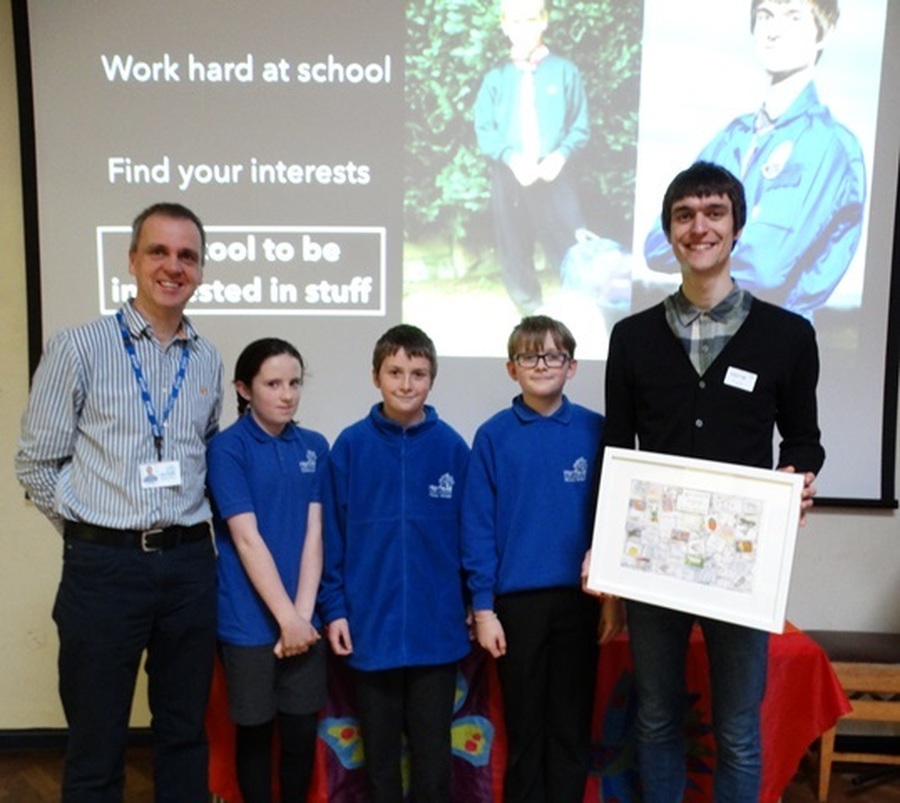 Singing for Southmead
Year 4 & 5 choir brought festive cheer to Southmead Hospital by singing all of their Christmas repertoire in the Atrium, which always make the sound soar up to the roof! Many audience members, of which there were a lot, commented on their perfect behaviour and challenging harmonies. One gentleman makes a point of coming in every year to listen to the choir, admires the way in which they can remember all the words and was so impressed this year that he sent in a very kind and generous donation to help with some of our future events. Congratulations to Mya B, Chloe H and Madeleine H for the lovely solos.
Super Singing
Class 8 and Year 4 choir filled Bristol Cathedral with their beautiful singing when they took part in a massed children's Christmas service along with choristers from Bristol Cathedral School Choir. Horfield were particularly impressive as they sang all of the harmony parts on their own! A special well done to Amelia P and Toby K who read very clearly.
Santa's new sleigh!
We were very impressed by the entries for the competition "A new sleigh for Santa". Congratulations go to our winners, Benji and Timo, who worked together to design and make a fantastic jet sleigh and to Joseph J who created a beautiful fabric reindeer to help pull his sleigh. Special mention also to Bix, Harry, Edison, Albin, Isla and Louis for their amazing designs.
Bristol Old Vic Nativity
We welcomed back the students from the Bristol Old Vic who performed their Christmas nativity called "Starry Night". The whole school fitted into the hall, including all the teachers, to watch an entertaining retelling of the nativity. There was lots of singing, great acting, poetry, puppets, magicians and a touch of slapstick. The children always look forward to this annual performance.
Helpers Coffee Morning
Another of our Christmas traditions is to host a coffee morning to say thank you very much to everyone who comes into help in school throughout the year. They were entertained by our new fantastic quartet of Nathan on guitar, Fletcher on piano, George on trumpet and Antoine on saxophone, the huge KS2 Choir sang some of their Christmas repertoire and the Year 6 boys' choir performed for the first time in public. They also listened to some delightful singing from Mr Lawrence's voice students (too many to mention!). Thank you to all our lovely volunteers who come in to help with a huge number of different activities throughout the year.
Nativity - An Extraordinary Tale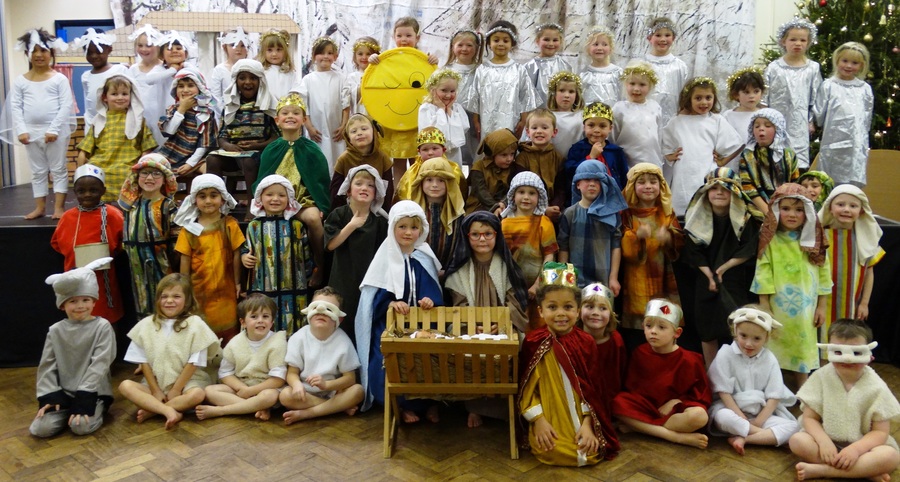 Wow - what a stunning performance from our Reception classes!
They performed their musical Nativity play "An Extraordinary Tale" with superb, expressive acting and delightful singing. All the traditional characters were there including a host of sweet angelic angels, twinkling silver starlight dancers, watchful shepherds with their sheep, overworked innkeepers, curious kings and camels from afar, a surprised and tired Joseph and Mary and of course, the baby Jesus. Children from Years 1&2 narrated the story confidently and sang over 15 songs beautifully throughout the whole performance. Well done to everyone involved! A huge thank you to the director Mrs Peet and all the staff and helpers who made this happen.
Thank you also to the Year 6 chair movers who were very helpful at the end of the performances to tidy up our hall - it was a lot of chairs to move!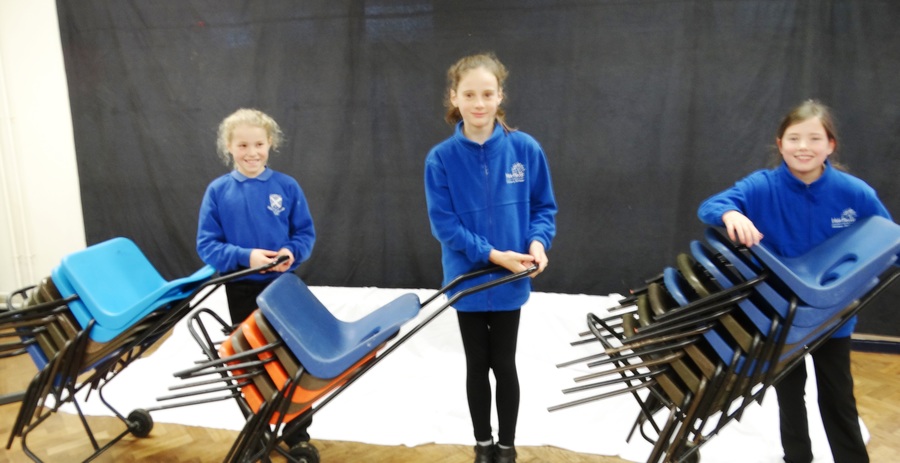 Goodbye to Father John
We held a very special Collective Worship to say goodbye and good luck to Father John and Rachel. Father John is retiring from Horfield Parish Church which means we will no longer hear his entertaining assemblies every other Wednesday in our school! Children from different year groups had made some lovely gifts for Father John to put in his new house when they move from the Rectory in January 2018.
We will ALL miss you Father John and send lots of best wishes and love in your retirement and hope that you will come back and visit us in future.
Walk to School
We are pleased to announce that we have joined the Living Streets 'Walk to School' campaign this year called WOW. The children were introduced to 'Strider' and learned about the benefits of being active in the mornings (feeling healthier, happier, reducing congestion and pollution). The project encourages the children to walk, scoot or cycle as often as possible. For parents who need to drive to school the campaign encourages a 'park and stride' approach - parking a little further away and walking for 5-10 minutes. This would count as an 'active journey.' The children will log their daily journeys to school each day and can collect exciting badges (that can be brought to life using a special augmented reality app.) To find out more visit: www.livingstreets.org.uk/walktoschool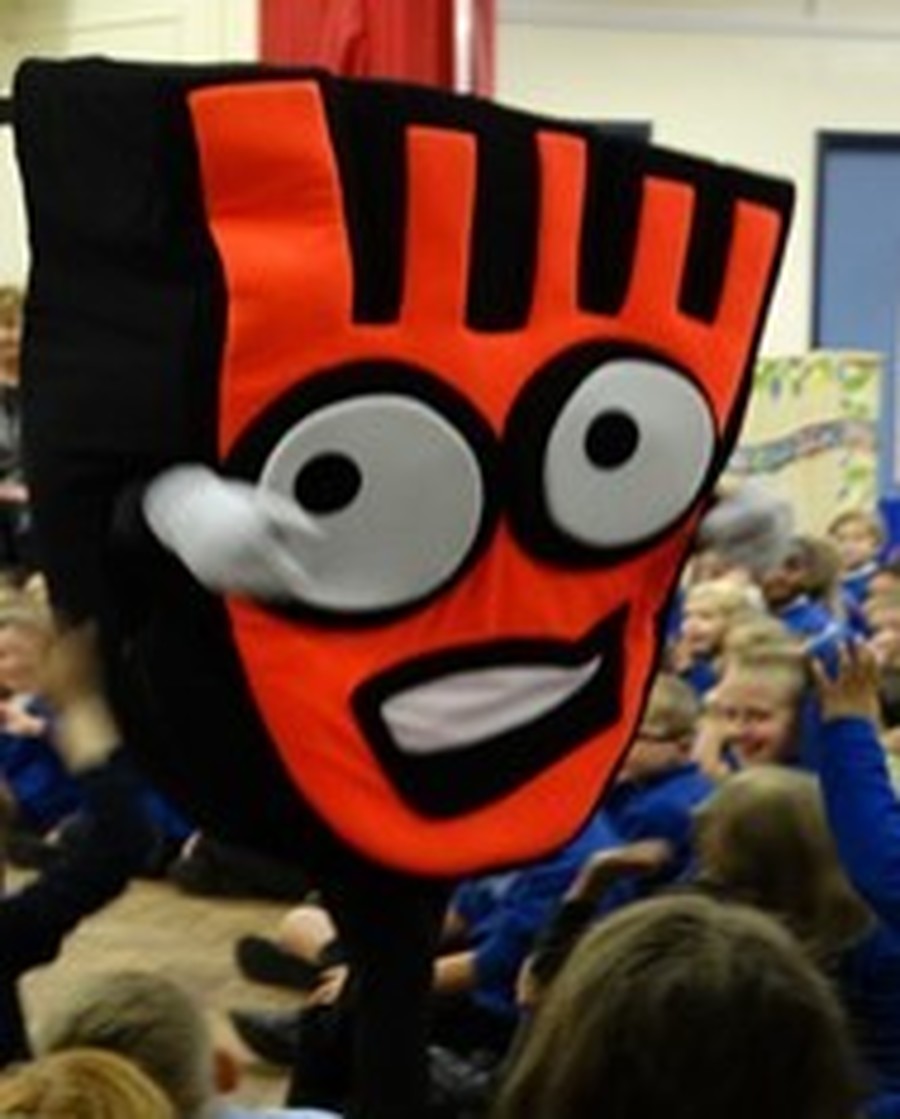 Children in Need - KS2 Choir on TV!
Wow! What an amazing afternoon and evening for the children involved with Children in Need. They were invited to sing with around 8 other local Bristol school choirs to sing "Somewhere over the rainbow" at regular intervals through the evening. It was a long day as they had to be at the Concorde Museum by 1.30pm to start rehearsing and make sure that all the schools could sing the song together as they had been practising separately over the last few weeks.
Their first "live" appearance was on BBC Points West, again at around 8pm when BBC One West were live on the actual Children in Need programme and then sang live with all the school choirs around the country at around 8.30pm. Even though the Bristol choir weren't seen for too long on the national screening, Points West did show the whole performance on their Monday news broadcast the following week and lots of Horfield faces were spotted!
As you can see from the photos, the children had an amazing day and were very excited to meet and speak with Alex and David from Points West. They were all beautifully behaved and we were all very proud of them. Well done Choir!
Harvest Assembly
Our school and church community came together to give thanks for the gifts of the harvest. The celebration was closely related to our metaphor for learning - boats. Tilly and Wilson presented a series of fantastic performances, including Fletcher and Nathan's beautiful "Hawaiian Fisherman Song" and Antoine played his saxophone confidently in the Breton Fisherman's prayer. Class 8 retold an animal story and Erin, Morgan and Lilly from Class 12 spoke very passionately about the fragility of our world. Class 10 performed a choral speaking version of "Jesus calms the storm" and Edwin, Izzy and Shakina led thoughtful prayers linked to our seas and oceans.
Father John finished the service by blessing the Harvest loaf. All the food given has been donated towards the Bristol North Foodbank and The Little Sisters of the Poor.
At the end of a recent assembly, Mrs Kydd and Mrs Jones were very excited to show everyone the new UKLA books for this year. Extracts were read from some of the books and at the end of assembly there was a chance for everyone to have a quick read through the new books.
Mrs Bright was kept very busy at the end of last week with her brilliant organisation of the secret ballot for our new School Councillors. Every year there is an election process then each class votes in a secret ballot.
So our new Councillors for 2017-2018 are:
| | |
| --- | --- |
| Class 3 - Evie & Lenny | Class 4 - Savan & William |
| Class 5 - Claudie & Maddie | Class 6 - Ava & Amelia |
| Class 7 - Oscar & Alice | Class 8 - Oscar M & Lydia |
| Class 9 - Eleanor & Pete | Class 10 - Charlie & Josh M |
| Class 11 - Alfie & Kate | Class 12 - Sophie & Amelie |
| Class 13 - Ruth, Elen & Victoria | Class 14 - Elena & Mohammed |
Congratulations to our new Councillors and thank you to everyone who put themselves up for election.
Our learning metaphor this year is "Boats and Journeys" and we had some great boat creations at the beginning of term; we have a lot of builders, designers, engineers and architects! A wide range of materials were used including cork, Lego, balsa wood, plastics and cardboard. Every class also has our boat metaphor linked to their Class Charters - have a look on their year pages.
A huge welcome to all our new Reception children and their families. We hope you have all settled in to Horfield life and starting your new school adventure!