Recent Events
Welcome to 2018-2019!
Xmas events!
The last two weeks of the Christmas term are always hectic and this year was no exception! We had Xmas dinners for KS1 and KS2 two days running - thank you to the cooks for a delicious meal.
Thank you to Amelia and Lenny who were very professional in saying hello and welcome to all our volunteers and helpers who came along for the Xmas Helpers Coffee morning. The choir sang beautifully and the orchestra were amazing and you could tell that they had all practiced and rehearsed really hard.
Year 6 were very busy making their Xmas hats ready for their dinner and also for their party. Some great creations!
The choir were very busy as usual with lots of different events to attend including singing at Singing for the Brain at St Monica's Home, the Christmas concert at St George's and performing to the visitors and public in the atrium at Southmead Hospital. There was also a great turnout for the annual Christmas Carol Service at Horfield Parish Church where Father David joined in his first service with us.
Bristol Old Vic Students
Once again (we think possibly for the 15th year!) the students from Bristol Old Vic brought their annual Christmas nativity play to our school. This year it was called "A Donkey's Tale" which was full of singing and enthusiastic acting. The whole school sat in the hall to watch the hour long performance. It was great to see the awe and wonder on the children's faces. They were particularly impressed by the acting and loved all the humour.
Nativity
This year's production by Mrs Peet and her team was called "A Shining Light". Yet again, Mrs Peet had penned her own tale which was acted and sung with gusto by all of the Reception children.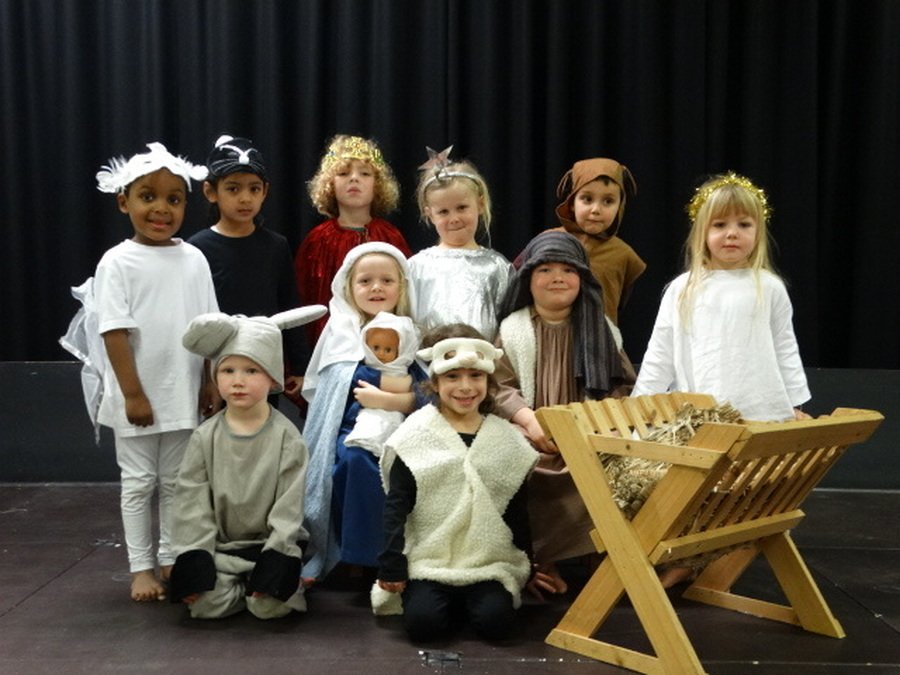 Christmas is coming!
So, the Christmas busy weeks have started already even though it's still only November.
Our KS2 Choir sang with Singing for the Brain who join together every Wednesday at St Monica Home. This is an event we have attended for several years now and it is always a pleasure to join with the group, sing with them and to them. We look forward to seeing them every year.
One of the ladies who helps with this group commented "We all thoroughly enjoyed the choir's visit last Wednesday - as always. The children bring such an enthusiasm and freshness to our group, everyone has a lovely smile in response".
Visiting Scientists
Year 6 were lucky to have two visiting scientists - Mr Evans and Dr Temple. They worked with both classes. Have a look through the powerpoint document below to see what they did!
Gardening Club 28th November
Today we started planting our Tulip, Daffodil and Grape Hyacinth bulbs.
Sophie in Class 14 came to help and lots of Year 1 children wanted to join in.
Sophie did a great job of teaching them to plant them the right way.
Science Summit 2018
Austin, Pete, Caitlin and Albin from Year 5 joined 200 other children from primary schools in Bristol and North Somerset at a regional STEM Science Summit. We were challenged to listen to pitches from a selection of schools who were trying to persuade us to choose one project that we could take back to school to make a difference. We also listened to engineers from local companies who spoke about what they do within their work to "solve problems" in our environment.
We learnt that some tea bags contain plastic in the bag adding to our international plastic problem. Caitlin told other children on our table about how we collect and recycle crisp bags, an idea they have taken back to their school in Portishead. They suggested we find out about the charity "turn the tide" who recycle old pens so in their school they collect old pens so they can be recycled.
We were reminded of the words of Chief Seattle: "Humankind has not woven the web of life. We are but one thread within it. Whatever we do to the web, we do to ourselves. All things are bound together. All things connect".
The delegated chose to try and make a change and overwhelmingly voted to try and change plastic in the ocean. So watch this space.... we will be bringing a project back to school.
Macbeth
Another amazing year where Year 6 were involved with the Shakespeare's School Festival. This year it took place at the Redgrave Theatre. All of the children involved with the performance worked incredibly hard, learning their lines and rehearsing after school.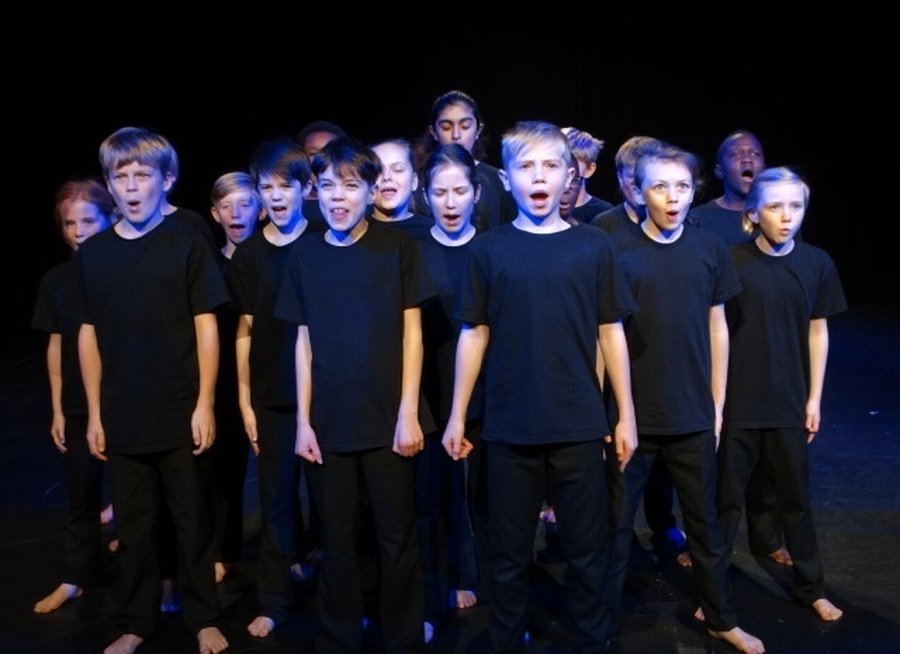 Harvest Celebration
We were delighted to see so many parents joining us for our special Harvest celebration. Lana and Edwin welcomed everyone to our assembly, Class 3 performed their first choral speaking of the Creation Story, Class 10 explained how they built a sukkot and Class 12 explained how a charity called Christian Aid has helped families in Ethopia by supplying them with solar lamps so they have light in their homes. What a clever way to link their presentation with this year's learning metaphor! We were pleased to have Helen from the parish church join us who gave a blessing for the harvest loaf with prayers from Sophie and Ravi, two of our School Council members. And, of course, super singing from the whole school!
We would also like to thank everyone who donated fresh produce and tins of food for our collection for North Bristol Foodbank. The amount of food on our assembly table was amazing!
Staff were really delighted to receive a lovely email from one of our parents which you can read below. It certainly makes us feel proud and makes the hard work all worthwhile!
"What an amazing assembly - thank you so much for inviting parents along to watch. It was such a privilege to see all the brilliant
performances and hear yet more beautiful singing. The sound of the whole school singing 'I am the Earth' was so uplifting and joyful, and the ease with which the two different parts were sung alongside each other - even by 5-year olds - is testament to the talents of your amazing musical staff, as well as the hard work of the children - of course'."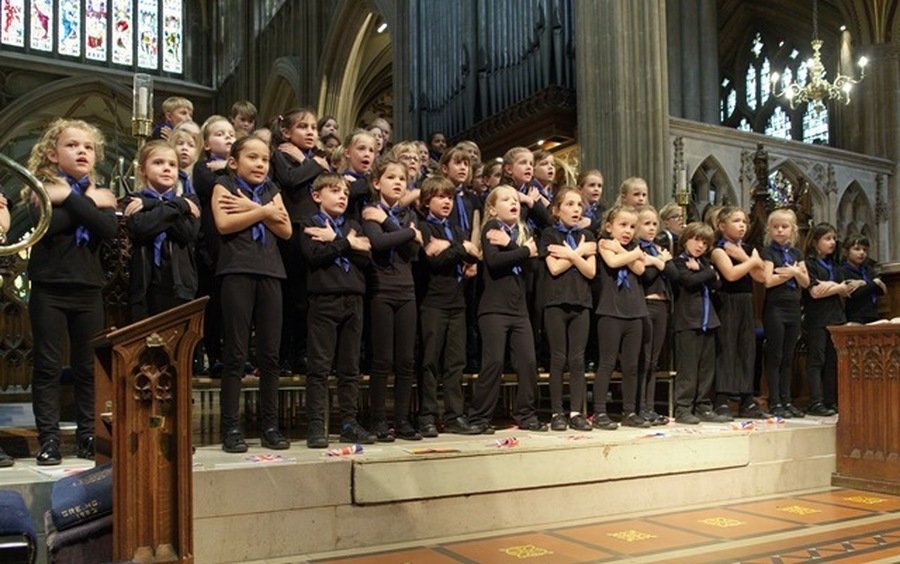 Wow - what an amazing KS2 Choir we have here at Horfield! They took part in a community opera performed at St Mary Redcliffe Church which was specially commissioned by the School to commemorate 100 years since the end of the WWI. The story was incredibly moving (with lyrics penned by Claire Williamson) and the music was written by Mark Lawrence (who has been our Voice teacher here at Horfield for many years and also leads our unique Boys' Choir). The story told of two soldiers, Major Adams and Private Edward. The children sang the part of the soldiers going to war and then returning at the end of four long years. Our very own Mrs Steel took the part of Ivy, Major Adams' wife, Mrs Cunningham lead all the rehearsals as well as prompting all the children the whole way through the opera with their actions. Mrs Alsop, who has spent nearly three years pulling all this together, played the organ.
At the back of the church on both evenings of the performance the glass poppies were displayed which were made by the children as part of the project. These poppies will be given to the children after we have shown them on display at a special Remembrance Assembly on Tuesday 13th November.
The church was packed out on both of the performance and totally deserved their standing ovations - well done to everyone involved.
In case you weren't able to get to either of the performances, please click on the You Tube link below where you can listen to the whole recording of the performance accompanied by images of the evening.
https://www.youtube.com/watch?v=Pg9gk3m4Uv0&t=380s
We have also attached links to 3 pdf files which shows the music scripts with the words that the children of Horfield and St Mary Redcliffe Primary Schools sang with the community choir and the choristers of St Mary Redcliffe Church.
Sporting achievements
Congratulations to the Year 4 Football team who took part in a tournament at St Bede's School. They played 4 matches, winning 1 and drawing 3. The team worked well, passing and moving the ball around the pitch. Well don to Max, Barney, Momin, Henry, Lydi, Amelia, Melody and Tom.
Well done to the 45 athletes who took part in the Cross Country Championships held at St Bede's School. Each race had over 50 competitors from other schools all over North Bristol. Our team finished 4th place out of 12 schools with the Year 3 & 4 girls team finishing in joint first and the Year 6 girls finishing second. Many thanks to the parents who helped transport the children - they would not have been able to participate without you!
Congratulations to the following Year 5 & 6 children who have been selected to represent North Bristol in the regional championships: Jessica, Lashai, Zac, Erin, Sophie, Lilly, Josh and Brennan.
Well done to the Year 5 & 6 girls who took part in a Hockey tournament at Colston's Collegiate School. They were nervous at first but their confidence soon grew as they won their first game 5-0! They went on to win 3 out of 4 tames, making them the winners of their group. This success put them through to the semi-final which unfortunately they lost to the eventual winners of the tournament. Thanks again to parents who were able to collect them from the tournament and a big thank you to Mrs Loffler for getting them there otherwise they would not have been able to participate. So congratulations to Cordie, Sophie, Abi, Eleanor, Zoie, Bella, Grace and Bix.
BBC Music Day
As part of the BBC Music Day, our KS2 Choir were invited by Bristol Plays Music to sing at the Colston Hall. We took Year 4 & 5 along and they sang enthusiastically and with great sparkle for 20 minutes. They were filmed by the BBC and, at the time of writing, we are hoping that we will feature on The One Show on Friday evening. Make sure you watch at 7pm!
Golden Mile Challenge
This year our teachers will be promoting healthy lifestyles and part of this will be taking the children out of class to run around our cycle track several times a week for approximately 15 minutes. It's most definitely social, non-competitive and fun!
Mrs Ruck's Running Club is also joining in the challenge but very early in the morning! She has some very enthusiastic children ranging from Year 3 to Year 6 who come to school at 8am.