Welcome to Classes 3 and 4
Blaise Castle House
Year 1 recently went on a trip to Blaise Castle House and Museum. We explored all the different old toys in a special workshop. We discovered what materials the old toys were made from and how they are used.
The spinning praxinoscopes were a particular favourite!
Handa's Surprise!
We read Handa's Surprise and learnt a song about what was in Handa's fruit basket. Each of these fruits had a special rhythm for us to clap.
We explored the story in many different ways including sketching a cross-section of fruit from the story, sequencing the story stones and assigning each animal with an African instrument, creating our own rhythms and notating them and finally playing animal bingo!
Max by Bob Graham
We were inspired by this text to create some interesting sentences using words ending in 'ing'.
We made paper aeroplanes and talked about how they flew.
Anya said "My plane was lifting and wiggling"
Edison said "My plane was hovering and looping."
Colour mixing in Class 4
We learned about the Primary and Secondary colours.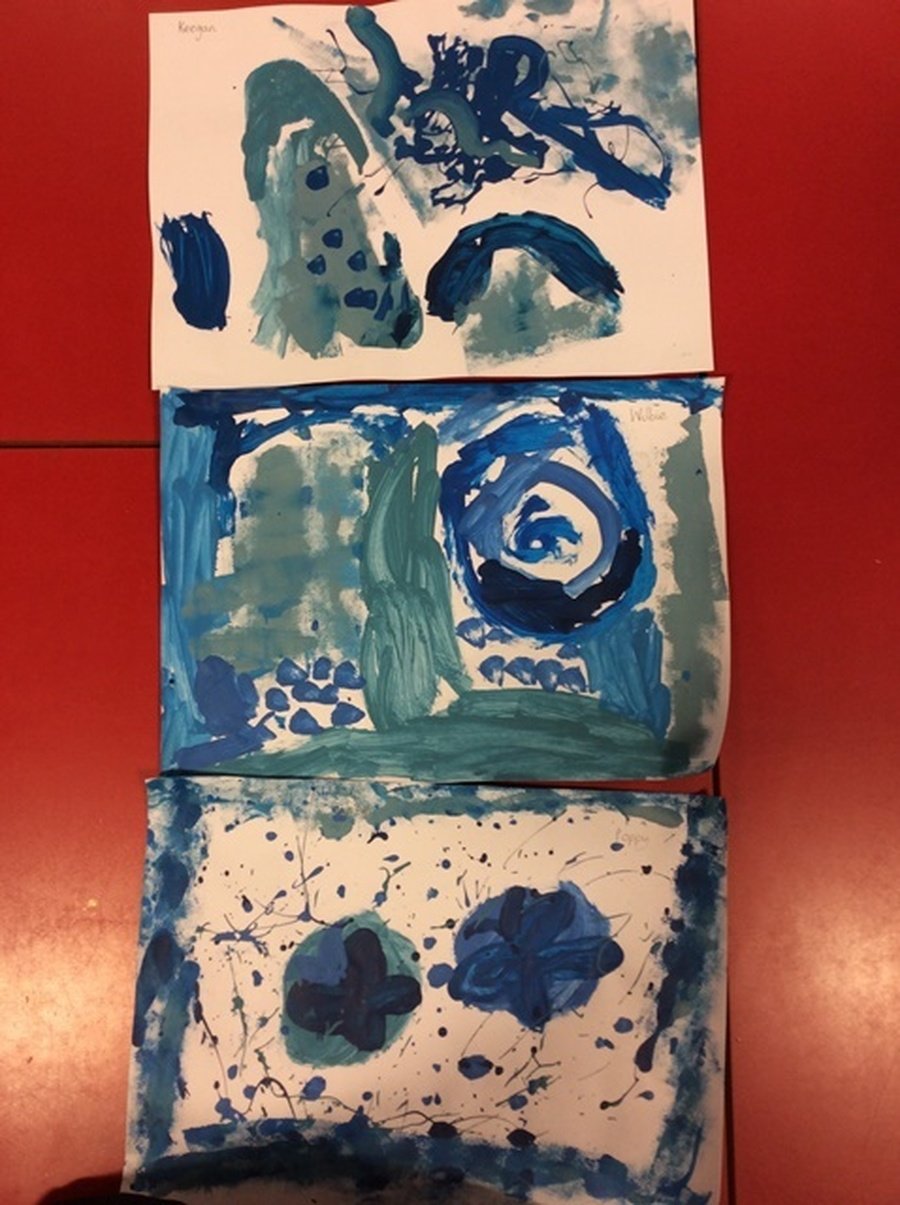 Bob's Blue Period
In Class 4 we read Bob's Blue Period by Marion Deuchars. In the story, Bob painted blue pictures when he was sad. We painted pictures using different blues just like Bob. We decided that blue was sometimes a calming colour but it reminded us of many different things.
The children described their blue pictures.
Keegan said "It's a very stormy night!"
Wilbie said "It's making me think about a really hot day at the beach."
Poppy said "The butterflies are flying in the rain in a beautiful blue sky."
It's Christmas! - Singing Day
Year 1 had a most wonderful time singing Christmas songs in the very special Spiegeltent. They were joined by lots of other primary school children who completely filled up the big tent! They also felt very festive by wearing Christmas jumpers and hats.
The Little Red Hen
Today we acted out and learned the story of the Little Red Hen.
We also enjoyed finding out how wheat is harvested and ground into flour to make bread. We looked at how it was done in the past too.
We enjoyed making bread. It took 4 hours in the bread maker. It tasted delicious!
Puppies!
One of our parents brought in some new puppies for the children to see!
Our Creation Wheel
We listened to different versions of the Christian Creation story. We talked about what Christians believe. We also talked about other beliefs and ideas about how the world began.
We enjoyed using different art materials and looked closely at books and real objects to make our Creation Wheel. It was fun putting it all together.
Shadow puppets
Year 1 loved learning about how shadows are made, we created our own shadow puppets in Science and experimented with them to see if they worked! We learnt that if you move the puppet closer to the light source, it gets bigger!
Animals
Year 1 have been learning about different kinds of animals- mammals, birds, fish, reptiles and amphibians. Riley and his Dad brought in their bearded dragon- Arthur to show the children in both classes. The children learned many facts about him. He has a bath once a week and his colour changes when he is relaxed!
Creative Creatures!
Inspired by "The Mixed-Up Chameleon" by Eric Carle, we have made some incredible creatures!
Rugby
Year 1 enjoyed our fantastic rugby session with Clifton Rugby Club.
Class 3 - Our light themed class charter.
Class 4 - Our light themed class charter.