Welcome to Classes 13 and 14
On Wednesday 1st February Year 6 and Mr Beard invited parents to "Tea, Cakes and Calculations". This was a wonderful celebration of Maths learning in Year 6. The afternoon was a great success.
Parents commented...."very informative and intelligent children" ......"I really appreciated learning Maths beyond my understanding" ....."very good - I enjoyed learning about the Singapore Bar method. It was very nice to see the children so enthusiastic and keen."
"It's good that you have shown the different ways to teach the children an understanding of mathematics and not just how to get the correct answers".
"Setting a scene on its feet"
Year 6 was very lucky to enjoy a drama workshop run by professional Shakespearean actor and director Peter Clifford. Following on from their study of 'Macbeth' in class, they closely examined the language and meaning of Macbeth's 'Is this a dagger which I see before me?' soliloquy. Then it was time to set the scene on its feet by directing Peter in how they wanted him to act, speak and move whilst delivering the speech.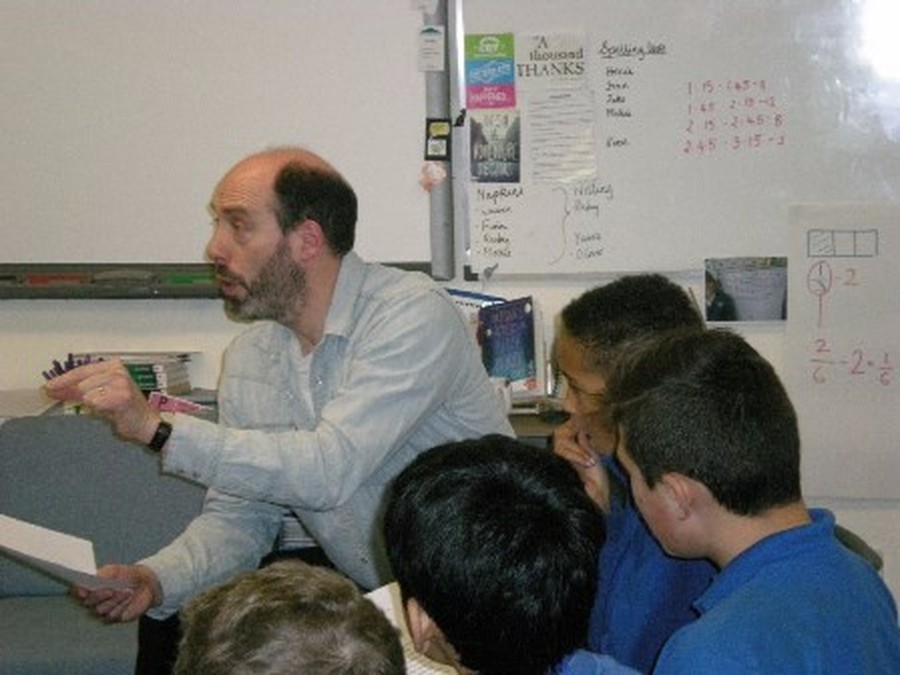 In Imagination Station this year, Year 6 children have completed a small, cross-curricular DT project. The children started by examining 'A Seed is Sleepy' by Dianna Hutts Aston and Sylvia Long, a whole school text reflecting this year's theme of seeds and growing. Their first task was to write a descriptive list poem, where the seed was a metaphor for a learner.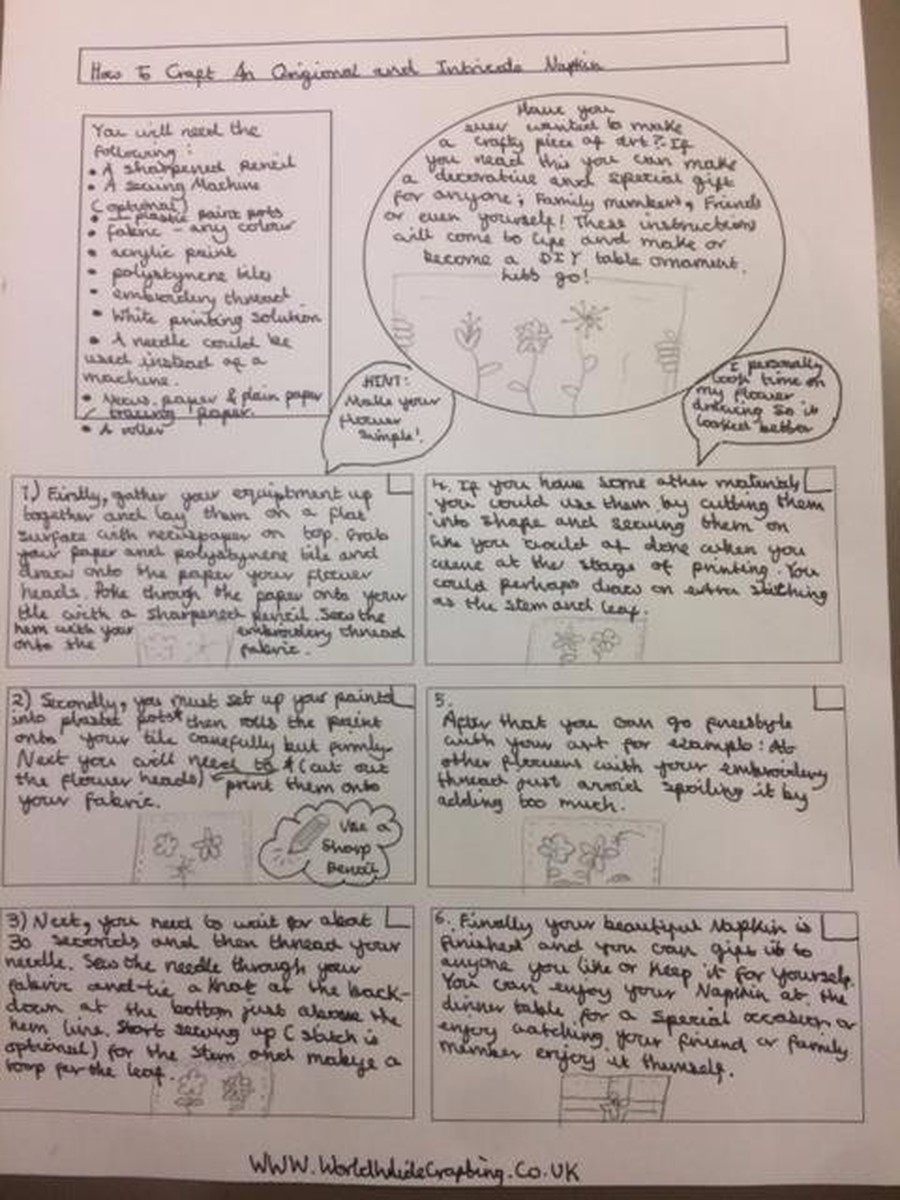 Next, they sketched plants, fruits and seeds and designed a print. This was used to create a napkin, embellished with embroidery and fabric, inspired by a screen print by the artist Freya Cumming.
"I enjoyed making the napkins because it was fun. I enjoyed learning how to print and embroider my work."
Callum - Class 14.
"I really enjoyed learning how to print and sew. I liked how I did my work myself – I worked independently and had the freedom to use my own ideas and be creative. I felt really proud of my finished napkin."
Isabelle - Class 14.
"I liked using different techniques to decorate my napkin. I like how everyone's napkin design is unique and beautiful."
Thomas – Class 13.
"I like how I get to share my napkin with others. I'm giving mine away as a present."
Jamie – Class 13.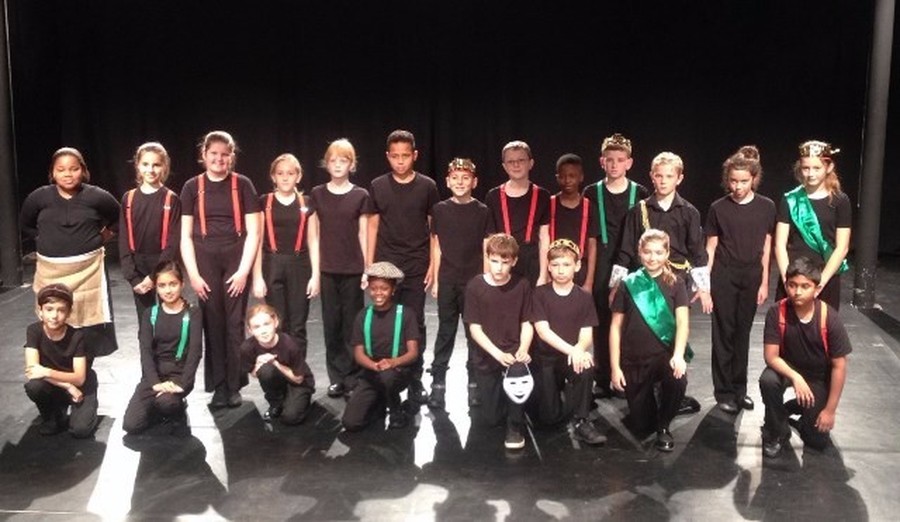 After a successful dress rehearsal in the morning, the evening's performance of Henry V at The Tobacco Factory was stunning! It was so exciting for the children to perform in a professional theatre with all its technical facilities such as lighting in front of a very large, highly receptive audience. This was a challenging text for Year 6 pupils and yet they showed through their acting and delivery of lines that they clearly understood the story and the characters, and Shakespeare's language. They more than held their own as they shared the evening with two secondary schools, and really made us very proud indeed.
At the end, the Shakespeare Schools' Festival facilitator spoke very positively in her adjudication of how obvious it was that the children were comfortable with the text and language and how clearly they told the story. She commended them on their very strong sense of teamwork and loved the way in which they all supported one another. She enjoyed the physical aspects of their performance, for example creating a setting physically for their audience. She was particularly complimentary about how including singing and live instrument playing had enhanced the performance.
The children should be very proud of themselves and their achievement. Well done, Year 6 – you were a complete pleasure to work with!
Mrs Kydd
Afterwards, the children were asked by SSF to provide some written feedback. Here are some of their comments:
"The thing I liked most about taking part in the Festival was the confidence boosting. Before, I would not have thought I would be able to perform in front of lots of people. Now I am very confident that I can."
"I loved it. I had a lot of fun doing it and loved performing at The Tobacco Factory. I am grateful for the opportunity."
I liked having the lighting done at the theatre – they put so much effort into it."
Even though I had a small part in the play, I felt really involved in the whole play. I felt very proud."
"I liked learning about the play we were doing – Henry V."
"It has been one of the best times of my life!"
I loved watching other school's plays and seeing what they were like compared with mine. I loved performing on stage which was very exciting."
"I have improved my confidence."
"I really like how much we improved over the time we had."
"I loved all the workshops and taking part in rehearsals. I also enjoyed performing in a professional theatre."
"I liked how we all worked together as a team."
"I loved the experience of performing on a professional stage with professional lights."
Henry V - the story so far!
It's here! Performance night! Adrenaline is pumping in Year 6 as performance day has arrived. This morning's dress rehearsal at the Tobacco Factory went very well; costumes are sorted, scripts have been digested and learnt, tickets sold to eager parents who cannot wait to watch their talented children. We wish them the best of luck and Mrs Kydd will report back soon with her director's critique!
Term 1
21 members of Year 6 are in the midst of rehearsals for our performance of Henry V at The Tobacco Factory on 14 November. We are participating in the Shakespeare Schools' Festival which is the biggest youth drama festival in the UK, involving hundreds of schools across the UK.
This is Horfield's fifth consecutive year of involvement and we seem to be working our way through the tragedies and, now, the histories! Last term the cast enjoyed a workshop at the Brewery Studio Theatre run by professional SSF directors at which they learned lots to be brought back to our own rehearsals.
Everyone is working hard and it is proving to be a complete joy to direct this group of young people. It's amazing to watch their knowledge and understanding of the battle of Agincourt and Shakespeare's language deepen over the rehearsal process.
Please come and see them perform. It's on Monday 14 November at 7pm at The Tobacco Factory and tickets are available online from the box office.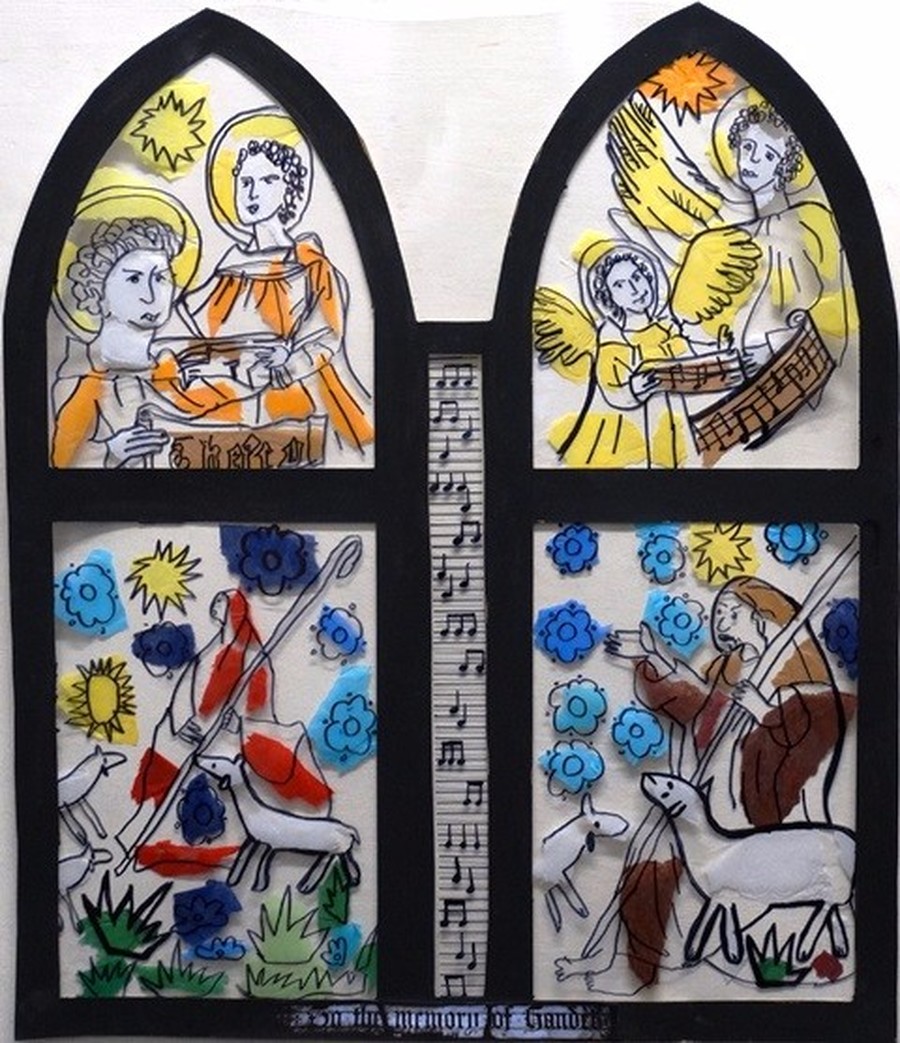 Year 6 have had the opportunity to design and make a stained glass window, working with Mrs Taylor who loves her artwork! As you can see from the photos, the effect was stunning. Unfortunately we can't keep the window in school; it is being given to shop traders on Gloucester Road who are organising a "Best & Brilliant Treasure Hunt". Look out for information on the treasure hunt - it is taking place in October half term and there is a prize for the winner.