Welcome to Classes 9 and 10
Year 4 Science visit
Year 4 were really excited to have a visit from Sue from the Ashford Education Centre on Tuesday to follow up their trip last term. They took part in some fantastic 'WOW' science experiments looking at chemical reactions between acids and alkalines.
Our favourite was inflating a balloon using vinegar and bicarbonate of soda. The children were then inspired to ask about whether the reaction would be different if they changed part of the experiment.
Bristol Museum trip
Year 4 had a great trip out to the Bristol Museum at the end of November. They had a chance to walk around the whole museum and explore the artifacts. They also joined in a workshop on the Ancient Greeks which is their topic in Term 2.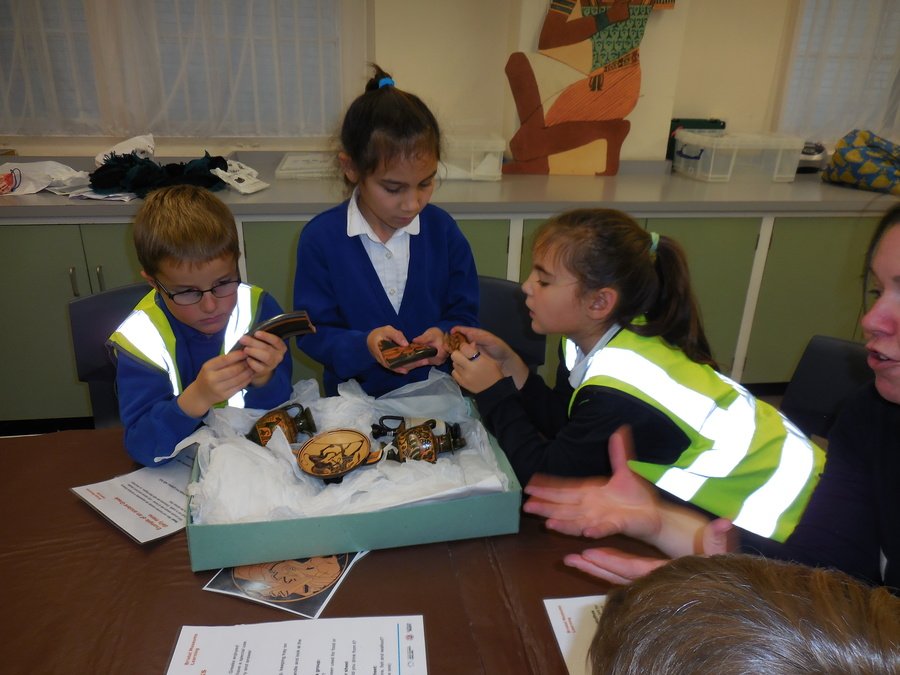 Aardman Workshop
Year 4 attended an Aardman workshop where we got to make our very own Gromit. Jim, who works for Aardman, told us that we did in 1 hour what it normally takes him 3 days to do! We had different coloured plasticine which we had to divide into the right amounts and model into various parts of Gromit's body. There were step by step instructions and we followed what Jim told us to do. We all really enjoyed making our Gromit's and it was great to take them home.
Shelters!
Class 10 made a shelter to understand more about the Jewish festival of Sukkot. We made it out of natural materials so that it could decay. We left space at the top to see the sky so that we could marvel at creation and remember that God can protect us.
Electricity!
Year 4 have kicked off our topic on Electricity! We made simple circuits to make a light bulb glow and we discovered what makes good conductors and insulators.
Artsmark
This week, Artsmark came into school to create a film that showcases our outstanding teaching and learning within the arts. A particular highlight was Class 10's art lesson with Mrs Steel. To explore Van Gogh, we used palette knives to try Van Gogh's impasto technique, created large scale mark making drawings and even hung creative writing on the ceiling like stars!
Class 9 - Our light themed class charter.
Class 10 - Our light themed class charter.