Welcome to Classes 11 and 12
World Cup Homework
In Class 12 this week we have thoroughly enjoyed sharing the children's World Cup homework. This homework was set by Mrs Brown and the children have excelled with their creative presentations to the class.
Area
In Maths Year 5 have been learning how to find the area of shapes with Miss Buckley. They measured and drew their own shapes on tables and found the area of them. It was a fun maths-filled morning!
Grow a Class Vegetable
Green Club challenged each class to grow a vegetable this summer term. For our homework the children researched which vegetables grow quickly, easily and will be ready to harvest before the end of the year. We then discussed their research and decided as a class to grow radishes. Here are some pictures of us planting our radish seeds.
Life Cycles
In science we have been learning about different life cycles. So far we have learnt about the life cycle of a frog, butterfly and bird. We have been so excited to be able to have tadpoles and caterpillars in our classroom! Every day two children from the class note their observations on our record sheet. So far we have observed that some of the tadpoles have legs and we are waiting for our butterflies to emerge from their chrysalises. This week has been particularly exciting because we had a visit from a chick (Reception very kindly let us borrow him for the morning)! The next life cycle we will be learning about is the life cycle of a mammal.
Sharing our Homework
A few pictures of Class 12 sharing their homework with their class.
Science - Identifying Parts of a Flower
During Science in Term 2, we learnt to identify the different parts of flowers. We thoroughly enjoyed dissecting real flowers in the classroom.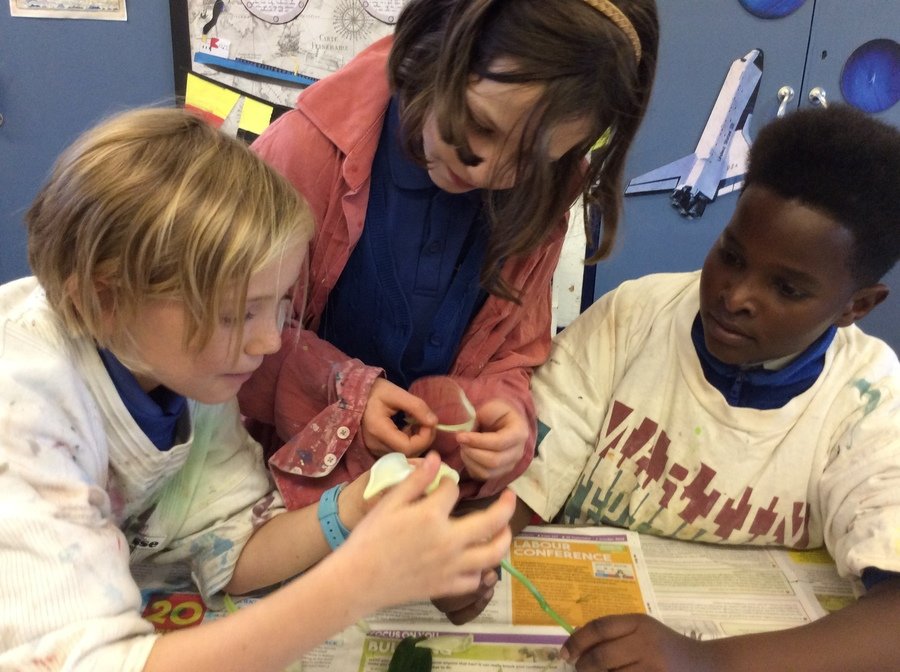 Visit from Dr Steve Simpson
We had a visit from Dr Steve Simpson who is a scientist at Exeter University. He is a marine biologist and studies sounds that fish make and how we can learn about fish behaviours from their sounds. We also heard about how we can help to protect our sea wildlife from human pollution.
He showed us all of his diving equipment and taught us some of the most important diving signals.
Anansi Topic
Year 5 have really enjoyed studying various Anansi tales, and at the end of the topic they got the chance to write their very own Anansi story. They planned, wrote, drafted and edited and finally published their stories. In 'How Anansi Brought Stories to the World' Anansi successfully completes three challenges and is able to bring a box of stories to the world. Year 5 have put their published stories in a special box and they now have their very own box of stories! They are in the reading corner and we have all been enjoying reading the variety of stories.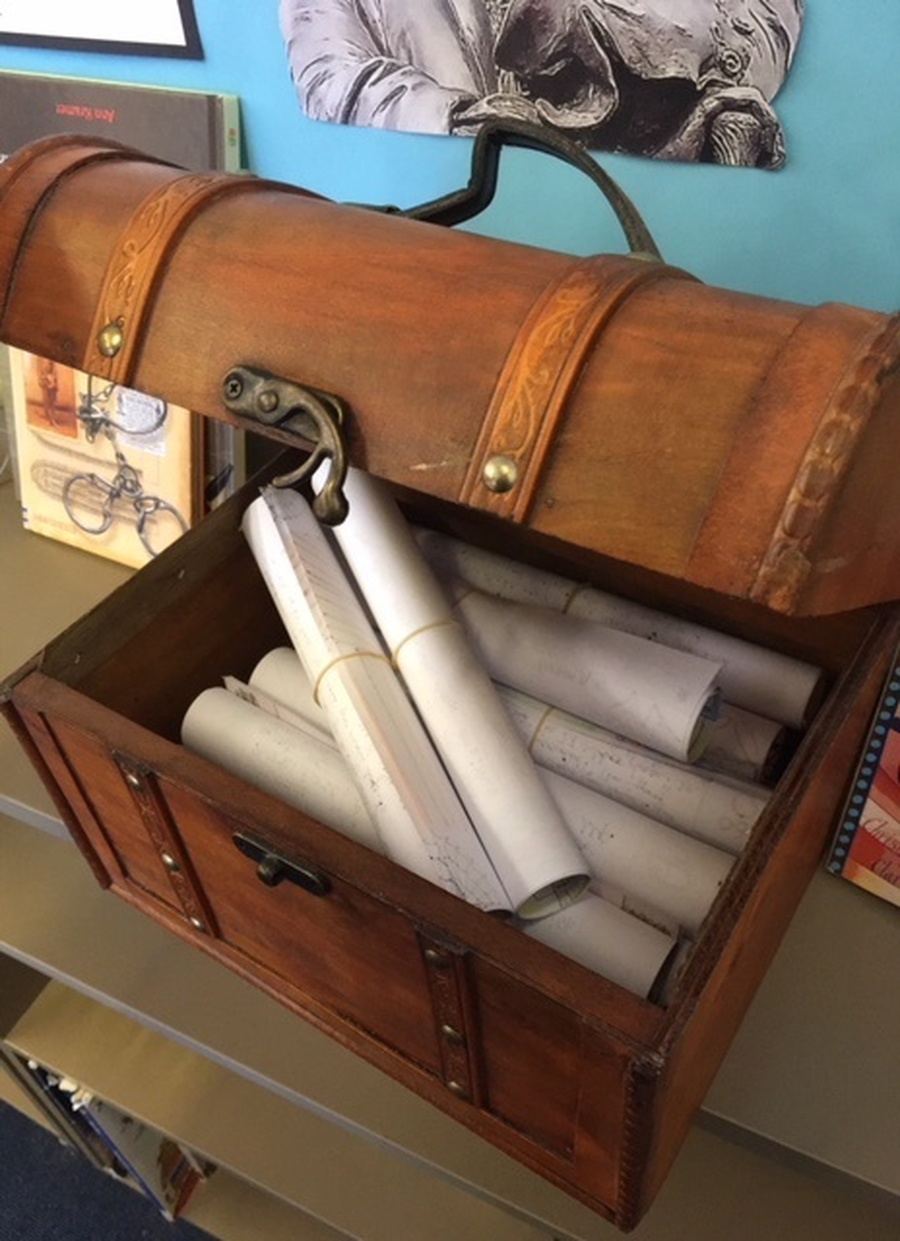 Liquid Nitrogen Show
Year 5 thoroughly enjoyed watching a science show about Liquid Nitrogen which was delivered by Mr Williams and three Year 10 students from Badminton School. Year 5 were blown away by some of the exciting experiments! They got to pop Liquid Nitrogen bubbles, watch a large balloon shrink and even observe Oxygen in liquid form (it's blue and slightly magnetic!). Some Year 5 children got to smash a banana (the Liquid Nitrogen froze it – bananas are made up of 70% water!), hammer through a plank of wood with a blu tack nail and 'tickle' frozen petals off flowers. We are very grateful for all the Physics knowledge we acquired during the spectacular show.
'It was really amazing – Liquid Nitrogen made a balloon deflate!'
Josh H
'We got to see liquid Oxygen – it was really cool and interesting!'
Macy
'I liked the part when a blu tack nail went through wood.'
Edwin
'I like how a ping pong ball spun around really fast because it had been in Liquid Nitrogen.'
Nathan
Air Pollution Day
Year 5 had a brilliant day at Orchard School learning about air pollution. They started the day by learning what air pollution is, how it is created and what affect it has on us. They then spent the rest of the day completing a carousel of sessions.
One session included completing a scientific experiment to measure levels of air pollution at locations around the city. They found that Muller Road and the area outside Bristol Hippodrome were the post polluted. Another session involved designing and making Top Trump cards that provided solutions for air pollution in Bristol. They had to give their solution scores (such as planting more trees, making buses free and scooting) based on cost, environment and speed (to name a few), they then played against one another.
The last session included designing a poster to be displayed at the University of the West of England, and writing a letter to Marvin Rees (the Mayor of Bristol) encouraging him to reduce air pollution in Bristol. Year 5 are very much looking forward to hearing which posters have been chosen!
KS2 Christmas Dinner
Year 5 really enjoyed getting into the festive spirit with their Christmas dinner! They made fantastic hats to wear and enjoyed the delicious food and Christmas cheer.
Year 5 Christmas Party!
Year 5 thoroughly enjoyed their annual Christmas party. They had fun playing games including freeze-framing scenes for detectives to investigate! They brought in lovely food and decorations to share and enjoy and had a fantastic afternoon.
Artwork with Mrs Taylor
Class Eleven have produced artwork and poetry inspired by our school's Learning Metaphor for this year 'Boats.' The class read 'The Little Ships' by Louise Borden. The book tells the story of the heroic rescue of British and French soldiers who were trapped in France at Dunkirk in May, 1940.
Class Eleven's narrative poems tell the story of this dramatic rescue. Children used subject specific vocabulary to add authenticity to their poetry and powerful verbs and adverbs to fully engage the reader.
Here are some brief excerpts from their writing
Macy wrote:
'Home, home,' said my heart.
We could make it.
We would make it.
When we could not get home
Home found its' way to us.'

Noah wrote:
'With hope in our hearts
The little boats came
Hope is, and always will be a weapon,
Thanks to that hope
We got home safely.'
Zac wrote:
'We were lined up
On Dunkirk's shore
Waiting for ships
To take us home.
When a boat came
We filled it to the brim
Wishing only for home
Starving and thirsty
Tattered and wounded
But at least alive.'
Finn wrote:
The little ships came to save us.
We were trapped
And they were our only hope.
All of us, blood-stained and limping.
Soldiers rushing into the small boats
Belongings drifting
Scattered in the shallows.
As I was bundled into a boat
I clutched my family photo.
I thought of getting home to my family.
I was heading home.
I had hope now.
I had a chance.'
Geography Week
We made tornadoes!
After learning about tornadoes and exploring the relationship between climate and tornadoes we had a go at making some. We put water, washing up liquid, food colouring and glitter (which acts as the dust a tornado picks up) in a jar. We then shook it all up and waited for it to settle...
We were very excited to discover that when we shake our jar a mini tornado appears inside!