Welcome to Classes 11 and 12
Fairthorne Manor
We had a brilliant week at Fairthorne Manor! Our days were jam-packed with fantastic activities, including raft building, kayaking, orienteering, aerial runway and so many more.
Have a look at some of our photos from our time there
Super Science!
Year 5 thoroughly enjoyed watching a 'Science Show' delivered by Mr Williams and four Year 10 students from Badminton School. The show's theme was Liquid Nitrogen and Year 5 were blown away by some of the exciting experiments.
"The show was really amazing, I really learnt a lot about Liquid Nitrogen and how it works." Roshon
"It's amazing how flower petals shatter like glass!" Evie
"My favourite part was when the Liquid Nitrogen made the kettle whistle." Nathan
Class 12 were very excited and intrigued by a recent visitor to their classroom. "One of the yuckiest, nastiest, oh-no-not-her-villains," Lucretia Cutter from "Beetle Boy" by M G Leonard, answered their questions in the class hot seat. The children recorded their observations in their Imagination Stations books.
Tom commented "Due to her answers to some of the questions we asked, I think her future involves beetles and definitely more than just studying them. I also think that she's destined for a bigger role in books to come".
Tat Wa Lay Visit
As a part of our study of 'The Journey' by Francesca Sanna, which is the story of a family who flee their country and go on a journey to find a safer place to live, we were very fortunate to have Tat Wa Lay visit Year 5 and share his story with us. Like the family in the story, Tat Wa Lay also had to leave his country (Vietnam) and go on a journey to find a new, safe home. After the long, trialling journey his family settled in Southmead, Bristol. They have always been very thankful for the hospitality shown by people in Southmead and the family have gone on to 'give back to society' by setting up successful businesses. We feel so privileged to have heard his story and were able to make many comparisons between his journey and the journey of the characters in Sanna's story.
'Kindness makes you beautiful.'
Tat Wa Lay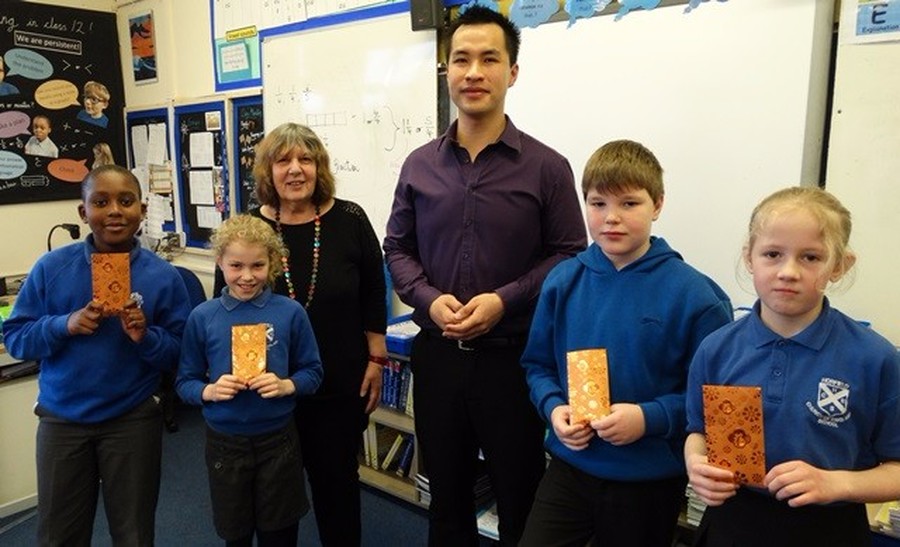 Author Visit!
To finish our topic on Traditional Tales we had a visit from an author, Professor Hamish Fyfe, whose latest work has been telling the untold parts of fairy tales. We explored Hamish's pre-story to Hansel and Gretel, as well as his post-story of Little Red Riding Hood. After hearing Hamish's 'Little Red' story, which told the tale of the Wolf being put on trial, we discussed what the result of the trial should be; looking at the incident from that of the humans and Wolf's side. As a result we were inspired to write a balanced argument about whether the Wolf is guilty of murder, or innocent.
Anansi Topic
Class 11 began their Anansi topic with exploring the story 'How Anansi Brought Stories to the World'. Like Anansi's box of stories, Class 11 also had a box of stories; the box of stories containing all of the Anansi stories that they were going to learn about. However, there was a slight problem – the precious box of stories were kept safe with a padlock. Class 11 had the job of cracking the code. In groups they were given a set of clues and had to use a systematic approach to work out what the possible 4-digit code could be. Thankfully, they cracked the code and the box of stories could be opened. We can't imagine what would have happened if they didn't unlock the box – what would we have spent Term 2 studying in English?
After opening the precious box of stories Class 11 thought about the things that are precious to them. They then had the opportunity to place their special item in a box and create a 4-digit code and a set of clues. They then enjoyed solving the clues to unlock one another's box. Not only were they investigation solvers – they created investigations of their very own.
Year 5 have enjoyed studying various Anansi tales, and after this exploration they got the chance to write their very own Anansi story. They planned, wrote, drafted and edited and finally published their stories. Year 5 now have their very own box of stories! They are in our special box in the reading corner and we have all been enjoying reading the variety of stories.
Class 11's Poetry Performance
Year 5 have been working hard memorising and practising their poetry performance. Today we had the pleasure of watching their final pieces. Please see a few that we were able to record below...enjoy!
Performance Poetry
Year 5 were very lucky to have Mr Clifford visit for a poetry session. Mr Clifford began the session by getting everyone to close their eyes while he read 'The Listeners' by Walter de La Mare. After, they explored each line of the poem – gaining an understanding which helped create a vivid image of the poem. The session finished with a couple of ghostly-poems (one with a twist in the tale!) which left chills in the room. We were all so inspired by the atmosphere created during his performances - he really showed us how poetry can be brought to life through performance. Year 5 are now in the process of choosing and memorising their own poems ready for a performance. Watch this space!
Maths Reasoning Presentation
Year 5 parents were invited into school to hear about some of the fascinating investigations we have been undertaking this term.
'When you come across a problem you have to make sure you use a systematic approach so you don't get really confused.'
Angel
'To use a systematic approach you first need to make sur you understand the problem. Then you need to make a plan and do it. It is always important to check your work after.'
Saraya
'An estimation is making a reasonable guess about what you think the answer might be.'
Izzy
'We used augmented reality on the iPad to make a picture of a trainer turn into a 3D one. Then we changed all of the colours and designed a trainer that we liked. We also solved problems about buying trainers.'
Judy
Tilly's Egg
Class 12 were eggstremely fortunate recently when Tilly brought in a rather intriguing egg from home. When the egg was cracked we found an eggstra egg within the egg – a double egg! Absolutely eggstraordinary. Many thanks Tilly.
Year 5 Space Homework Projects
Many thanks for all the brilliant space projects that Year 5 have created this term. We have had a fantastic selection – from knitted rockets, to scale models, leaflets and 3 D planets! A big thank-you to parents and carers for supporting your children's learning!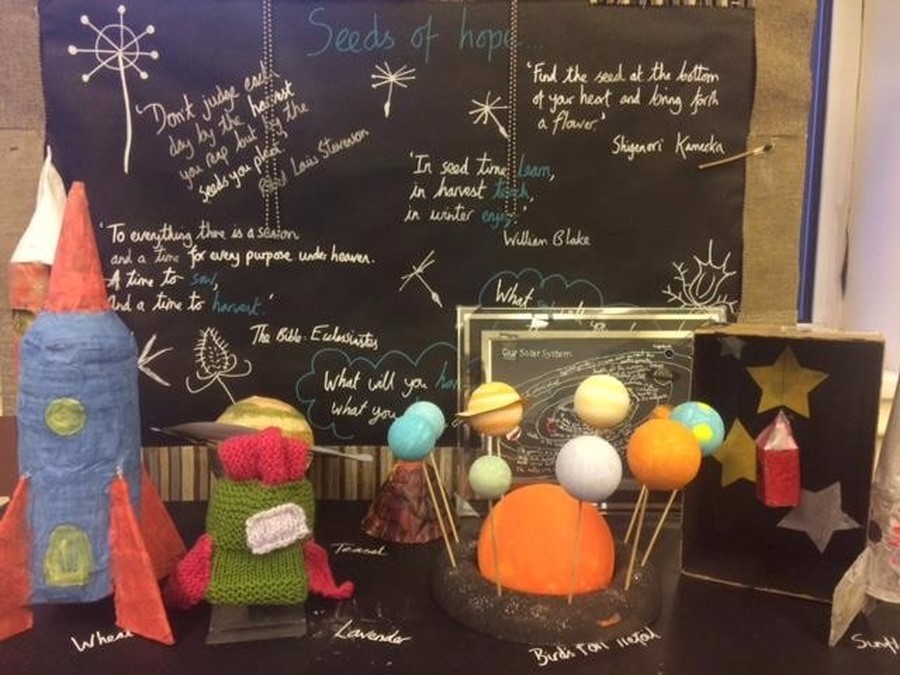 Planning with UWE students
Year 5 had a real treat this term when a group of Planning students from UWE (University of the West of England) came to talk about the planning process and how the children would like to improve Horfield. We learnt that part of being a democracy (a key British Value) is that citizens should be consulted on how they would like their local area to look.
"I enjoyed it," said Kuba, "It made me realise that sometimes people don't agree and we have to discuss things."
"I learnt that we can't all get what we want all the time," said Victoria, "we have to compromise so that everyone can be happy."
Noun Hunt!
Year 5 have been learning about the different types of nouns. A variety of nouns (all relating to our class text of 'Kensuke's Kingdom') were hidden around the cycle track outside. Class 11 and 12 then had to find and classify the nouns.
The Promise
'The broken city' – Writings from Dystopia
Dystopia: an imagined place in which everything is bad.
Year 5 were inspired by Nicola Davies' story 'The Promise'. They responded to the images and writing of a city where 'Nothing grew. Everything was broken. No one ever smiled.'
Year 5 then created writing imagining they were walking the streets of a dystopic city.
'Cold hearted people as cold as their city.'
Mason
'All the dust has covered the city and its people like a blanket.'
Bethan
'It is a dark, abandoned city - like happiness shrivelled up into a ball of black and grey.'
Ruth
'Everyone's given up – even the buildings have given up.'
Antoine
'Nothing grew – it was like the city was taking revenge.'
Maddie
'...derelict and not blessed with rain – as dry as dust.'
Charlie
'Almost like a curse has fallen upon this forsaken location of sorrow.'
Nathan
'Pollution blackens the city.'
Class 11 then worked with Mrs Steel and produced a piece of choral speaking. They performed their final piece in the Harvest Assembly.
The Transatlantic Slave Trade
Every Monday Class 11 have been learning about the Transatlantic Slave Trade with Mrs Anderson. They recently learnt about why the Slave Trade was abolished. They designed DVD covers showing their interpretations of why the Slave Trade was abolished.
They then wrote an argument based on the local statue of Edward Colston. The bronze statue of Colston was unveiled almost 120 years ago in the city centre. However, Colston's wealth and success was as a result of his involvement in the slave trade. This has caused debate among the citizens of Bristol as to whether the statue should be pulled down. Class 11 had a debate about this and then wrote an argument (either for or against) the statue of Edward Colston. They had to justify their opinions with evidence.