Welcome to Classes 7 and 8
Printing
Year 3 have been doing some printing in art this week. The children made their own tile by first drawing their design onto paper, then tracing it onto tracing paper and using that to make a feint pencil print onto a polystyrene tile. The pencil lines were scored out using a pencil and they loved hearing the crackly noise it made! They then painted the tile using printing ink and made their print onto black paper. Once the ink was dry, they chose a few oil pastels to put some colour onto their print and bring their picture to life! We hope you agree that the final results are stunning and that the children should be very proud of their work!
Seed Dispersal
In Year 3 we have been thinking about the ways in which plants disperse their seeds. We played a game where we had to sort pictures of plants into each of the ways. Then we looked at some real fruits, vegetables and plants to decide how they disperse their seeds. We also learnt about the life cycle of a flowering plant and drew pictures to illustrate each of the stages.
Strawberries
Year 3 have harvested some of the strawberries we have been growing in pots and planters around the playground. Today Abigail and Eleanor picked all the red ones, we then washed them and cut them into enough pieces for everyone in Year 3 to try one. We took in the delicious smell of the organic fruit before we tried them!
Leaf Rubbing
Year 3 are continuing to learn about plants in our science lessons. This week we focused in on leaves and their job to make food for the plant via photosynthesis. We did some leaf rubbing, using crayons of chlorophyll-greens and autumn colours. Then we added some 'leafy facts' around them to create some beautiful art work.
Water Transportation
In science Year 3 were learning about the water transportation system within plants. We made ourselves into that system by using a straw (as the stem), string (as the roots), paper (for the leaves) and our own faces as the flower! We also learned the word 'evaporation' and were stunned when the water seemed to disappear into the air! We also dyed some white tulips with food colouring as proof that water really does get moved around the whole plant.
Plants
In year 3 we have started a new science topic – plants! So what better way to start a planting topic than to actually plant some seeds?! Everyone was able to choose from cucumber, pea or butternut squash to grow. We filled a biodegradable pot with compost (we remembered some of the ingredients from when we learned about soil in our Rocks topic!) then pushed the seed into the middle and covered it back over with compost to make a nice bed. Finally we gave it a tiny bit of water. We are looking forward to eating the fruits of our labour!
Bog Baby
In Year 3 we have been reading a book in English about two little girls who found a bog baby. As part of our DT learning we have made our own bog babies. We used a lever system to enable our bog babies to flap their wings! We also used other skills such as cutting and folding to make springs and spirals so our bog babies were 3D.
Bio-luminescence - read on to find out what this means!
Year 3 have been exploring bio-luminescence – the natural phenomenon of living things making their own light. We learned about animals that are bioluminescent such as jellyfish, snails and sharks. We then created our own animals that can glow in the dark, some of which you can see here. We also made glow in the dark lava lamps using tonic water, oil, fizzy vitamin tablets and a UV torch, plus glow in the dark water using highlighter pens!
Rugby with Bristol Bears
Year 3 have been loving Friday mornings with Bristol Bears rugby coaches. We have had one classroom session with Amy, where we learnt all about the importance of a balanced diet. We used the Eat Well plate to help us learn about the different food groups and how to plan meals for different people such as rugby player.
Then it was outside with Johnny where we learnt all about the game of rugby. We are building up our skills like passing, dodging and throwing from 'pocket to rocket' to be able to play a small game of rugby by the end of the term. We are loving this experience!
Science - More Shadow
In year 3 we have been thinking about light and shadows. Today we did an investigation to see what happens to a shadow when a light source is moved further away from an opaque object. We also thought about how to make it a 'fair test' and we used lots of scientific vocabulary like 'prediction', 'variable' and 'results'. Here are some of our scientists hard at work.
Science - Shadow
In year 3 science we are learning about light. This week we learned that opaque objects block the light and this forms a shadow. We practised making shadows by blocking the sunlight with our bodies. A partner drew around our shadow then later in the day we went back to try and fit inside them. We were surprised when we couldn't and talked about why.
Sunglasses
In year 3 we have been learning about the sun's UV rays and how they can damage our eyes. We learned that one way to protect our eyes, is to wear sunglasses. We tested out different kinds of glasses to see which ones were the most protective. As you can see, we took it very seriously!
Science Week
In year 3 we are learning about 'Light' and as part of this year's national Science Week we decided to see if we could make light out of fruit! We used either apple, lemon, lime, banana or orange to create a circuit with galvanised screws and 2p pieces, connected together by wires. We were amazed to find that we could make a tiny light bulb light up using these everyday objects! We had lots of amazing ideas about how it worked, including talking about the energy in food and the acid in the fruit. We didn't always find it easy but we persevered and everyone made their light bulb work!
Properties of Rock
In Year 3, we have been learning about some of the properties of rocks. We investigated which rocks are buoyant and which rocks are permeable. We used a selection of sedimentary, igneous and metamorphic rocks and were surprised by some results!
How Soil is Made
In Science, Year 3 have been learning how soil is made. We found out that it is like a cake, it has lots of ingredients and needs time to bake ie become soil. In class 7 Edison, Alice and Martha were the 'cooks' when we made our soil 'cake'. They added all the ingredients into a bowl and then mixed them together. With the secret ingredient (time) our mixture will become soil that can be used to grow plants.
Fossils
Year 3 have been learning about Rocks and Fossils in Science whilst reading Stone Girl, Bone Girl in English. We have been learning about Mary Anning who discovered the first Ichthyosaurus and shook up the way the World of Science saw fossils and evolution. We have been celebrating the awe and wonder of fossils by excavating our own. Look at the faces of these trainee paleontologists as they discover a fossil!
Class 8 'Kingfisher' Praise Postcard
We have all made a mosaic Kingfisher to decorate our card which was inspired by our whole school metaphor of 'Birds reaching great heights.'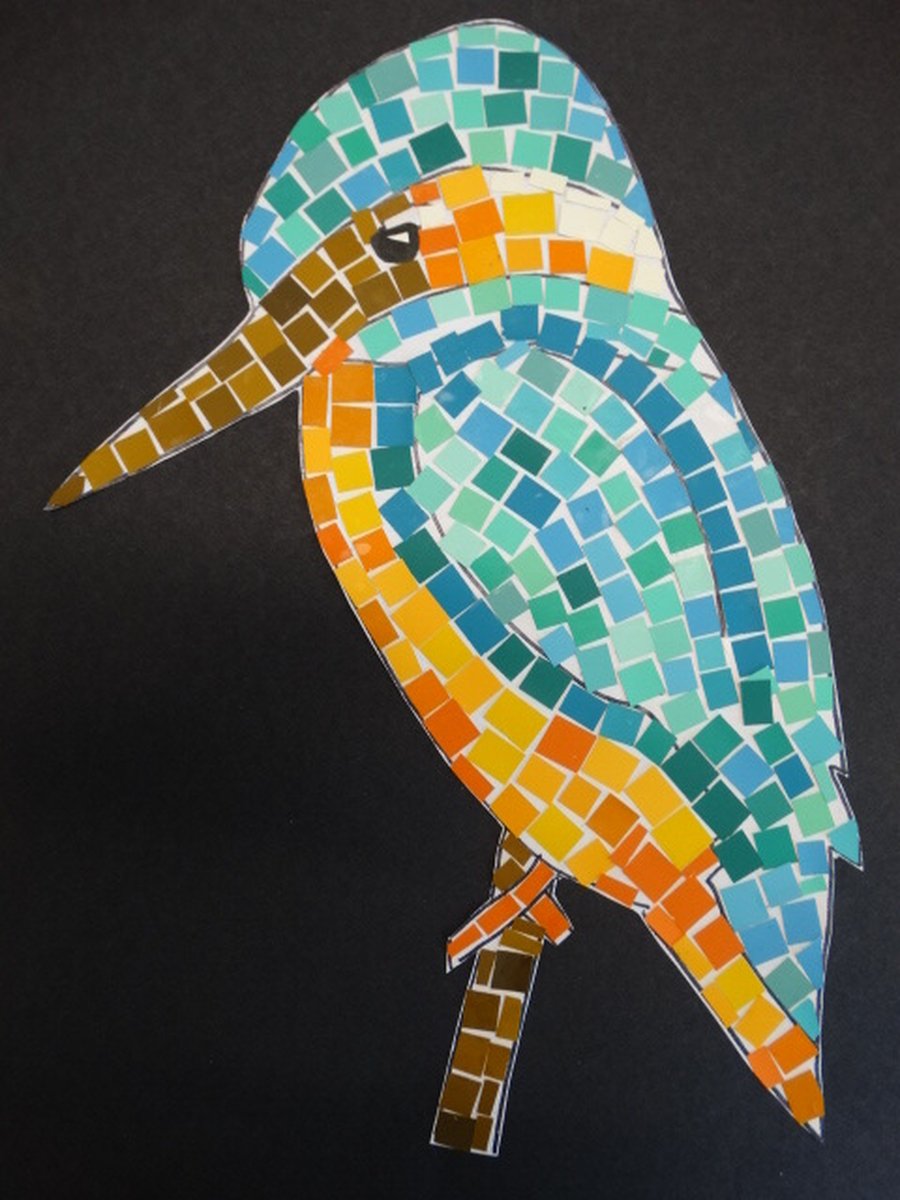 Class 7 'Herons' Praise Postcard
We have all drawn our own Herons to decorate our card which was inspired by our whole school metaphor of 'Birds reaching great heights.'
Colour Monster
For our 'Whole School' entrance hall display we wrote poems inspired by the book 'The Colour Monster' by Anna Llenas. We united as a whole school to explore our emotions. Can you spot how we have captured each feeling from the story with our use of colour and powerful descriptive language?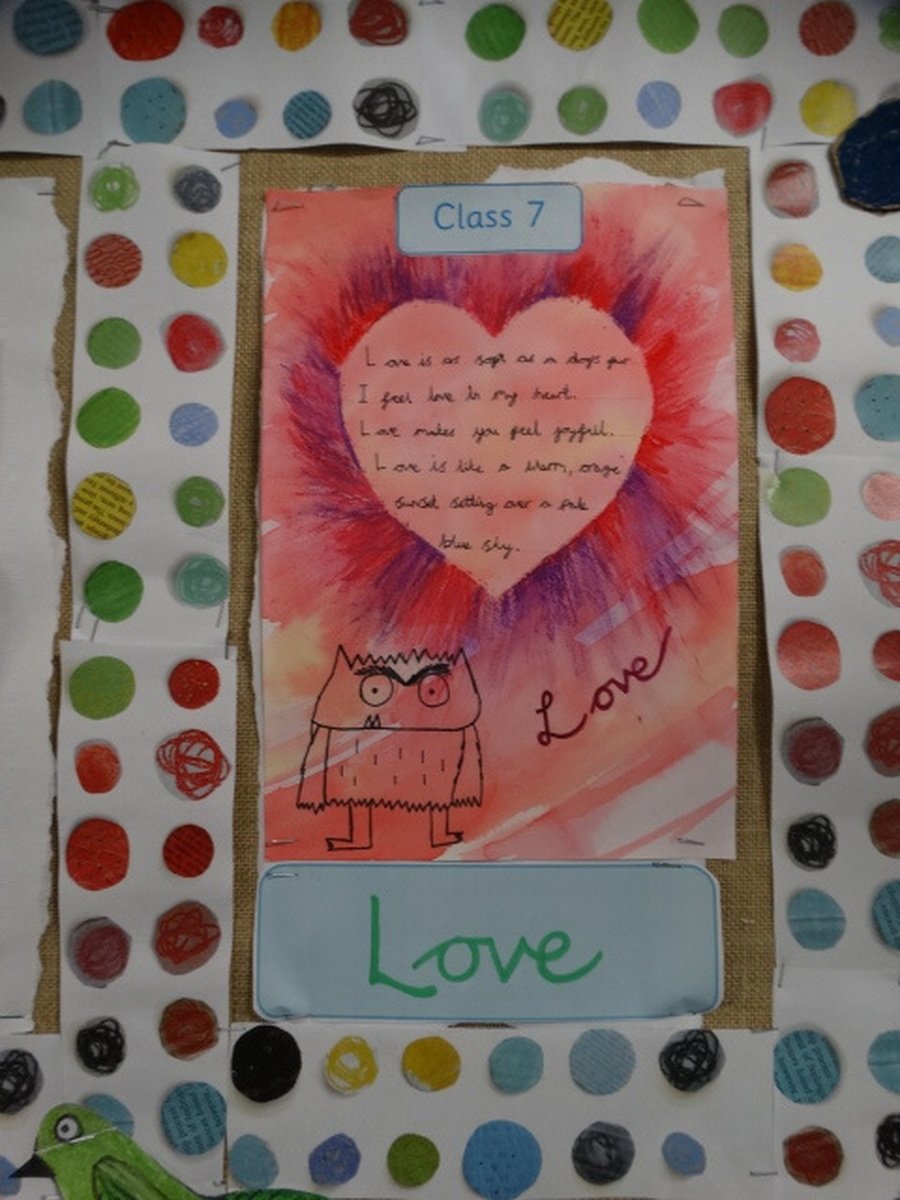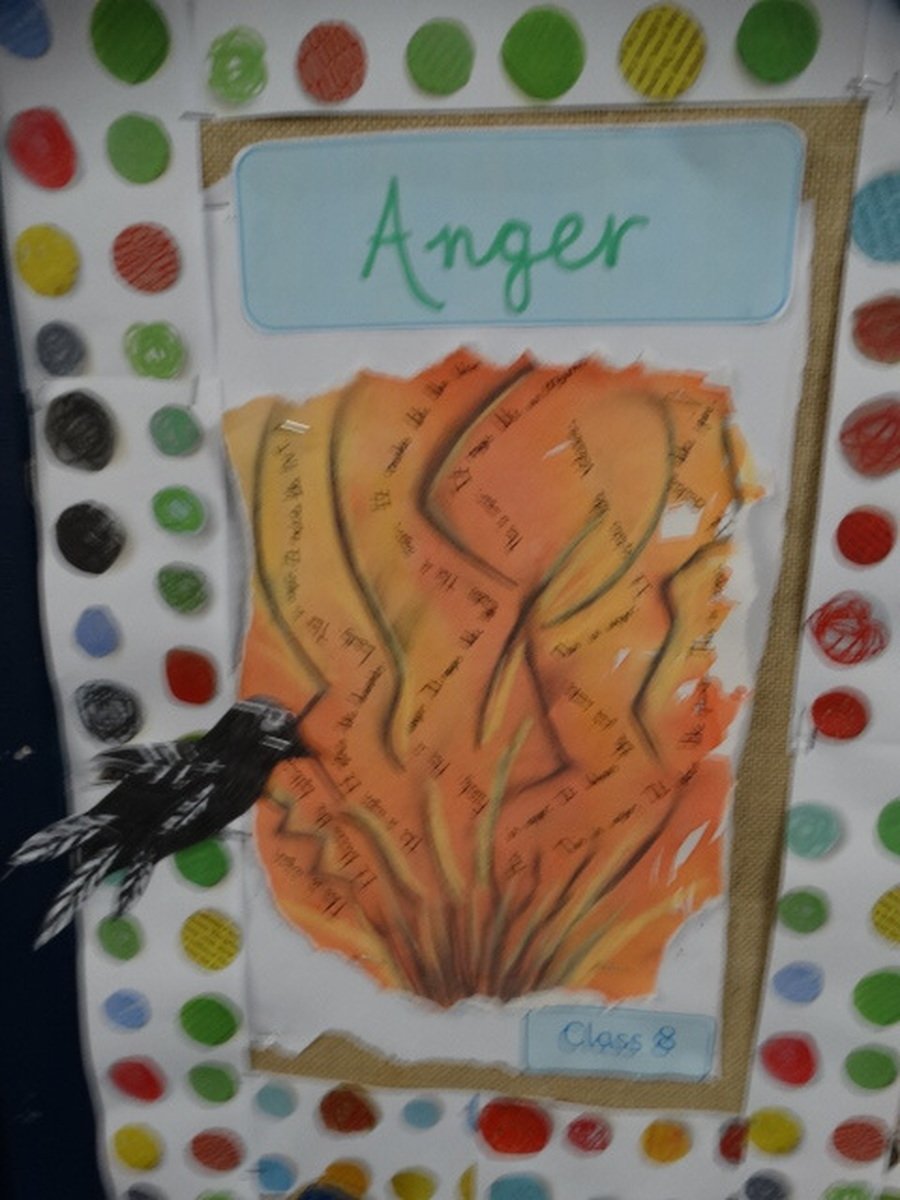 Here are our Class Charters for 2020-2021.
Our Learning Metaphor this year is birds.