Welcome to Classes 11 and 12
The Ranch
Year Five went to The Ranch adventure playground on Tuesday. They spent 3 hours using the facilities there. This included a big climbing frame, a zip-wire, an art room, a games room, a sand play area and a football pitch. We had a wonderful day enjoying the activities and playing so well together. We had a lovely picnic in the daisies! Ms Fletcher, Mrs Welch and all of the adults thought Year Five were absolutely fabulous!
Rain forest Day
Monday was Rain forest Day in Year 5! We dressed up and looked amazing (including a few Egyptians as Year 5 missed out on Egyptian Day last year!). We made chilli hot chocolate, Planted pomegranate seeds and tried a range of tropical fruit. We made a 3D model of the Rain forest and a Mayan headdress. We also played the traditional Pok-A-Tok game! We had a really fun day celebrating the diversity and importance of the Rain forest.
Sandra Silberzweig
Year 5 enjoyed exploring the work of the contemporary, abstract artist Sandra Silberzweig. Silberzweig creates tribal-like, colourful, abstract portraits. Her influences come from many sources, the main one being Picasso. We then created our own abstract self-portraits - influenced by her style.
Year 5 – Drawing Skills.
First, we learnt about line and practised mark marking. Then we practised cross-hatching, drawing our own hand in the style of Leonardo De Vinci and Vincent Van Gogh. Next, we examined how artists use line for expression. We looked at Vincent Van Gogh's 'Landscape with Houses' and used blue watercolours to imitate his expressive line.
After this we looked at how artists use tone to create realistic images, drawing our own still life bottles with dark, medium and light tones to make it appear more three-dimensional. Finally, we looked at using five different techniques to achieve different tone. We used this to write our initials to make them appear three-dimensional.
Cricket
Year 5 thoroughly enjoyed their cricket coaching session – in the sunshine - with John from Gloucester Cricket Board. Both classes enjoyed learning about batting and bowling and were inspired by John's enthusiasm and knowledge of the game.
DT- Bread
In Term 3, children designed and made an innovated bread product. They looked at breads from different cultures to inspire them to create a sweet or savoury bread. They learned key skills like weighing ingredients, mixing them together, kneading bread dough and baking a bread product so that it was soft but not too doughy. They tasted their products and evaluated them against their design criteria. Well done Year 5!
Mars Rover
Year 5 have enjoyed finding out about space this term. In English we read 'Curiosity' by Marcus Motum, which inspired us to design and make our own Mars Rover in DT. We learned about levers and linkages to help us make a 'robotic' arm (with a magnet to collect metal samples) and pneumatic systems to make our self-propelled vehicle drive.
Art – Hokusai
Recently we explored the art of the Japanese artist Katsushika Hokusai. We studied one of Hokusai's paintings - The Great Wave off Kanagawa. We were reading Kensuke's Kingdom by Michael Morpurgo and the cover of this book was inspired by Hokusai's Great Wave.
We learnt about Primary, Secondary and Tertiary colours - including warm and cold colours, the affect these can have on the viewer and some colour specific vocabulary. We then drew our own 'Great Wave' and used the following media: pencils (sketching), watercolour, acrylics and markers.
We learnt how to graduate colour from light to dark, creating opaque and translucent tones with watercolours. We also used the acrylics to develop texture. We then created our own 'Great Wave' works of art. These are now on display in our classroom alongside our writing, which is also inspired by Kensuke's Kingdom.
Our PE in Term 2 is Hockey!
We are developing our hockey skills this term. So far, we have practised passing and intercepting accurately. Today, you can see us using our positioning skills to take accurate corners and shots. We are having mini matches to put the skills into action!
Materials
Year 5 have enjoyed finding out about materials in science.
Firstly, the children tested different materials for their properties. They tested for magnetism, hardness, transparency, flexibility and transparency. They also investigated thermal insulators and designed a school lunch bag.
Additionally, they tested different metals in a circuit to see which ones conducted electricity best. Finally, they discovered materials that are soluble and insoluble and which processes are reversible and irreversible.
What does it mean to be Hindu in modern Britain?

During RE, Year 5 have been investigating the Hindu concept of Brahman. For many Hindus, Brahman is God or a life force in the universe. We learnt about the God Vishnu and how many Hindus believe he intervenes to restore balance to the universe. We imagined what problems the world faces today that might require an intervention from Vishnu. Can you work out what we have modelled?
We are Geographers!
Our Geography topic is 'How can we know our place?' Year 5 have been developing their geographical skills to read and interpret maps. First, we used a bird's eye view to create a contour map. Next, we made contour models of the island from our class text, 'Kensuke's Kingdom' to show how the land has different heights.
Class 11 'Wrens' Praise Postcard
We have all printed Wrens to decorate our card which was inspired by our whole school metaphor of 'Birds reaching great heights.'
Class 12 'Swifts' Praise Postcard
We have all printed swifts to decorate our card which was inspired by our whole school metaphor of 'Birds reaching great heights.'
Colour Monster
For our 'Whole School' entrance hall display we wrote poems inspired by the book 'The Colour Monster' by Anna Llenas. We united as a whole school to explore our emotions. Can you spot how we have captured each feeling from the story with our use of colour and powerful descriptive language?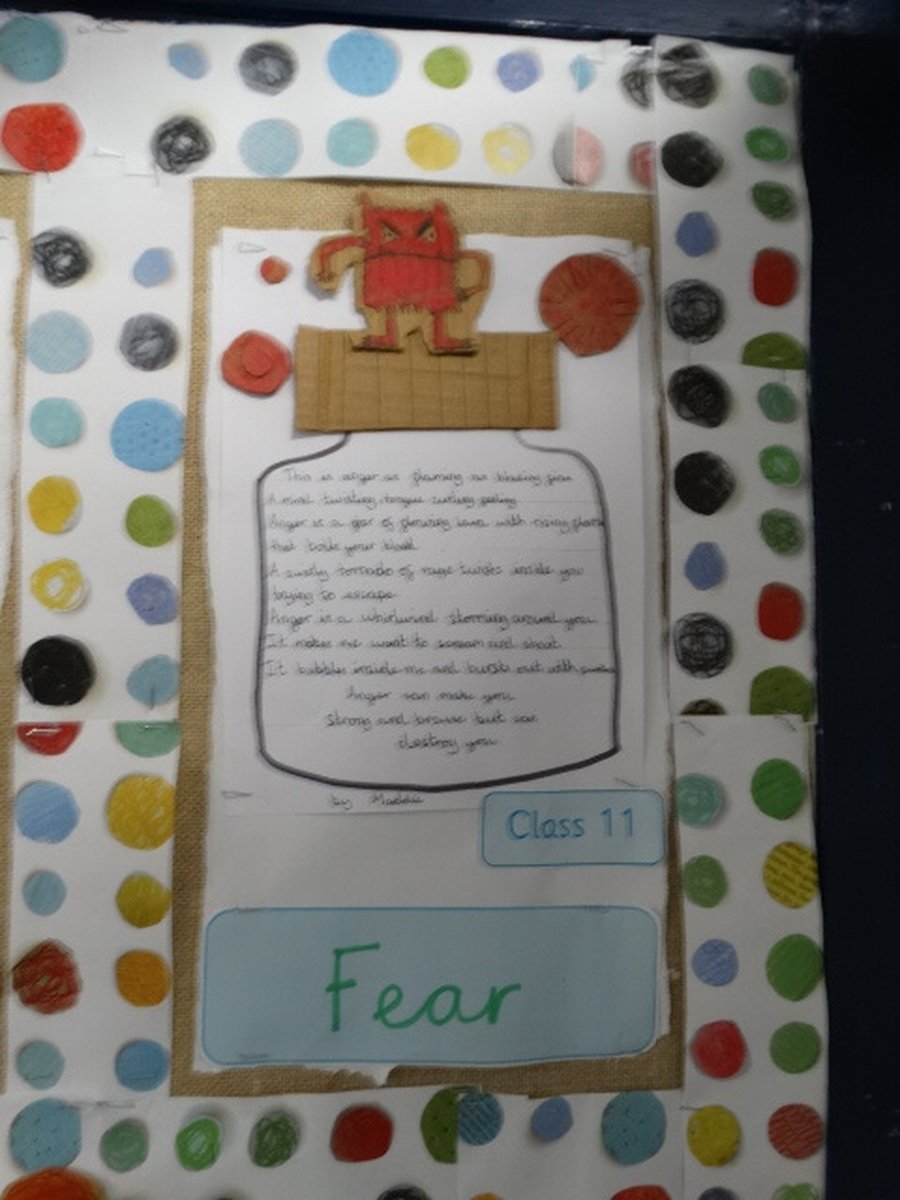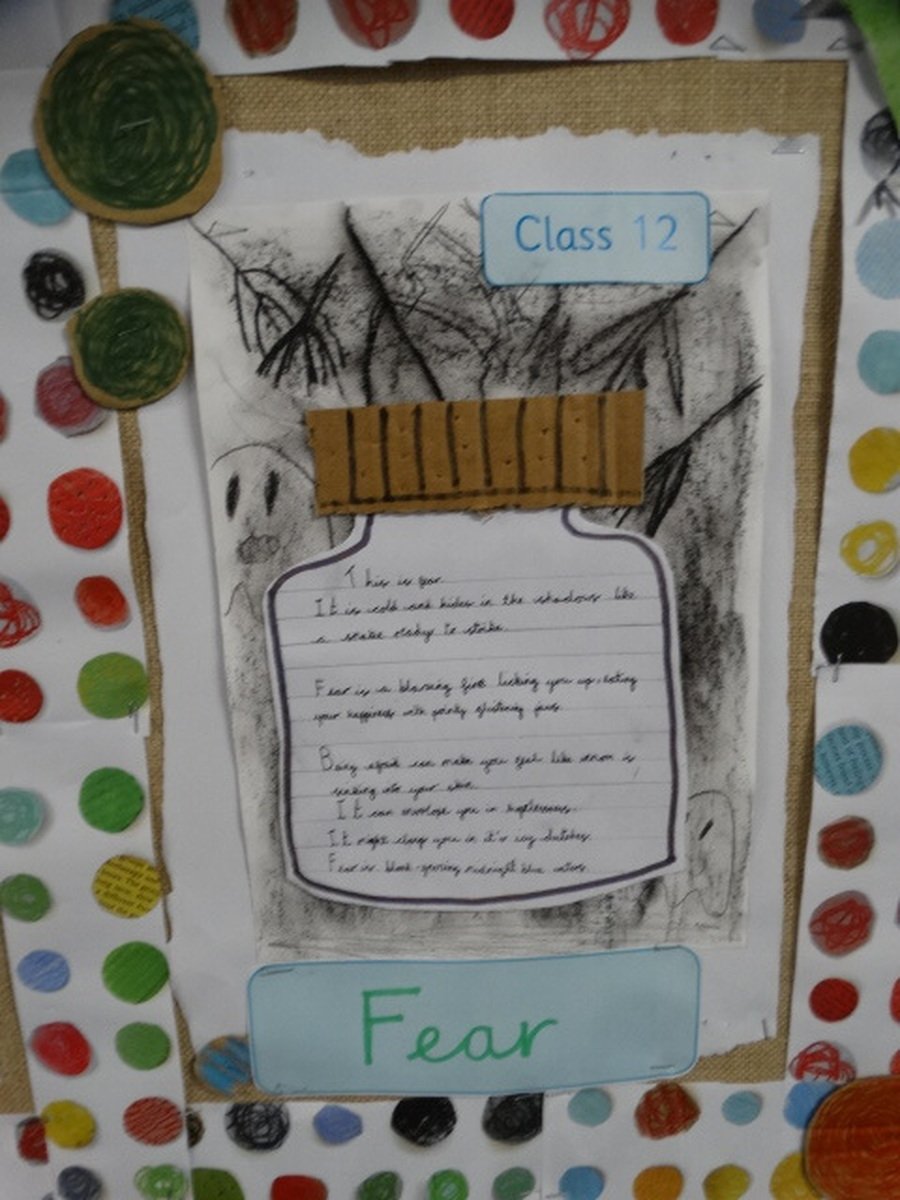 Here are our Class Charters for 2020-2021.
Our Learning Metaphor this year is birds.