Welcome to Classes 13 and 14
Battle of the beaks!
Year 6 have been simulating bird feeding by using a beak to collect food and place it into a stomach. Using different 'beaks' they tested which bird would be the most likely to survive.
In any habitat, food is limited and the types of foods available can vary. Animals with variations allowing them to take advantage of available foods will be more likely to survive. We call beneficial inherited variations adaptations. Animals with the most helpful adaptations will be the most likely to live long enough to pass their genes on to the next generation.
How does the heart work?
We made a simple pump that moved water from the jar through the straws and into the cup. The cut end of the balloon worked as a valve to stop the water from going back down the straw. We learnt that the heart pumps blood out into your body through your arteries in a similar way. Human hearts have four separate chambers inside. Our pump shows how one chamber and the connecting valve works.
Classification:
All living things can be put into groups based on features they have in common.
The main groups are animals, plants and micro-organisms. Within these large groups are many smaller groups that help scientists to identify new species. We tried sorting animals into many different groups. By looking at common observable characteristics we could sort them by comparing similarities and differences.
Build you own digestive system!
We had a lot of fun recreating the digestion process in the classroom. Using household items such as paper cups, orange juice and a pair of tights, Year 6 could visualise the process of digestion in an engaging, practical way. We worked in pairs. It was lots of fun.
Let there be light!
Hands on exploration allowed Year 6 to prove that light appears to travel in straight lines and begin to explore how light can be refracted. Discussion and observations allowed us to draw conclusions and further our learning.
Manufacturing a blood bank.
Did you know that within your blood there are several crucial components – each with a different job that helps to keen you healthy. Year 6 have learnt about how each of these components is needed and what happens when things go wrong. We discovered there is a very significant blood bank in Filton. We manufactured some blood of our own to add to the blood bank!
Micro-organisms
To help us understand binary fission we used rice to explore how a microbe splits and splits again. It wasn't long before we were counting 512 grains of rice! We studied the weird and wonderful world of different microbes and then had a go at creating our own and thinking about the very important job that many microbes do – and the devastating effect harmful microbes can have.
Mirror Investigation
Low threat – high reward! This was a challenging investigation into mirrors and angles inspired by the Royal Institution. We had to use scientific equipment to make accurate and precise measurements, use test results to make predictions to set up further comparative tests, notice patterns in results and use the idea that light travels in straight lines to explain that objects are seen because they give out or reflect light into the eye.
Today we learnt how to look around corners!
A periscope is a simple device that enables anyone to see over walls or round corners. Rays of light hitting the mirror of the periscope are reflected twice. The beam of light is reflected through 90 degrees because the mirrors are at 45 degrees to the path of the light ray. Can we challenge you to make one too?
Did you know that transparent objects can cast a shadow?
As our metaphor is 'birds' we created stunning phoenix birds using opaque, translucent and transparent materials and then investigated what shadows they created when projected on the white board.
Survival of the Fittest
"Survival of the fittest" is a phrase that originated from Darwinian evolutionary theory as a way of describing the mechanism of natural selection. We tested this theory using 'caterpillars' of different coloured wool hidden on the school field. Can you guess which colours were most easily 'eaten' by the flock of Year 6 birds? Using the data we collected, we made conclusions about which caterpillars would survive in our school field and then considered whether this would change if the caterpillars lived instead on the school playground.
Whole school metaphor: Birds – reaching great heights

Inspired by Duncan Annand's book 'Caged', Year 6 thought carefully about what freedom is. They read Maya Angelou's poem 'Caged Bird' as well as Amnesty International's books 'Dreams of Freedom' and 'We Are All Born Free'. In response to all of these, they wrote their own piece of writing about freedom.
Lessons for Life

We were inspired by Charlie Mackesy's book 'The Boy, the Mole, the Fox and the Horse' which is a wonderful book full of life lessons and beautiful illustrations. Inspired by these, we decided to write some of our own lessons for life.
There are many wonderful pages in the book, but this page particularly intrigued us: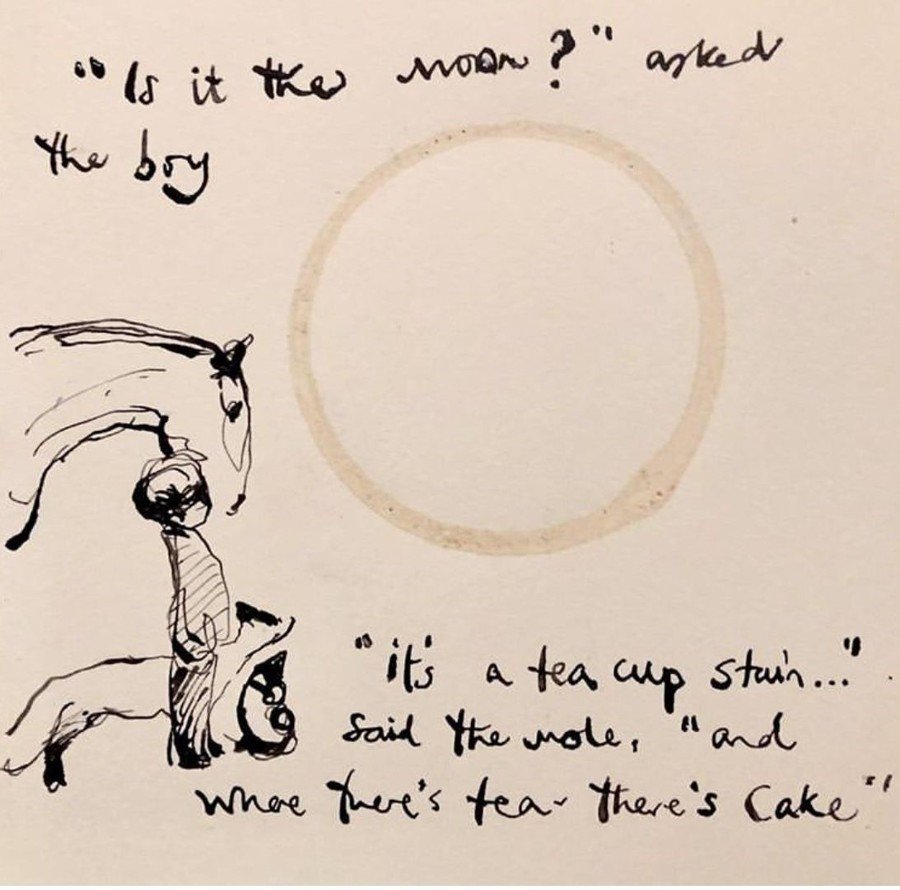 Here, Charlie Mackesy included a tea cup stain in his book. We learnt about how Leonardo da Vinci was inspired by stains on walls – he encouraged the viewer to search for meaning in the chaos. We attempted this by creating our own tea stains and looking for meaning in them.
Class 13 'Kestrals' Praise Postcard
We have all made birds to decorate our card. We were inspired by the work of Charley Harper in response to our whole school metaphor of 'Birds reaching great heights.'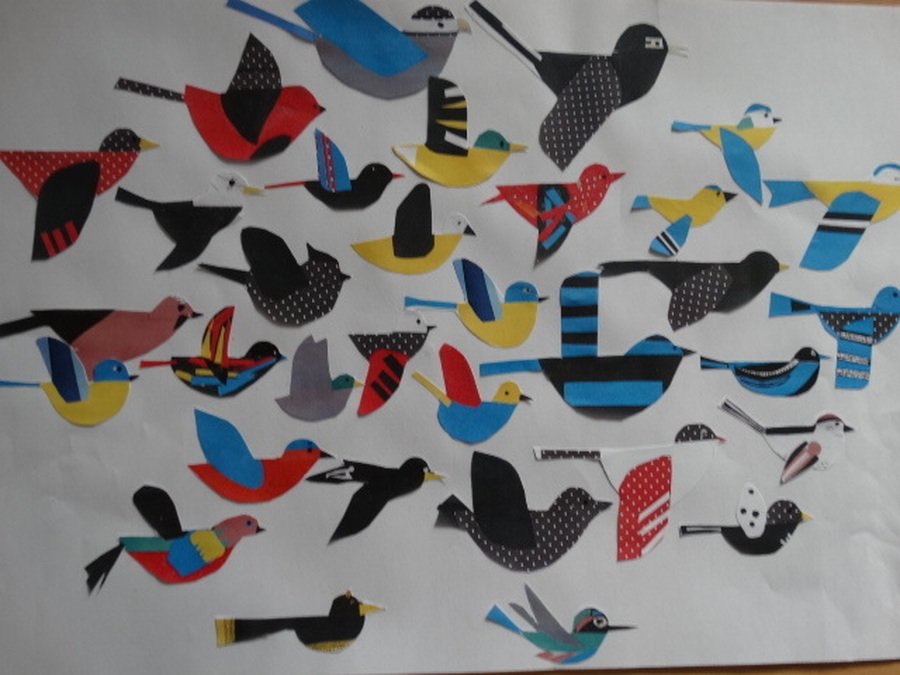 Colour Monster
For our 'Whole School' entrance hall display we wrote poems inspired by the book 'The Colour Monster' by Anna Llenas. We united as a whole school to explore our emotions. Can you spot how we have captured each feeling from the story with our use of colour and powerful descriptive language?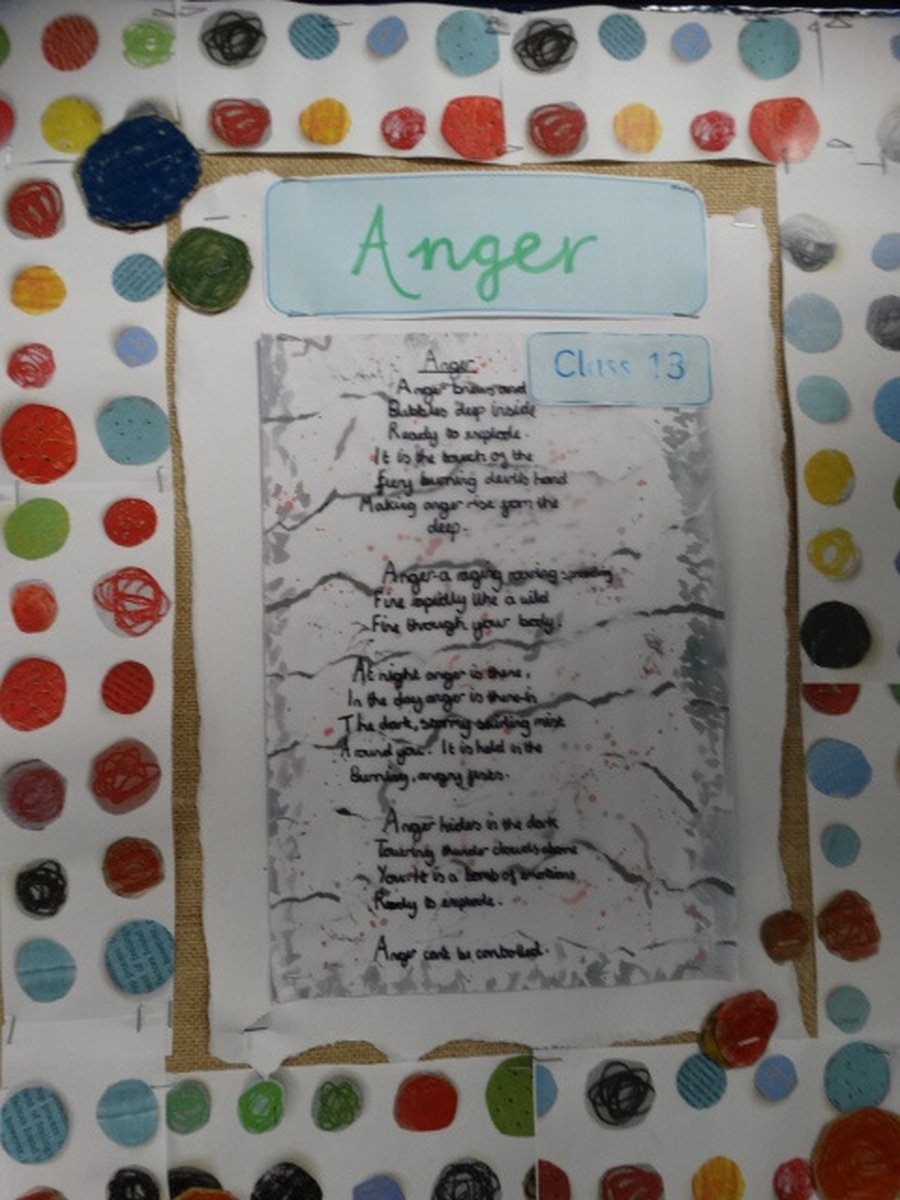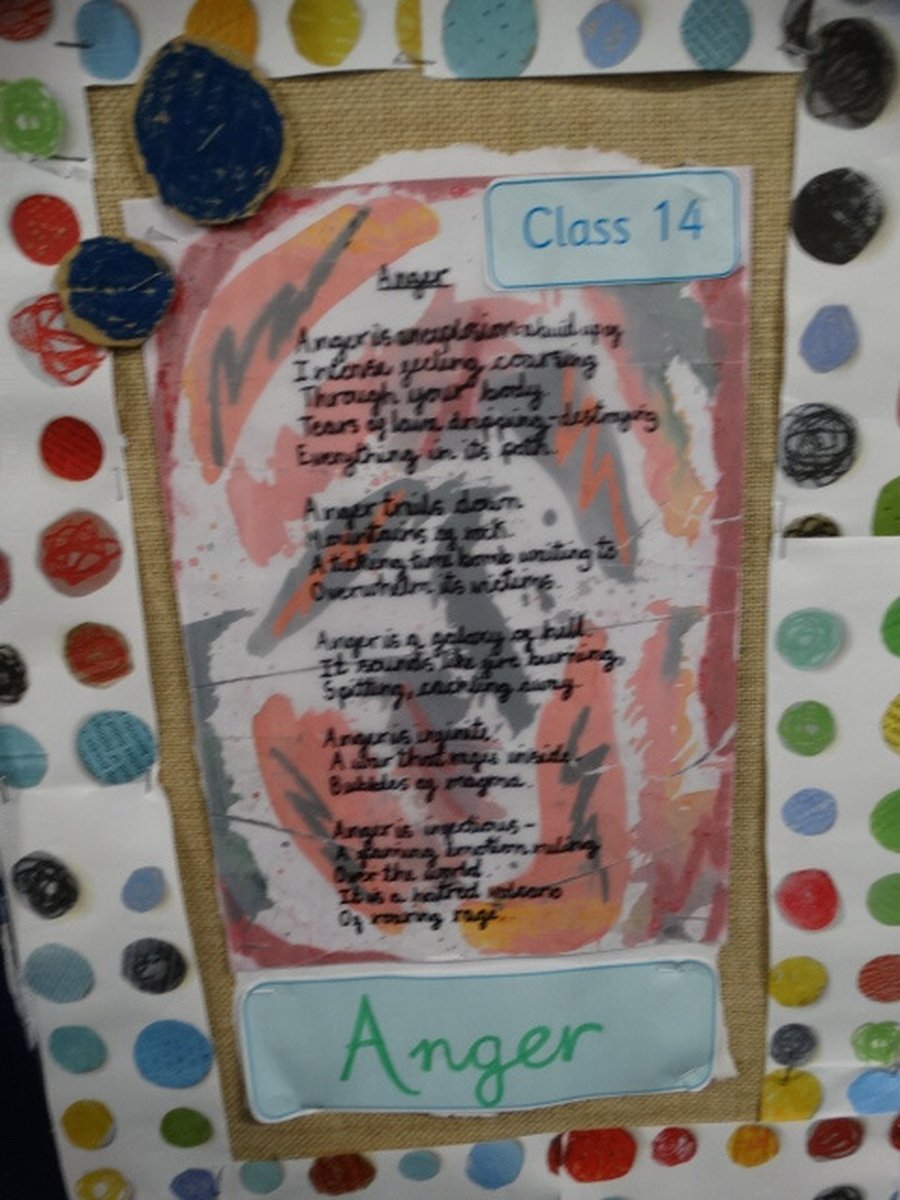 Here are our Class Charters for 2020-2021.
Our Learning Metaphor this year is birds.